How they used to train: Jacques Anquetil's time trial training
Jacques Anquetil's records speak for themselves, but it was his talent for racing against the clock that really set him on the road to creating history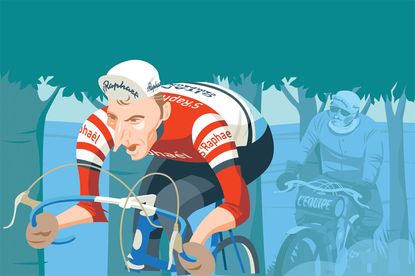 Jacques Anquetil was one of the greatest time triallists of all time. He was the first man to win the Tour de France five times, the first Frenchman to win the Giro d'Italia, and the second rider ever to do the Giro and Tour double.
All Anquetil's victories were built on his ability against the clock, and he won the Grand Prix des Nations — essentially the unofficial world time trial championships when there wasn't an official world title race — an incredible nine times.
Anquetil achieved his record through his unique physiology, which his long-time team manager, Raphael Geminiani described as being made up of: "A jet engine, a distillation plant and a computer." But he also did very specific time trial training.
Before every time trial, Anquetil followed a training plan devised by his first and only coach, André Boucher, much of the training being done behind Boucher's Derny pacing bike.
Old-fashioned Dernys were strange things; they had petrol engines, but the pacers also pedalled a huge fixed gear. This was so their legs could apply extra power when it was needed, more gently than could be achieved by opening the throttle.
He might have been the greatest male road racer ever, but Eddy Merckx also built one of the best teams
Essentially, Anquetil's paced sessions were designed to test him, stretch his output over long intervals of time trial-type effort. It's said that no matter how fast Boucher went, not only did he never drop Anquetil, Anquetil never once asked him to slow down.
The big difference between Anquetil's paced sessions and what other pros did then, and still do now, was that they were split by 5km sections where Anquetil rode ahead of his pacer with Boucher following some 10m behind.
>>> Saddle height: how to get it right, and why it's so important (video)
This was so Boucher could check Anquetil's riding position, check he was as low as he could be, that his hips were rock solid on the saddle, and that his shoulders stayed still, and that his elbows were tucked in by his side.
How to pace a long time trial
Anquetil knew that good aerodynamics was a key factor in time trials, and he had the most aerodynamic riding position of his generation.
Anquetil also practised another time trial marginal gain. The first time he raced in the GP des Nations he reconnoitered the course a few weeks earlier, with some self-addressed postcards in his pocket. Then, every time he saw a postbox on the route he stopped, wrote down the details of the section he'd just covered, and posted the cards to himself.
In this way he gained a kilometre by kilometre knowledge of the race route. Anquetil's time trial record stands as a testimony to the effectiveness of his training.
Thank you for reading 20 articles this month* Join now for unlimited access
Enjoy your first month for just £1 / $1 / €1
*Read 5 free articles per month without a subscription
Join now for unlimited access
Try first month for just £1 / $1 / €1