Icons of cycling: Mapei
Today's pro strips are subtle and restrained but back in the 90s flashy kit was king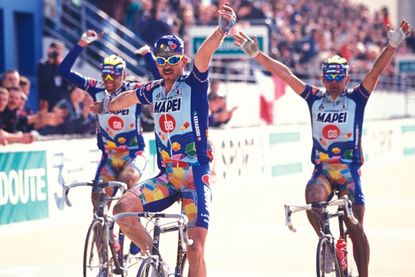 The multi-coloured cubetti of the Mapei strip, it's fair to say, are the old black. Nowadays the dominant team in professional cycling sweeps to victory in Grand Tours and one-day races in chic kit with understated logos and subdued colours, but between 1993 and 2002 a superteam decked out in jerseys and shorts bearing a design that looked as if someone had detonated a car bomb beneath a Rubik's cube ruled the road.
During their nine years of dominance Mapei blew the peloton to smithereens.
Mapei is an acronym for Materiali Ausiliari Per l'Edilizia e l'Industria, Italian for auxiliary materials for construction and industry.
That might sound boring — and remember cycling is full of boring-sounding sponsors such as the Molteni sausage factory — but Giorgio Squinzi, the CEO and son of the founder of the Mapei company, not only financed the 20th century's most successful cycling team but he also ran it.
If three Team Sky riders were circling the Roubaix velodrome and looking at each other and preparing for a three-way sprint, the last person Sir Dave Brailsford would call would be Rupert Murdoch.
But in 1996 when Gianluca Bortolami, Johan Museeuw and Andrea Tafi were in exactly this position, Squinzi had already phoned Mapei's directeur sportif Patrick Lefevere from the Milan HQ with his orders: Museeuw must win.
The Doctor
'Il Dottore', as Squinzi was known — his doctorate was in chemical engineering rather than anything related to medicine — invested an alleged €12 million per year in the Mapei team, a sum that was regarded as too much for cycling.
He was able to buy virtually every star of the era. His team achieved two more clean sweeps of the Paris-Roubaix podium in 1998 and 1999. Mapei won an incredible 653 professional races.
However, although Tony Rominger won the Vuelta a España in 1994 and the Giro d'Italia in 1995 for the all-star outfit, the Tour de France always eluded Mapei.
Squinzi claimed the reason for his team's uncompetitiveness in Grand Tours was because Mapei refused to tolerate blood doping. But in 2012 Museeuw told the Gazet van Antwerpen that doping was part of daily life for almost everyone.
>>> Can an amateur beat Johan Museeuw up the Oude Kwaremont with the help of a motor? (video)
And it was a doping scandal that eventually caused Squinzi to pull the plug on the team: Stefano Garzelli tested positive while leading the Giro in 2002.
Mapei is still an evocative presence in cycling — most recently sponsoring the World Championships in Doha — but for the many fans who still proudly ride clad in the famously garish kit, the tumbling cubes will always represent the golden era of cycling.
Thank you for reading 10 articles this month* Join now for unlimited access
Enjoy your first month for just £1 / $1 / €1
*Read 5 free articles per month without a subscription
Join now for unlimited access
Try first month for just £1 / $1 / €1
Simon Smythe is a hugely experienced cycling tech writer, who has been writing for Cycling Weekly since 2003. Until recently he was our senior tech writer. In his cycling career Simon has mostly focused on time trialling with a national medal, a few open wins and his club's 30-mile record in his palmares. These days he spends most of his time testing road bikes, or on a tandem doing the school run with his younger son.