WIGGINS: SATISFIED WITH PROLOGUE RIDE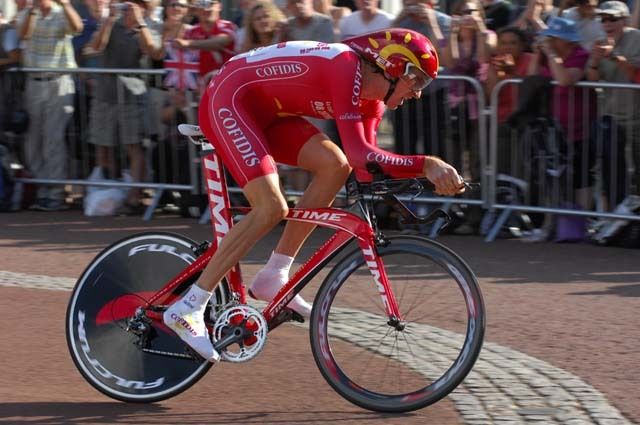 Click here to view a gallery of photos from the Tour de France prologue by Andy Jones
Click here to view a gallery of photos from the Tour de France prologue by Luc Claessen
Bradley Wiggins refused to be downbeat after the prologue, saying he did the best he possibly could have done.
And when asked to sum up his result by a French journalist he replied with a smile that he was the 'Premier Anglais'.
"I am really satisfied," said the Londoner who finished fourth 23 seconds behind Fabian Cancellara.
"I knew I was capable of that, of being in the same ballpark as someone like [George] Hincapie. I know I am close to George in terms of power. I know what he puts out and I know what I put out on Tuesday [when Wiggins rode a 10-mile time trial in Lancashire to complete his Tour preparation].
"But to lose by that much? What can you do? I am pleased with what I have done. Everything went perfectly.
"I was really relaxed and I did the perfect ride for me. I didn't touch the brakes once.
"If I had lost by half a second to Hincapie there wasn't a single point where I would have thought 'Jeez, man, I lost it there'.
"The crowd was amazing. It was a wall of sound. I said I wasn't going to let the crowd or the occasion get to me but it did at times.
"I never expected this many people. God knows what the Olympics will be like. A lot of the guys are saying this has been the best Tour start ever.
"What a great thing that we're talking about an Englishman in his home city trying to do something. We haven't had the crap we had last year and that makes me even prouder to be part of it.
"I am 100 per cent satisfied from my point of view as I did the best I could do. I did myself proud. If someone had said I'd win the Dauphine prologue and be top five in the Tour I'd have been delighted.
"Now the Tour really starts. I'd like to play a part tomorrow while it's still in England but I'll have to see how I am.
"Hopefully it'll do something positive for British cycling but even if nothing happens, what a great weekend everyone's had, especially after last week [the terrorist threats in London] - that hasn't put a cloud over it all."
Click here to view a gallery of photos from the Tour de France prologue by Andy Jones
Click here to view a gallery of photos from the Tour de France prologue by Luc Claessen