Work starts on radical new cycle-friendly roundabout in London
Junction featuring segregated lanes for cycles and cars will be first of its kind in Britain's capital city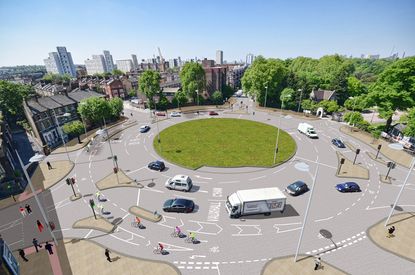 Work on a radical new 'cycle friendly' roundabout is starting in North Battersea, South London, this week, which will separate those on bikes from motor traffic.
The Queens Circus roundabout, which is on Cycle Superhighway 8 (CS8), is thought to be the first of its kind in London. A smaller central island will make space for the extra cycle lanes, while keeping the traffic lanes.
However, the design has been criticised by campaigners for giving cyclists, which make up a third of rush hour traffic at the junction, insufficient space, while being slow to navigate.
Wandsworth Council transport spokesman, Cllr Jonathan Cook, said: "This is an innovative design and we expect it will be the first major roundabout in London which separates cyclists from other traffic in this way. There will be segregated cycle lanes and the points at which riders cross the road will be controlled by traffic lights to avoid any potential conflict. We hope this will be a blueprint others can follow."
However, the London Cycling Campaign's (LCC) blog post says: "Currently cyclists make up about a third of the morning peak hour flow on the roundabout. Often there are so many that they fill a whole traffic lane and cars give them space."
"The new design gives less space to cyclists with added delay, well over a minute in the worst case. That can only lead to congestion and risk taking behaviour."
It goes on: "While the proposals at Battersea provide segregation from motor traffic at the busiest points it is at the cost of a confusing set of signals which are likely to increase the number of times cyclists have to stop".
Last night at just after 6pm CS8, was over capacity approaching the roundabout, with cycling commuters spilling out from the wide, blue cycle lane.
According to the LCC cyclists will have to navigate four sets of traffic lights across the new roundabout just to stay on CS8. It adds the designs are not like the Dutch roundabouts, which give cyclists and pedestrians priority over turning motor traffic, adding a crossroads with protected space and turns for cyclists would be better here.
The roundabout, which will also have new pedestrian crossings, is being funded by Nine Elms developers, with long-term ambitions to become one of the most cycle and pedestrian friendly places in London. The development, which includes the transformation of Battersea Power Station, will create a huge rise in residential and working population.
Cook said: "In Nine Elms we are redeveloping an entire district of the city which provides a unique opportunity to plan and deliver an exceptional new transport network. But we also asking drivers, cyclists and pedestrians to take extra care while the work is on-going."
Completion is expected in summer 2015.
The Headrow to be transformed as part of Tour de France legacy plans
Despite public support, members of the New Forest National Park Authority vote against the creation of a cycle hire scheme
Top Gear presenter James May says drivers and cyclists should share the road in harmony
Thank you for reading 10 articles this month* Join now for unlimited access
Enjoy your first month for just £1 / $1 / €1
*Read 5 free articles per month without a subscription
Join now for unlimited access
Try first month for just £1 / $1 / €1