Top Gear's James May: I'm all for bicycles in cities
Top Gear presenter James May says drivers and cyclists should share the road in harmony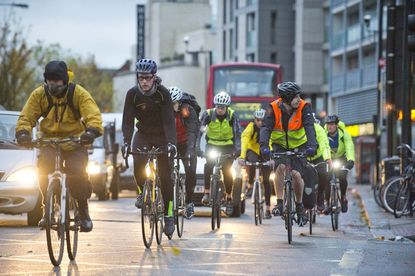 (Image credit: rupert fowler)
Top Gear presenter James May has come out in support of cyclists, saying that he wishes to see an end to 'sectarianism' on Britain's roads.
Speaking to the Times (opens in new tab) on Thursday in support of the newspaper's Cities Safe for Cycling campaign, May said: "We need to get rid of road sectarianism. Car drivers supposedly hate cyclists, cyclists hate taxi drivers, taxi drivers hate motorcyclists, bus drivers hate lorries. I just think if everybody was a little bit more pragmatic, that would do more for safety."
"I'm all for bicycles in cities. We use bicycles to go around locally and also for fun occasionally. Typically, our bike rides would be three or four miles. I go to the shops on it."
During the interview, May dismissed the myth that cyclists don't pay 'road tax' and said that introducing a "road tax for cyclists" was "utter nonsense" but he did support the idea of funding for cycling out of the government's central transport budget.
He also branded many current cycle lanes as not fit for purpose, or as he put it "utter bollocks", and confirmed what we all knew - that fellow Top Gear presenter Jeremy Clarkson also cycles.
Thank you for reading 5 articles this month* Join now for unlimited access
Enjoy your first month for just £1 / $1 / €1
*Read 5 free articles per month without a subscription
Join now for unlimited access
Try first month for just £1 / $1 / €1