Yorkshire cyclists set new record for climbing on Mont Ventoux
Five British riders accumulate new world record of 100,000 feet of climbing after repeatedly ascending and descending Mont Ventoux in France - the equivalent of reaching the edge of space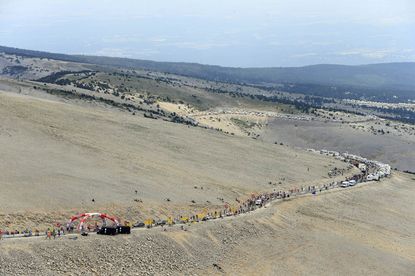 (Image credit: Watson)
A team of five Yorkshire cyclists have proven that even Everesting a hill climb can be usurped by a challenge far more demanding. Extreme team Ultra6 have just returned from one of the Tour de France's fabled mountains, Mont Ventoux, having claimed three world records to raise funds for ABF and M4Melanoma.
Ben Wood, Nick Jovanovic, Matt Robinson, Andy North and James Welsh cycled 100,000ft in vertical ascent and descent on the lunar-like mountain roads in over four days in their 'Race to Space' challenge, the furthest vertical distance on one stretch of road ever recorded, eclipsing the previous record of 65,000ft.
The vertical ascent mileage is the equivalent of reaching space.
>>> 9 reasons why Mont Ventoux is a symbolic climb
Completing the challenge in four days, 16 hours and 14 minutes, the quintet completed 19.35 ascents and descents which was also enough to give them the record for the fastest 100,000ft vertical ascent climb and the highest as a team of five.
Cycling challenges are not alien to the group, with the five cycling 240 miles from Leeds to Dortmund in 22 hours last year and running a marathon every day and cycling 100 miles on seven consecutive days from Land's End to John O'Groats in 2013.
North said that preparation on the Yorkshire hills gave them "the best opportunity for success" but "when we arrived in France, we were faced with temperatures of 40°C which took some getting used to".
Video: Natural nutrition for peak performance
Thank you for reading 20 articles this month* Join now for unlimited access
Enjoy your first month for just £1 / $1 / €1
*Read 5 free articles per month without a subscription
Join now for unlimited access
Try first month for just £1 / $1 / €1