9 reasons why Mont Ventoux is a symbolic climb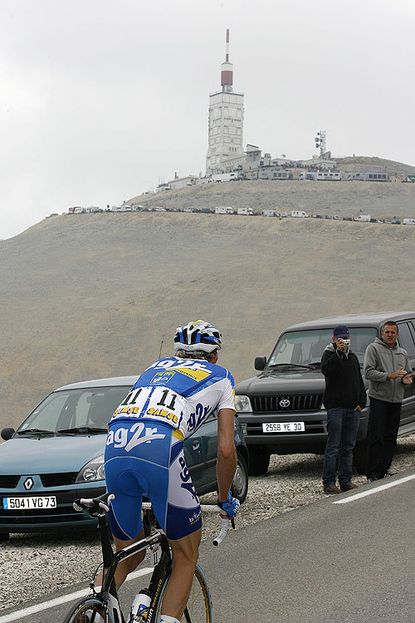 Get The Leadout Newsletter
The latest race content, interviews, features, reviews and expert buying guides, direct to your inbox!
Thank you for signing up to The Pick. You will receive a verification email shortly.
There was a problem. Please refresh the page and try again.
The Tour de France returns to the Giant of Provence, Mont Ventoux, for the first time since 2002. But what's all the fuss about? It's only a mountain, right? Here are nine reasons why Mont Ventoux is feared, revered and respected like no other.
1. The death of Tom Simpson
Britain's Tom Simpson died on Mont Ventoux on July 13, 1967 during the Tour de France. He died as a result of exhaustion and dehydration. Simpson, who was 29, was the first British rider to have a genuine chance of winning the Tour. He had worn the yellow jersey for a day in 1962, when he finished sixth overall. The French press and public loved him, nicknaming him Mr Tom. But Simpson was also known to push himself to the limits. That day on Mont Ventoux, he pushed himself too far. It was a hot day and by the time Simpson got the Ventoux he was in trouble. On the climb he started to weave across the road before collapsing. Alcohol and amphetamines were found in his bloodstream. The readers of Cycling, as Cycling Weekly was called then, donated to a fund started by editor Alan Gayfer. Officials in Bedoin were approached for permission to put up a granite memorial, which features a silhouette of Simpson. Thousands of cyclists visit the memorial each year.
2. It dominates the region
The rest of Provence is relatively flat, so Mont Ventoux dominates the skyline. It stands alone and imposing, unlike the other great mountains of the Tour de France, which are part of a range. Whichever direction you approach from, you cannot fail but to be impressed by its scale.
3. The weather and the wind
Mont Ventoux has its own micro-climate. Just because it's hot, still and sunny in Carpentras does not mean it is at the top. The Ventoux's summit is 1,909 metres above sea level and because it is so exposed it can be incredibly windy. Often it just stands there, taking the tail-end of the Mistral. It is not unusual to emerge from the treeline above Chalet-Reynard and find that the temperature has dropped several degrees, the wind has picked up and there is sleety rain in the air - even in summer. However, when it is hot and still, it can be unbelievably, stiflingly oppressive.
4. It's a climb of two halves
The first half of the climb is partly tree-lined but then, past Chalet-Reynard the landscape changes dramatically. It's barren and rocky and the huge, imposing observatory at the summit gives it an other-worldly quality. If bike racing existed on the moon, this is what it would be like. If you see Mont Ventoux in a photograph or television, even if only fleetingly, it is instantly recognisable. There's nowhere else like it.
5. The Tour Jean-Francois Bernard almost won
In 1987 Mont Ventoux hosted an individual time trial. France's rising star Jean-Francois Bernard won it having ridden the flat part of the course on a time trial bike before switching to a lighter climbing bike. Bernard was not an easy figure for the French to love. He was a bit too modern and sometimes surly, but when he got the yellow jersey after this time trial, he became the favourite for the Tour. Unfortunately for him, the following day he punctured and then his chain jammed on the stage to Villard-de-Lans and the rival French team Système-U attacked him. Bernard was isolated, allowing both Pedro Delgado and Stephen Roche to gain time over him.
6. The Pantani-Armstrong duel in 2000
This was the day when the Italian climber and the Texan cowboy rode away from the rest. Up to that point the pair had something of an uneasy respect for each other. Armstrong was only interested in winning the Tour and so at the finish, he allowed Pantani to cross the line ahead of him. Later he told reporters he had let the Italian win, which enraged Pantani. There was a 24-hour war of words between the two, sparking Armstrong's famous 'No Gifts' quote.
7. Eros Poli's lone break
Back in 1994, the Tour went over the Ventoux and the stage finished in Carpentras. The big Italian domestique was no climber but having attacked at the start of the stage he had such a huge lead as he reached the Ventoux that it began to look like he was going to stay away. He was cheered all the way up the climb and then descended all the way back down the other side to win the stage.
8. Mont Ventoux is not visited by the Tour very often
Despite its great reputation, Mont Ventoux has not figured on the Tour route as regularly a some of the other legends. In fact, the 2009 Tour will be only the 14th visit. This has helped preserve the mystique.
9. Lance Armstrong never won there
Armstrong's trademark Tour move was choosing his moment to attack and riding off into the distance, often winning the race with one six or seven-kilometre setpiece effort. He did it at Sestrieres, Hautacam, Alpe d'Huez. But he never quite mastered the Ventoux, even going as far to say it was his least favourite climb. Even in the Dauphiné Libéré, Armstrong never won there, proof that the Ventoux bows to no man.
Swipe to scroll horizontally
First to the top each time the Tour de France has visited Ventoux. Summit finishes in bold.
1951 Lucien Lazarides (France) - stage finished in Carpentras
1951 was the only time the mountain was climbed from Malaucene. Every other time the race has approached from Bedoin
1952 Jean Robic (France) - stage finished in Carpentras
1955 Louison Bobet (France) - stage finished in Orange
1958 Charly Gaul (Luxembourg) - 21-kilometre time trial
1965 Raymond Poulidor (France) - summit finish
1967 Julio Jiménez (Spain) - stage finished in Carpentras
1970 Eddy Merckx (Belgium) - summit finish
1972 Bernard Thévenet (France) - summit finish
1974 Gonzalo Aja (Spain) - stage finished in Orange
1987 Jean-François Bernard (France) - 36.5-kilometre time trial
1994 Eros Poli (Italy) - stage finished in Carpentras
2000 Marco Pantani (Italy) - summit finish
2002 Richard Virenque (France) - summit finish
Swipe to scroll horizontally
MONT VENTOUX RECENT HISTORY
Stage winners in recent years at the Dauphiné Libéré and Tour de France. Lance Armstrong's finishing positions and time gap behind the winner in brackets.
Dauphiné 2007 Stage winner: Christophe Moreau
Dauphiné 2006 Denis Menchov
Dauphiné 2005 Alexandre Vinokourov (Armstrong 4th at 37sec)
Dauphiné 2004 TT Iban Mayo (Armstrong 5th at 1-57)
Tour 2002 Richard Virenque (Armstrong 3rd at 2-20)
Dauphiné 2002 Denis Menchov (Armstrong 7th at 37sec)
Tour 2000 Marco Pantani (Armstrong 2nd in same time)
Dauphiné 2000 Tyler Hamilton (Armstrong 11th at 1-13)
Dauphiné 1999 TT Jonathan Vaughters (Armstrong 5th at 1-01)
Swipe to scroll horizontally
TOUR DE FRANCE 2009 LINKS
9 reasons why Mont Ventoux is a symbolic climb
Analysis: Mont Ventoux to decide the Tour
Inside the Tour: 2009 race by numbers
Etape du Tour 2009: It's the Ventoux
2009 Tour de France route stage-by-stage
Thank you for reading 20 articles this month* Join now for unlimited access
Enjoy your first month for just £1 / $1 / €1
*Read 5 free articles per month without a subscription
Join now for unlimited access
Try first month for just £1 / $1 / €1
Get The Leadout Newsletter
The latest race content, interviews, features, reviews and expert buying guides, direct to your inbox!
Sports journalist Lionel Birnie has written professionally for Sunday Times, Procycling and of course Cycling Weekly. He is also an author, publisher, and co-founder of The Cycling Podcast. His first experience covering the Tour de France came in 1999, and he has presented The Cycling Podcast with Richard Moore and Daniel Friebe since 2013. He founded Peloton Publishing in 2010 and has ghostwritten and published the autobiography of Sean Kelly, as well as a number of other sports icons.