Hello and welcome to today's live blog! For one day only, we bring you two Tour de France stages for the price of one: the final stage of the men's race, and the opener of the Tour de France Femmes. A bunch sprint will inevitably decide the former, while a late climb is sure to ignite attacks in the women's race.
14:24: Attack from Kopecky on the final climb
14:35: Kopecky wins stage one
15:32: Men's final stage underway
17:33: Riders arrive onto the Champs-Élysées
18:35: Meeus wins stage 21
Refresh
46km to go: The Tour de France Femmes is underway, but it's been an uneventful opening stage so far. A few riders went up the road earlier in the day to try and be the breakaway of the day, but the peloton is currently all together
45km to go: We have an attack! The peloton needed something to wake it up for what has been a sleepy stage so far, and it's arrived in the form of a Marta Lach (Ceratizit-WNT) attack. She's already got a lead of 30 seconds.
41km to go: India Grangier (Team Coop - Hitec Products) and Amber Pate (Jayco AluUla) got their bikes a little tangled together as the peloton concertinad, but they're both fine
39km to go: There's a problem for April Tacey in the peloton. She looks alright though, and is back on the bike.
Unfortunately there is already an abandonment to report from earlier in the day, after Mireia Benito (AG Insurance-Soudal QuickStep) fell heavily into a ditch. She was conscious, but looked in a bad way, and has been taken to hospital
32km to go: The pace is certainly up in the peloton. Some riders have been dropped out the back, while Lach's lead is down to just 10 seconds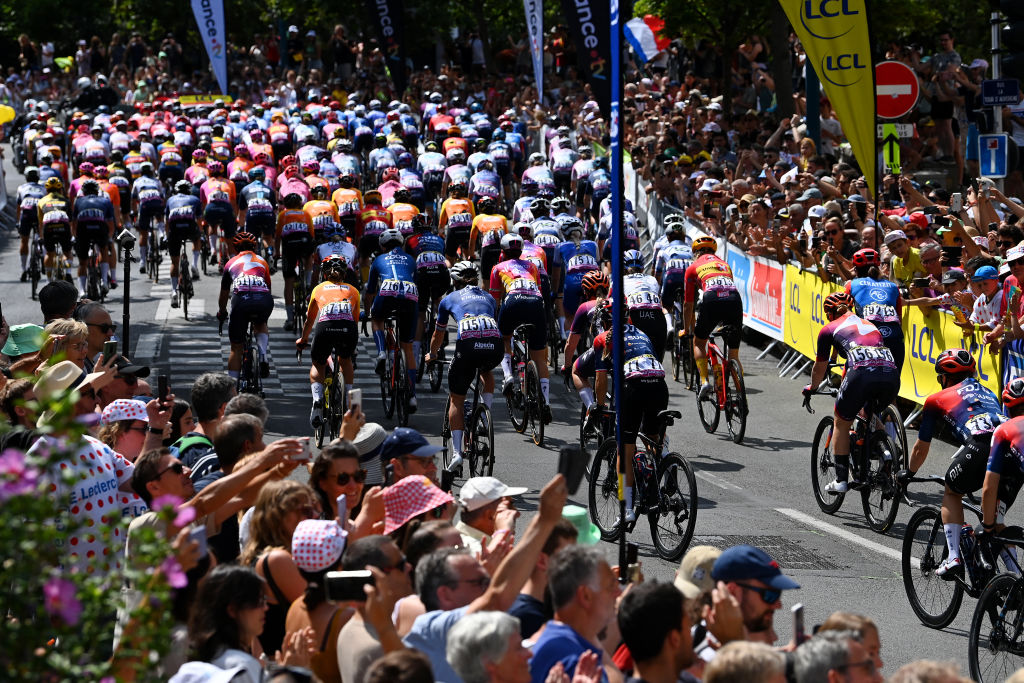 31km to go: Lach has been caught, so it's gruppo compatto once more
29km to go: An intermediate sprint is coming up in a few kilometres, which will be the first showdown in the green jersey classification. Marianne Vos is reigning champion in that competition, and is sure to go for points now.
28km to go: Crash in the peloton as they approach that sprint. Lots of riders held up, including Annemiek van Vleuten, but doesn't seem like anyone is badly hurt
26.5km to go: It wasn't a full-on sprint for the points at the intermediate sprint, with only a few riders accelerating at the line. Interestingly, Lizzie Deignan sprinted to take the maximum points. Will the green jersey be her main target for this Tour? She's not a sprinter, but could pick up lots of points on punchy stages
Here's a full run-down of that intermediate sprint, and how many points they earned. A surprising number of climbers up there, and no sign of potential winners like Wiebes and Kopecky, but Vos collected a decent haul in fifth.
1. Lizzie Deignan (Lidl-Trek), 25 pts
2. Ashleigh Moolman Pasio (AG Insurance-Soudal Qucik-Step), 20 pts
3. Karlijn Swinkels (Jumbo Visma), 17 pts
4. Maria Confalonieri (Uno-X), 15 pts
5. Marianne Vos (Jumbo Visma), 13 pts
6. Léa Curinier (DSM-Firmenich), 11 pts
7. Yara Kastelijn (Fenix-Deceuninck), 10 pts
8. Anna Henderson (Jumbo Visma), 9 pts
9. Pfeiffer Georgi (DSM-Firmenich), 8 pts
10. Elisa Longo Borghini (Lidl-Trek), 7 pts
Elise Uijen (DSM-Firmenich), 6 pts
12. Mischa Bredewold (SD Worx), 5 pts
13. Amanda Spratt (Lidl-Trek), 4 pts
14. Charlotte Kool (DSM-Firmenich), 3 pts
15. Julia Borgström (AG Insurance-Soudal Quick-Step), 2 pts
Not too long now until the Côte de Durtol, which is set to be the decisive point of the stage. Crested with just over 9km to go, and averaging 7.3 per cent for 1.7km, it's both hard enough and close enough to the finish to be a springboard for attacks, and deny the sprinters.
20km to go: Even on the run-in to this climb some sprinters are being dropped. Rachele Barbieri (Liv Racing TeqFind) is out of the peloton, as is, surprisingly, Elisa Balsamo (Lidl-Trek)
Balsamo clearly wasn't the plan for Lidl-Trek today. They're the teams that's pressing on at the front and setting a searing pace on the approach to the climb. Attack by Elisa Longo Borghini incoming?
17km to go: Christine Majerus (SD Worx) and Vittoria Guazzini (FDJ-SUEZ) are the latest big names to be jettisoned out the peloton. The race is really on as they approach the climb
It's still Lidl-Trek at the front. Here they were at the start of the day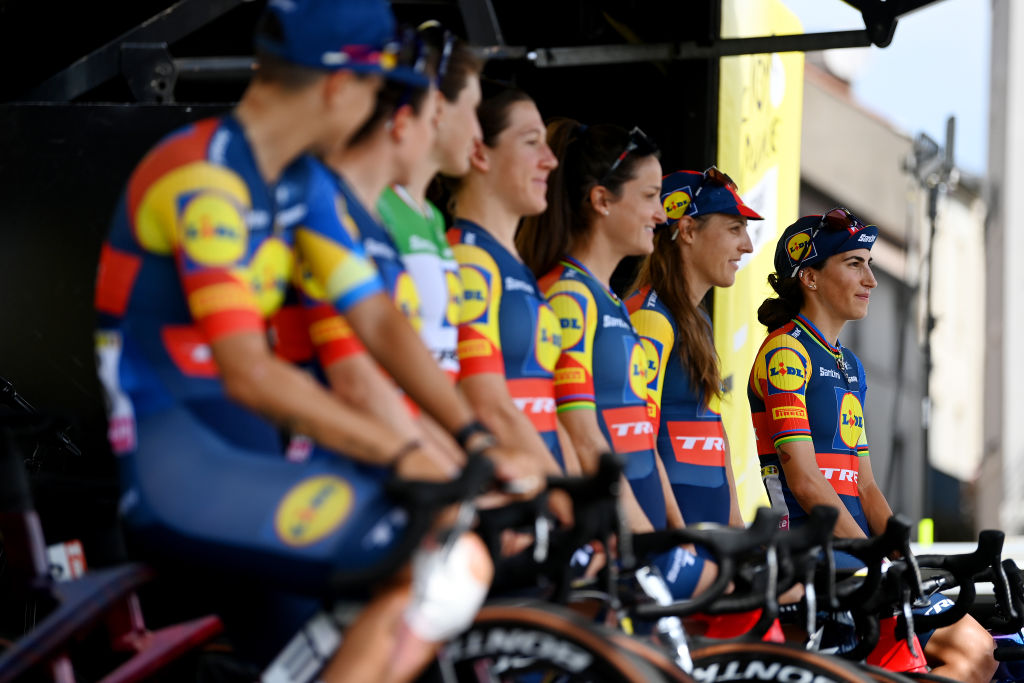 11km to go: Now Marlen Reusser has revved up her huge engine and is leading the peloton for SD Worx. This will be agonising for the riders to try to keep up with
11km to go: And we're on the climb! Reusser is still leading, does anyone have the legs to try an attack against the fearsome pace she's setting?
Wiebes is on Reusser's wheel. SD Worx's plan seems to be to prevent any attacks and keep the peloton together for a sprint for Wiebes.
Wiebes now slipping back a bit. Still no attacks though.
The Peloton is much smaller now. Not much more than 20 riders left. Vos and Wiebes are struggling to hold on
9.6km to go: Attack from Kopecky!
It's a really powerful move from Kopecky. She has a lead of a few seconds over a small chasing group
9km to go: Kopecky reaches the top first, a few seconds ahead of the next group, with only about 8 riders left in it
In that chasing group are: Van Vleuten, Vollering, Lippert, Ewers, Niewiadoma, Chabbey, Moolman, Mavi Garcia, Cavalli, Ludwig and Muzic
6km to go: 25 seconds now for Kopecky! She's looking very good for the stage win, and the yellow jersey that comes with it
The chasing group is getting bigger as riders make their way back. Santesteban and Anna Hendersen are both here now, as is Borghini
Top sprinters Vos, Wiebes and Kool are in a group further back, about 10 seconds behind the Van Vleuten/Vollering group
Correction: it seems Kool is in a group further behind the Vos/Wiebes group
3km to go: Kopecky's gap is getting bigger and bigger. 45 seconds now! Victory is surely nailed-on
2km to go: There's no real organisation in the chase behind. Niewiadoma has just tried attacking them
Final kilometre for Kopecky...
The Canyon-SRAM pair of Niewiadoma and Chabbey are attacking in tandem from the chasing group, but they're chasing second-place rather than first
LOTTE KOPECKY WINS STAGE 1 OF THE TOUR DE FRANCE FEMMES
Wiebes, Vos and Kool all made it back into that chase group, and sprinted for the minor placings. Wiebes was second Kool third and Vos fourth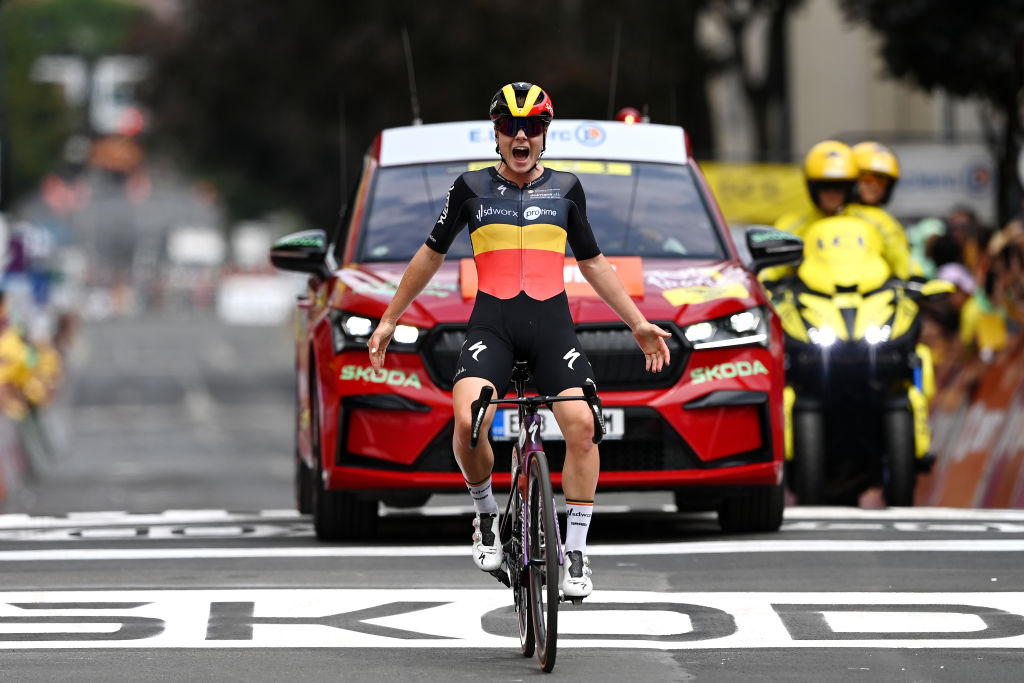 That's the first ever Tour de France stage win for Kopecky, after she came close a couple of times last year with two third-place finishes. Better yet, she'll become only the fourth woman to wear the yellow jersey since the race's inauguration last year
As for the GC contenders, most appear to have finished in the main chasing group 43 seconds behind Kopecky, aside from a few high-profile absentees. Marta Cavalli came in 50 seconds behind Kopecky, and Silvia Persico further back still at 1-06.
So that's part one of our double bill today. Coming up next is the final stage of the men's Tour de France over in Paris, where Jonas Vingegaard will be crowned yellow jersey, and the sprinters will battle it out for their most important stage of the race.
The men's stage is set to start at 15.30 BST, in about half an hour's time
And they're off! The riders are ambling through the neutralised zone now
Now the flag's dropped, and, surprise surprise, Victor Campanaerts is off on the attack again. The Belgian has been awarded the super-combativity award for his constant attacks throughout the race, and clearly isn't done yet
That Campanaerts move seems to have been more of a token attack rather than anything serious. He's back in the slow-moving bunch already
As always, it's been all smiles as the riders amble their way to Paris. Everyone is enjoying the prospect of going home and not having to race tomorrow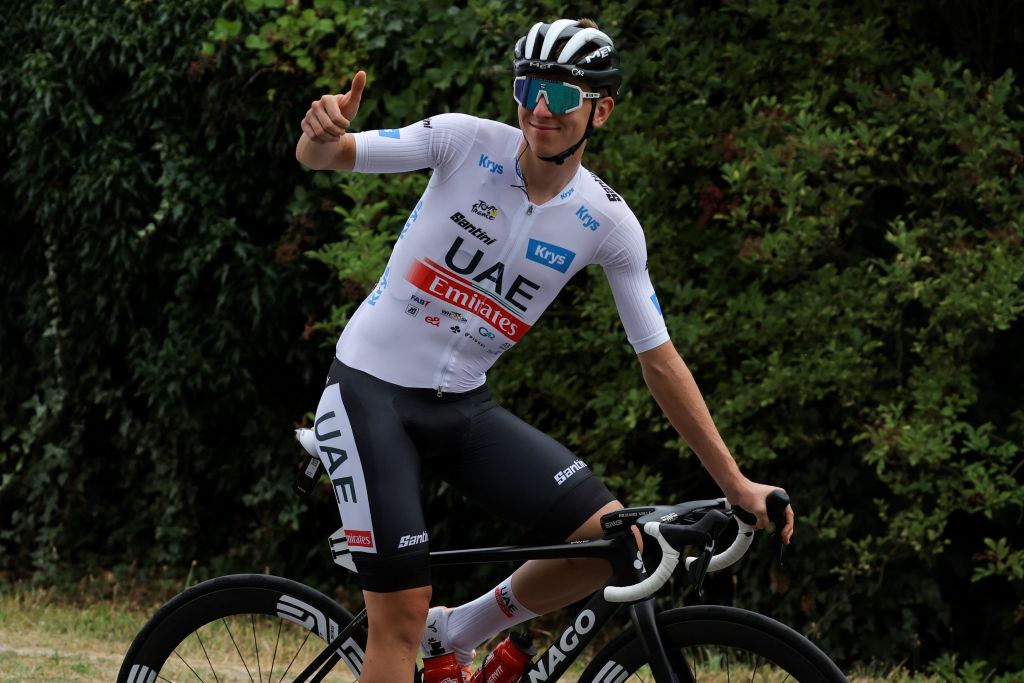 Here's Jonas Vingegaard at the start of the day. He dropped a bit of a bombshell earlier too, announcing that he will ride the Vuelta a España later this year. This will be the first time the Dane has ridden two Grand Tours in the same season, and will team up with Primož Roglič in a deadly-looking Jumbo-Visma line-up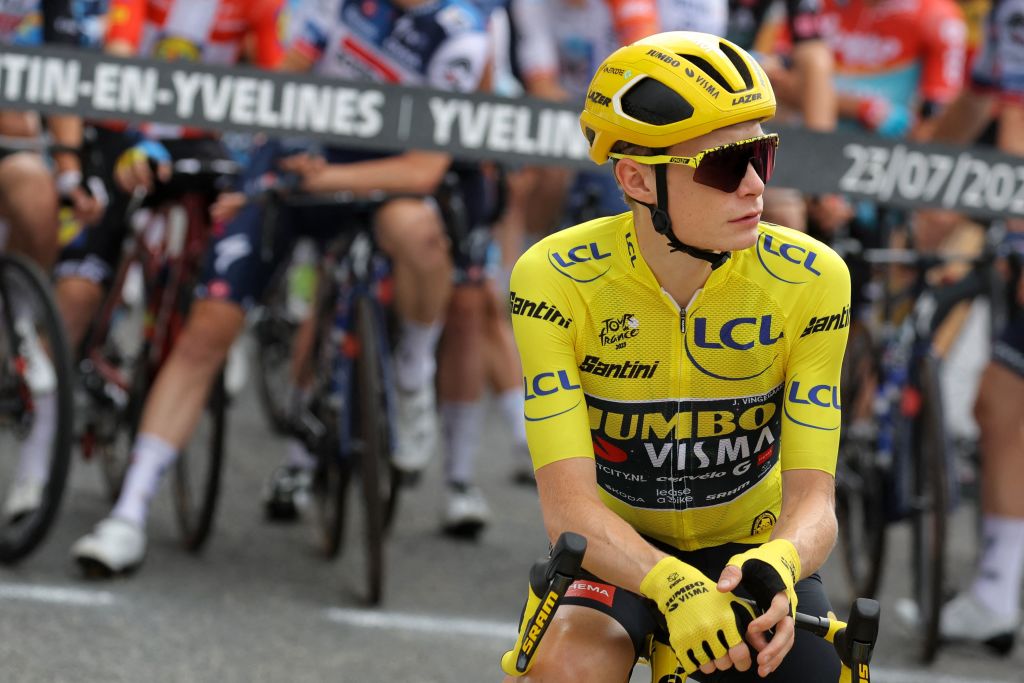 More from Vingegaard on his Vuelta plans:
"We made the decision already in November last year, so it's been the plan all the time, and now was the moment to break it. I'm really looking forward to the Vuelta as well. Of course I will enjoy today, I will enjoy the Tour de France win, but in one week's time from now I will be focussing on the Vuelta."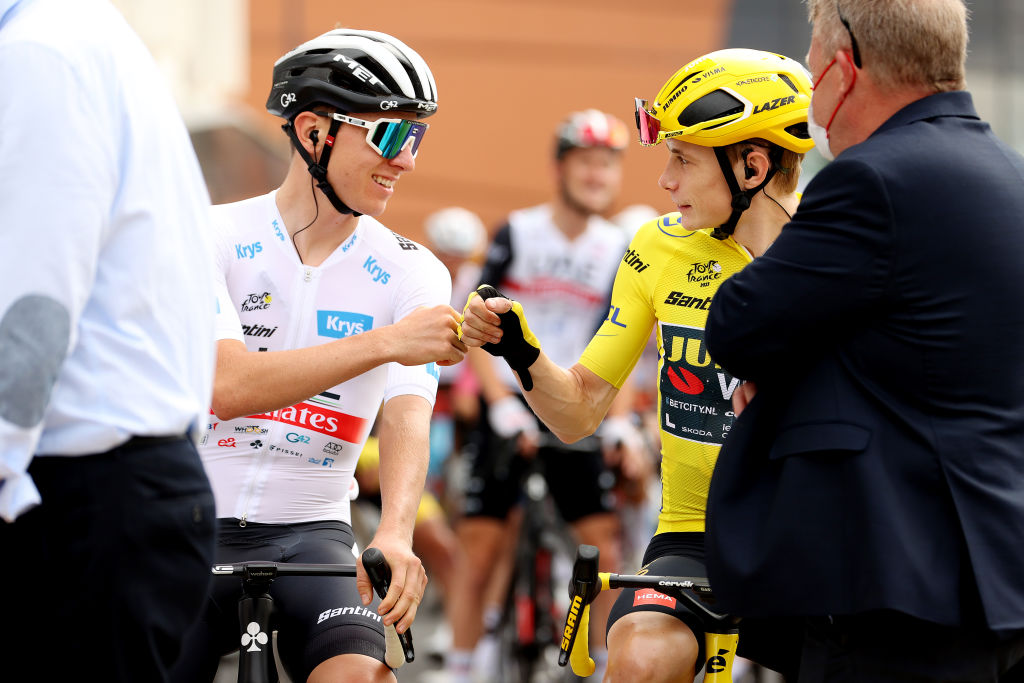 100km to go: The real racing is still yet to begin, as the riders continue to chat and laugh together in the peloton
All this year's jersey winners at the start earlier today...and Thibaut Pinot. The French favourite might not have won anything at this Tour, but gets a special send off on his final day at the Tour de France after coming close to the most romantic of ends at yesterday's stage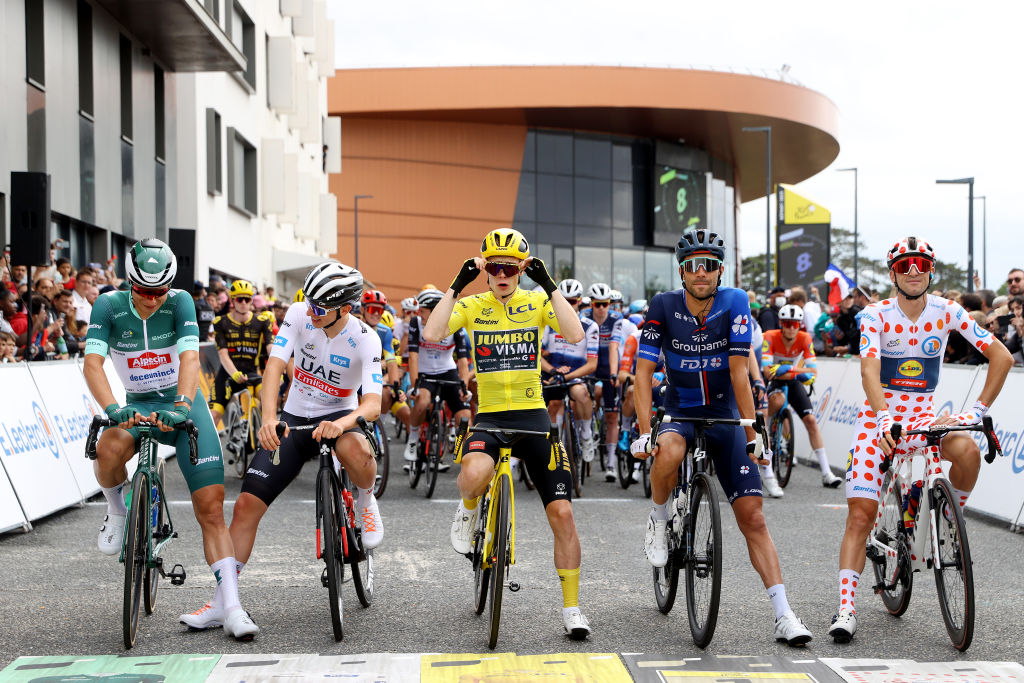 There has been some talk about the weather ahead of today's stage, with forecasts predicting rain. The clouds are grey out there, but no rainfall just yet.
If the heavens do open, it will change certain riders' plans. Matteo Trentin has told GCN television coverage that he'll only try to sprint if it's dry, while it's been reported that Jasper Philipsen doesn't like sprinting in wet conditions. Watch this space.
The customary picture of the victorious team celebrating with customary champagne glasses. Jumbo-Visma had ridden an exemplary Tour de France and can now enjoy the fruits of their success.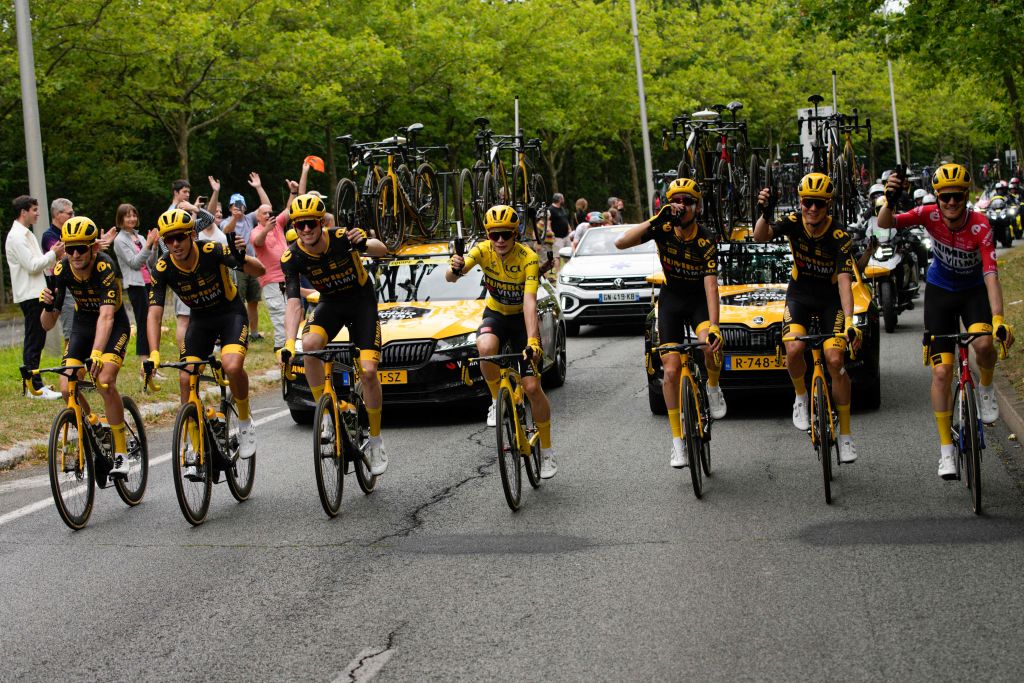 80km to go: The riders are passing the Palace of Versailles, and are still going slow enough to enjoy the sites. Not long now though before the race proper starts as they arrive into Paris
Giulio Ciccone has a moment in the spotlight as he breaks off the front briefly to take the last remaining KOM point. He even does a little mock sprint to the line, before being saluted by his Lidl-Trek teammate Mads Pedersen. It's a terrific result for the Italian, who adds the title to his victory at the Giro d'Italia mountains classification in 2019, and was no easy feat - he becomes the first rider since Romain Bardet to get the better of the GC contenders to win the polka-dots.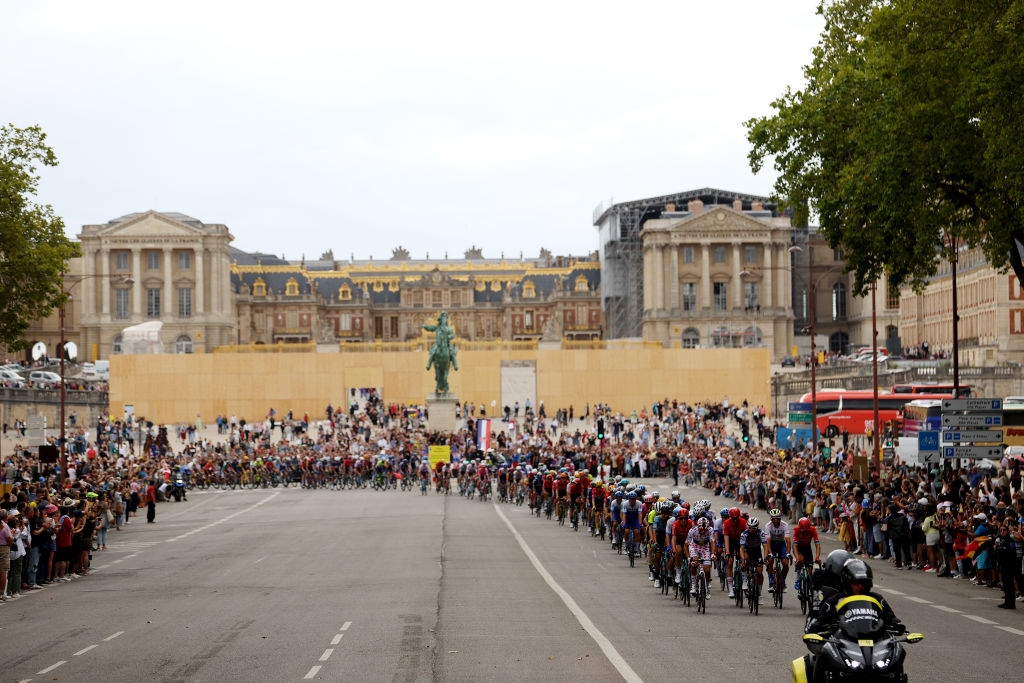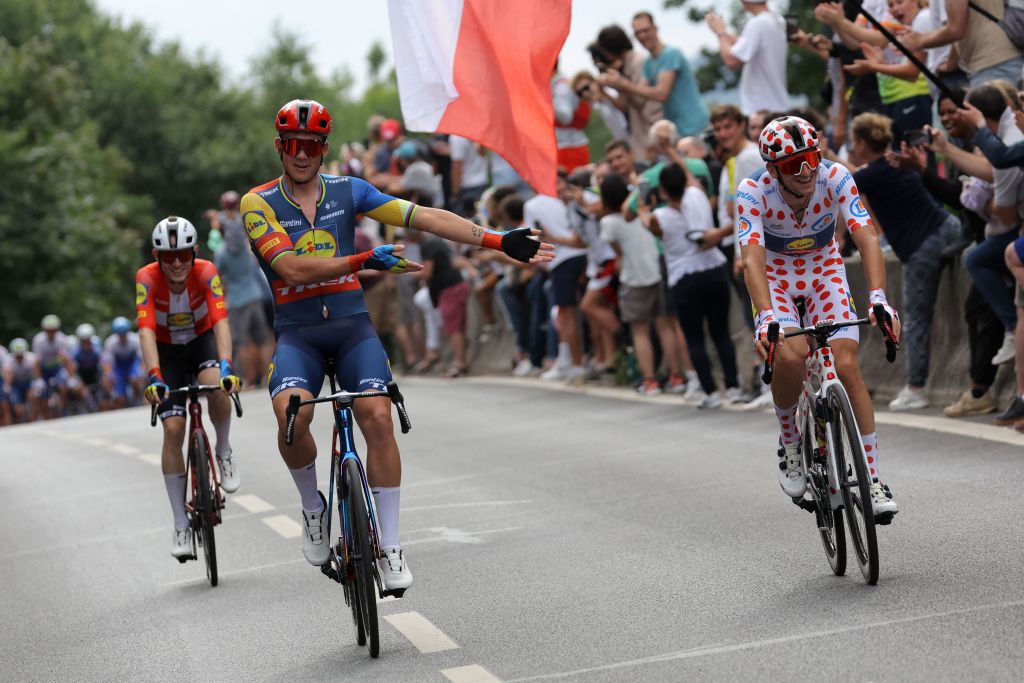 60km to go: The riders are in Paris! Massive crowds have assembled to greet them into town. Jumbo-Visma are leading the peloton as they approach the first lap of the finishing circuit.
55km to go: Now here come the tourist sights. The peloton glides through the Louvre, past the Place de la Concorde and onto the Champs-Élysées to pass the finish line for the first time
51km to go: Now the racing's on! Julian Alaphilippe, Pascal Eenkhoorn and Michał Kwiatkowski are among the riders trying to attack but no move has stuck yet
49km to go: Frederik Frison of Lotto-Dstny has managed to open up a small gap, but he's all alone and the pace in the peloton is still very fast
48km to go: What's Tadej Pogačar up to? The Slovenian has attacked out the peloton, and passes the second crossing of the finish line in first place. Jumbo-Visma have marked the move with Nathan Van Hooydonck on his wheel, and he's declining to take any turns
Pogačar has a reasonable gap too, of about 10 seconds over the peloton. He stand a much better chance of staying clear for the stage win if Van Hooydonck were to share the workload, though
It seems Van Hoodonck has been given the go-ahead to work with Pogačar, as he takes a turn. It did seem unnecessarily cautious of Jumbo-Visma given Vingegaard's huge lead on GC. They have 13 seconds now.
41km to go: Although that turn seems to have been a one-off. We haven't seen him come through for a turn since. Six laps to go, and their lead is 17 seconds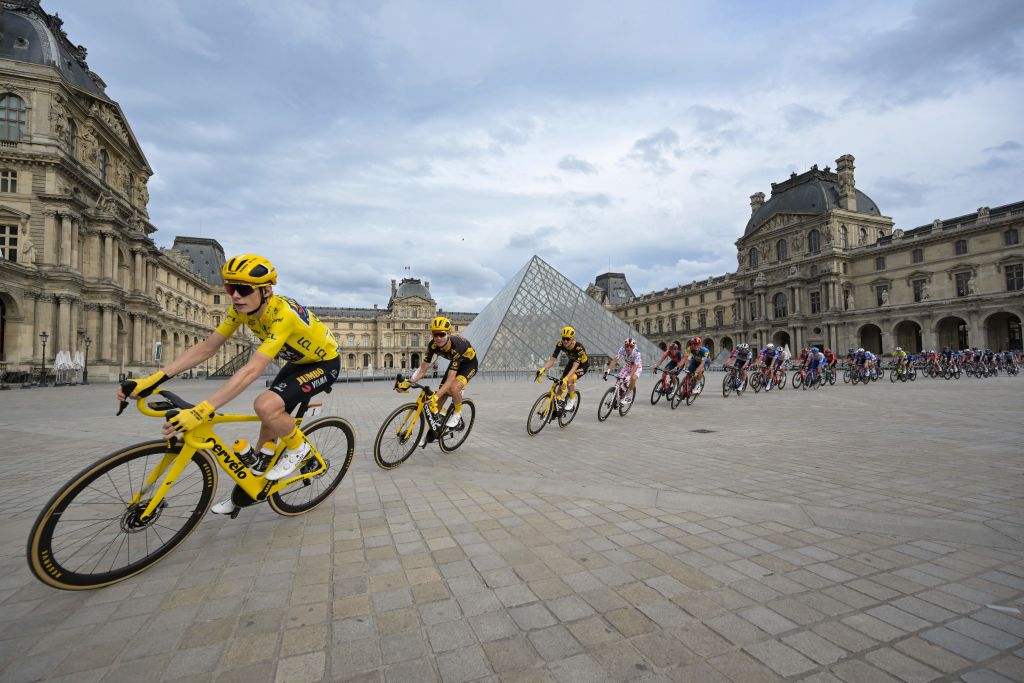 A strong counter-attack is forming behind the leading duo, led by Alberto Bettiol
There are six riders in that counter-attack, and their bearing down on the leading duo. The other riders with Bettiol are: Kwiatkowski, Skjelmose, Edmondson, Tejada and Politt
37km to go: That sextet has caught up to Van Hooydonck and Pogačar. Their lead is 7 seconds
The gap is small enough for Yves Lampaert and Fred Wright to bridge across to it, increasing the group to 10 riders
Their slender lead has been closed down, and the race is all back together again
30km to go: More attacks now, with Simon Clarke, Frederik Frison and Nelson Oliveira going up the road
Pogačar still hasn't given up on the stage win. He's hovering towards the front of the peloton still and seems itching to make another attack.
27km to go: 10 seconds for the leading trio as they cross the finish line to start the next lap
20.5km to go: This smaller group will be easier to control than the earlier larger one featuring Pogačar, and the peloton seems more content to allow them more of a gap. The deficit is 18 seconds as they begin the third-to-last lap
Mechanical for Hindley, who's chain has slipped. He'll have to fight to get back into the peloton and protect his seventh-place on GC
14km to go: Just 2 laps to go now, and the leaders' advantage is still 19 seconds. Dare they dream?
Meanwhile Hindley's scare is over, and he's back in the peloton
Now there's a problem for Stefan Küng, who's needing assistence. There seems to have been a lot of mechanicals in Paris this year - hopefully none of the GC names or sprint candidates are held up
The riders have something else to worry about, too, as the anticipated rain at last starts to fall
10km to go: Just a few seconds for the leading trio, who the peloton now have in their sights
A few riders tried to bridge up to the leading trio just before the catch was made, among them Julian Alaphilippe. They stayed out for a bit, but it's all back together now.
More attacks now, as Neilson Powless and Jonathan Castroviejo briefly get a bit of a gap.
7km to go: Now Fraile and, guess who, Campanaerts counter-attack, along with three other riders, but are only mere metres ahead as the riders hear the bell. One lap to go!
The sprinters' teams don't have this as under control as they'd like. The attacks keep coming relentlessly, with Gorka Izagirre the latest
Izagirre's caught, and now Bettiol's on the front with a couple of seconds
4km to go: It's all back together. The sprinters' teams are now winding up their lead-outs, and the pace seems to be too quick for any more attacks
Trek are leading the peloton for Mads Pedersen, with just 2km to go
Now Jayco, Bora an Alpecin move towards the front
A big battle to lead over the final corner, won byAlpecin
Van der Poel starts his lead out
Photo finish at the line, too close to call!
Jordi Meeus wins stage 21 of the Tour de France
Philipsen edged into second, in a huge upset
Alpecin's lead-out didn't quite go as smoothly as usual, with Groenewegen managing to take Van der Poel's wheel from Philipsen. It looked like Philipsen was going to take the win anyway, but over at the other side of the road Meeus edged him for the victory
Groenewegen was third and Pedersen fourth in a blanket finish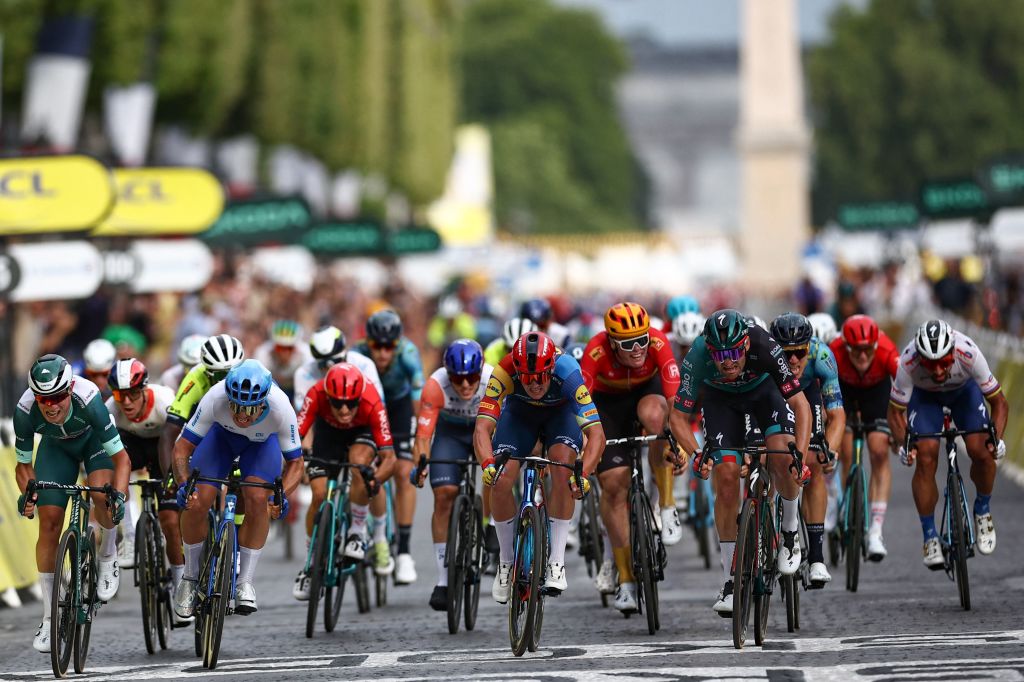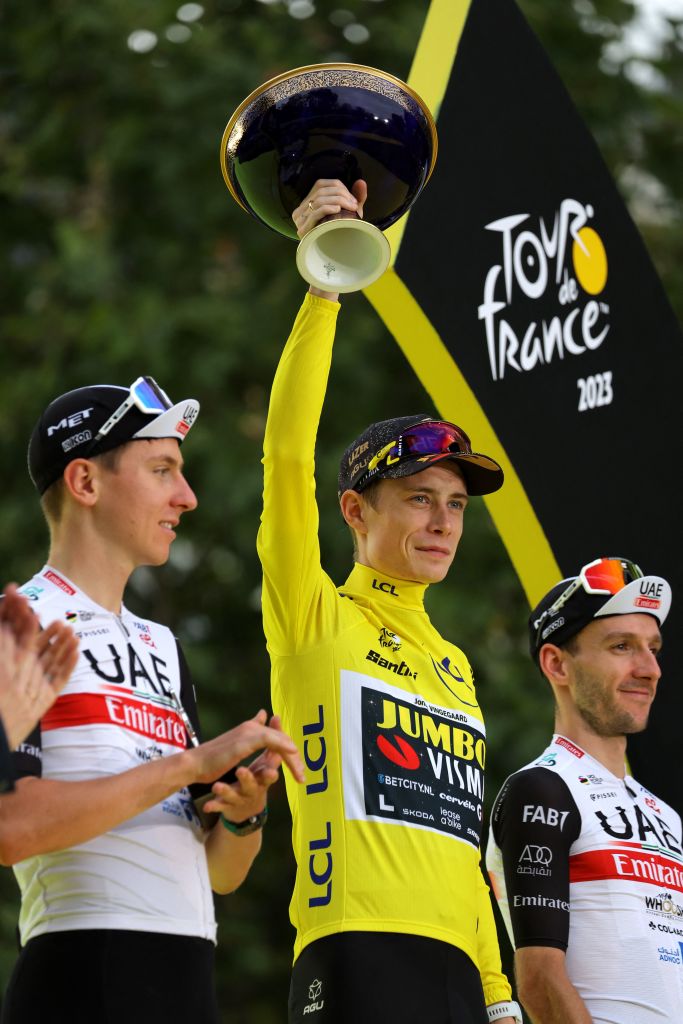 Thanks for joining us today! It's been a great Tour de France once more, and another has just got going for us to enjoy next week. Be sure to read our full race reports of the men's race and the women's race. All that's left to be said is chapeau to Jonas Vingegaard, and chapeau to everyone else who taken part in this Tour to make it such a thrilling race
Thank you for reading 20 articles this month* Join now for unlimited access
Enjoy your first month for just £1 / $1 / €1
*Read 5 free articles per month without a subscription
Join now for unlimited access
Try first month for just £1 / $1 / €1