London Waterloo first of Capital's termini to get hire bikes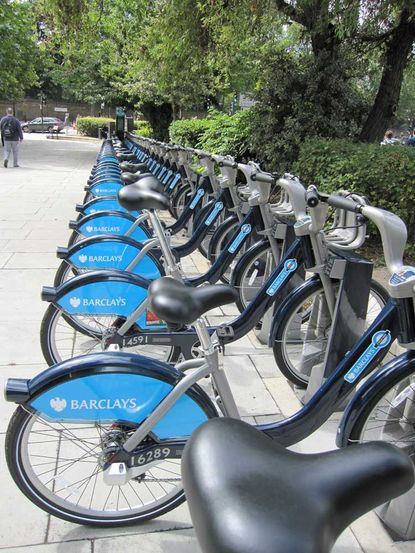 Waterloo railway station is the first London Termini to get Barclay's Cycle Hire , as work starts today on building a "Super" docking station which will house 124 blue bikes. It will be the biggest station in the fleet.
Transport for London say it should be open by mid-December. It will be the largest of the 50 additional docking stations being built - and all of them due to be operation by next Spring.
The main line stations were excluded from the July launch of the scheme, for fear the cycle hire system would be overrun by pedal-thirsty commuters pouring into the capital each morning.
But the system, which has 6000 bikes, has been overrun anyway, with some 1.3 million journeys logged since July 30 and about 20,000 trips made every week day. Already there are 100,000 registered users.
Kulveer Ranger, the Mayor of London's Transport Advisor, said: "For 100,000 people to sign up to use cycle hire in just twelve weeks has been simply sensational, but what we need to do now is to make sure it remains a simple and effective scheme for every user. Demand for bikes in the Waterloo area has been particularly high and the new 'super' docking station there is the first of a series that we are putting in to help our ever increasing membership get around town."
More than half of the cycle hire members are using the daily 'pay as you go' option for just £4.That covers the cost of membership key (£3) and the first 24-hour access (£1).
Thereafter, the first 30 minutes use of the bike is free, which gets you just about anywhere in the central zone of London.
Some 40,000 people have opted to be annual members, at £45 annual membership. This works out at bike access costing 12 pence a day.
Mike Goggin, Network Rail's Director of Stations and Customer Services, said: "It is great news for the thousands of passengers who use Waterloo every day that they will soon be able to hire bikes and drop them off at the station. Together with the recently upgraded bike parking facilities at the station, the arrival of the increasingly popular Barclays Cycle Hire will make it easier and more convenient than ever before for passengers to make their onward journeys by bike."
Casual users are expected to be able to use the system later this year. All you will need is your credit card to release the bike from the docking station. However, it will take a little longer than if your were a key holder. Key holders waltz up, turn their key, and away they go with a bike.
Thank you for reading 20 articles this month* Join now for unlimited access
Enjoy your first month for just £1 / $1 / €1
*Read 5 free articles per month without a subscription
Join now for unlimited access
Try first month for just £1 / $1 / €1