Lucy Martin aiming for opportunities at Boels-Dolmans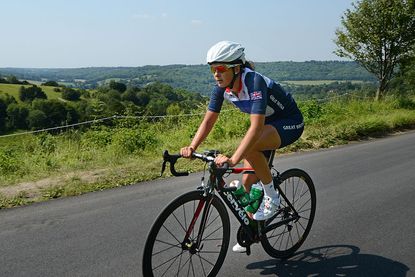 After a couple of years putting in the domestique shift since turning professional with Garmin-Cervelo in 2011, Lucy Martin is looking to take more chances for herself at her new Boels-Dolmans team.
"I don't want to always be a worker, I want a lot more opportunities this year," she said.
The 22 year-old is working on her strength and endurance this winter with her eye on a strong Classics season, but it's the Chongming Island World Cup race she is targeting in particular after finishing eighth and tenth in the last two years.
"A podium or win would be ideal, plus it's on my birthday," she says. A good performance in the national road race championships in Glasgow is also a priority, given it mirrors the Commonwealth Games road race.
While Martin enjoyed the Olympics, it loomed over her 2012 season. "Every year I thought at the start 'I'll go for this' with personal goals, but I knew right from the beginning I was a worker," she said. "I was helping Lizzie [Armitstead] a lot before and after the Olympics, it didn't enable me to race for myself."
Riding alongside Armitstead again at the Dutch team, Martin knows it won't be easy to make the switch. "I did my job for Lizzie at the Olympics. It's up to me to change people's minds now," she added.
Martin will line-up at this weekend's Clayton Velo Spring Classic, taking place on Sunday February 24 in Clitheroe, Lancashire.
1,000 members already signed up for Virgin Money Cyclone
Over 1,000 riders have signed up for this summer's Virgin Money Cyclone, the north-east's premier cycling event.
The weekend packs five cycling events into four days (June 27-30), with the Tyne Six Bridges Leisure ride scheduled to take place for the first time this summer.
Beautiful Northumberland scenery at the Virgin Money Cyclone
Every year, up to 4,000 riders choose take part in the Cyclone Challenge across distances of 33, 63 and 104 miles, while the professionals face-off against each other in the Leazes Criterium, Beaumont Trophy Premier Calendar round and the women's Curlew Cup race.
Organiser Peter Harrison said: "With the recent cold weather, a lot of riders are looking forward to warmer days and rides like the Virgin Money Cyclone Challenge in the summer. I can't wait to welcome them all on the day and for the fantastic atmosphere."
For more information visit www.virginmoneycyclone.co.uk (external link).
Tom Saunders
Tom Saunders, winner of the 1948 Brighton to Glasgow race, died peacefully on February 9.
Saunders, 92, was one of England's prominent riders after the war and into the 1950s.
He won the Brighton-Glasgow race at a time when it was open to amateurs and independent cyclists; just a few years later it had evolved into the Milk Race.
Smith and Tufnell get on their bikes
Olympic silver medallist Louis Smith and former England cricketer Phil Tufnell will join Michael Vaughan on his UK-wide charity bike ride this September.
The Michael Vaughan Bike Ride is described as a cycle tour with a difference as it combines cycling, celebrities and cricket.
Comprising 462 miles in 12 days, the mini-peloton will follow the England v Australia - NatWest One Day International series.
It is open to cyclists of all abilities and the organisers will provide training and fundraising advice to participants. For more information, visit www.laureus.com/michaelvaughanbikeride.
Vaughan (l), Tufnell (c) and Smith training hard
SCHEDULE
Stage 1
Friday, 6 Sept: First One Day International, Headingley, Leeds
Saturday, 7 Sept: Leeds to Manchester (80 miles)
Sunday, 8 Sept: Second One Day International, Old Trafford, Manchester
Stage 2
Monday, 9 Sept: Cycle Challenge at the Manchester Velodrome
Tuesday, 10 Sept: Manchester to Birmingham (91 miles)
Wednesday, 11 Sept: Third One Day International, Edgbaston, Birmingham
Stage 3
Thursday, 12 Sept: Birmingham to Brecon Beacons (86 miles)
Friday, 13 Sept: Brecon Beacons to Cardiff (55 miles)
Saturday, 14 Sept: Fourth One Day International, Swalec Stadium, Cardiff
Stage 4
Sunday, 15 Sept: Cardiff to Southampton (80 miles)
Monday, 16 Sept: Fifth One Day International, Aegeas Bowl, Southampton
Tuesday, 17 Sept: Southampton to London (70 miles)
Paramount Performance Cycling 2013 team launches
Shropshire-based Paramount Performance Cycling Team are hoping a mix of young and old will help them become one of the best squads in the West Midlands.
Youngsters Elliot Jones, Josh Williams and Chris Wilkinson join experienced racers Rich Watson and Dave Griffiths and directeur sportif Mike Jones in the outfit's line-up.
Youth and experience line-up at PPCT
Ben Lawrence, who doubles up as the managing director of sponsors Beaumont Lawrence and Co as well as being the squad's manager said: "We wanted to give these new junior riders the best chance of achieving something in the sport.
"When you first start out, road racing can seem like an enigma wrapped up in a puzzle surrounded by a mystery so it is hoped that having two racers that have already been there and done it will crack that code for the younger members of the team."
Get in touch
We want to hear what's happening in your area - from racing results to sportives, recreational cycling to commuting. To submit your stories for CW's British news round-up, please
email Nick Bull or Richard Abraham
Thank you for reading 20 articles this month* Join now for unlimited access
Enjoy your first month for just £1 / $1 / €1
*Read 5 free articles per month without a subscription
Join now for unlimited access
Try first month for just £1 / $1 / €1