Millar's book on longlist for William Hill sports writing award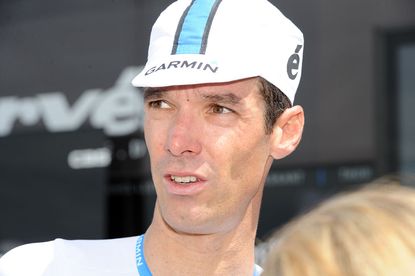 David Millar's book, Racing Through The Dark: The Fall and Rise of David Millar, is one of 14 titles on the longlist for this year's William Hill Sports Book of the Year award.
Millar's honest, autobiographical tale of his experiences as a professional cyclist has become a nationwide hit, and enjoyed a spell on the Sunday Times' best seller list earlier this year.
Football books dominate the list, but Millar's cycling tome joins Bella Bathurst's The Bicycle Book in being longlisted.
The winning book is picked by a panel of judges, which this year consists of John Inverdale, Hugh McIlvanney, Danny Kelly, Alyson Rudd and John Gaustad.
The annual award is now in its 23rd year and is touted as the richest award for sports writing. This year, the first prize includes £23,000 in cash and a £2,000 bet with William Hill.
The shortlist will be announced by William Hill on October 28, with the winning book announced in Waterstones Picadilly, London, on Monday 28 November.
William Hill Sports Book of the Year award longlist
1. Carlo Ancelotti: The Beautiful Games of an Ordinary Genius by Carlo Ancelotti with Alessandro Alciato (Rizzoli International Publications)
2. The Bicycle Book by Bella Bathurst (HarperPress)
3. Among The Fans: From Ashes to the Arrows, a Year of Watching the Watchers by Patrick Collins (Wisden Sports Writing)
4. Into The Arena: The World of the Spanish Bullfight by Alexander Fiske-Harrison (Profile Books)
5. Gold Rush: What Makes An Olympic Champion? by Michael Johnson (HarperSport)
6. The Ghost Runner: The Tragedy of the Man They Couldn't Stop by Bill Jones (Mainstream Publishing)
7. Racing Through The Dark: The Fall and Rise of David Millar by David Millar (Orion)
8. The Smell of Football by Mick Rathbone (Vision Sports Publishing)
9. A Life Too Short: The Tragedy of Robert Enke by Ronald Reng (Yellow Jersey Press)
10. 32 Programmes by Dave Roberts (Bantam Press)
11. The Following Game by Jonathan Smith (Peridot Press)
12. Babysitting George by Celia Walden (Bloomsbury)
13."Get In There!" Tommy Lawton - My Friend, My Father by Barrie Williams and Tommy Lawton Junior (Vision Sports Publishing)
14.Behind The Boundary: Cricket at a Crossroads by Graeme Wright (A & C Black)
Thank you for reading 5 articles this month* Join now for unlimited access
Enjoy your first month for just £1 / $1 / €1
*Read 5 free articles per month without a subscription
Join now for unlimited access
Try first month for just £1 / $1 / €1