New closed road circuit unveiled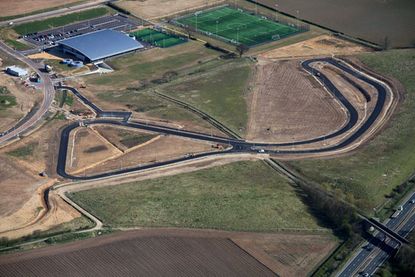 A new closed-road cycle circuit in York, due to be officially unveiled this week, has helped safeguard existing sports facilities in the city thanks to the popularity of cycling.
City of York Council suggested the idea of the £1.1-million new circuit to York University as part of a project to relocate an existing athletics track to a new sports centre on university land in the Heslington suburb of the city. Officials at the university and council were impressed by the money-making potential of the facility.
"All athletics tracks and swimming pools lose money," explained the university's commercial director Jon Greenwood. "I could see my business model would be more financially sustainable if I put cycling with athletics and with swimming.
"Cycle tracks elsewhere in the country make around £40,000 a year, which is about what it would cost me to operate the athletics track," he added. "For me, the tracks together would be a better business proposition than the athletics track on its own."
The closed circuit, funded by the council, university and British Cycling and, according to its new cycle development manager Andrew Johnston, will help meet an increasing demand for road racing in the region. Adult annual membership costs £49, and he added that nine hours of sessions per day have already been scheduled in order to cater for a wide range of abilities.
"We've got a coordinated programme of events to take people as far as they want to go," he said. "It's an exciting development and a fantastic opportunity to help develop cycling in a bigger way."
Plans are already afoot to extend the project to include a 250m outdoor velodrome and mountain bike trails, with the university hoping to begin the next phase of construction in the next 12 months.
This article was first published in Cycling Weekly magazine. Read Cycling Weekly magazine on the day of release where ever you are in the world International digital edition, UK digital edition. And if you like us, rate us!
Thank you for reading 20 articles this month* Join now for unlimited access
Enjoy your first month for just £1 / $1 / €1
*Read 5 free articles per month without a subscription
Join now for unlimited access
Try first month for just £1 / $1 / €1