'One of a kind bike' for world champion Amalie Dideriksen
Specialized has created a 'one of a kind' bike for road world champion Amalie Dideriksen ahead of the 2017 season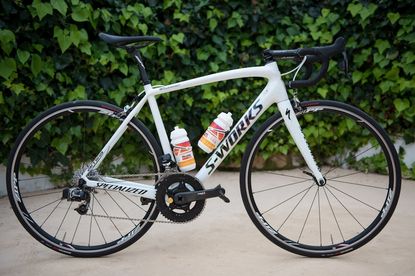 (Image credit: Sean Robinson)
Capping off an extra long season by winning the World Championships must have been quite special. But now Amalie Dideriksen has a 'one of a kind' bike to go with it.
The Danish rider will be spending 2017 racing aboard a custom Specialized S-Works Amira for her Boels-Dolmands team.
It's certainly a neat looking machine. Lauren Parenti, lead designer of women's products has painted the rainbow stripes around the S-Works logo and the golden S on the head tube is adorned with glitter.
>>> Eight ways to make your commute more like the World Championships

Her Boels-Dolmans team described these as "golden accents for our golden girl".
>>> Lizzie Armistead's Specialized Amira
While the top tube is decked out with Dideriksen's name, the rest of the ride will be kitted out with SRAM Red eTap and Zipp wheels. Dideriksen is certain this will make it look "all look elegant".
Watch: Viviani's custom Pinarello
According to Specialized work began on the bike immediately following Dideriksen's win in Doha.
"There is a multitude of holographic shards reflecting thousands of rainbows as a tribute to Amalie's World Championship win".
Supposedly, the aim was to "make two statements with her bike". From a distance it had to look "cool and collected" but up close it had to be "wild and awesome". There are overtures to American hot rod legend Ed Roth.
The world champion is certainly taken with the bike. She said that "this bike is extra special because it's painted specifically for me", adding "I have never had that before and I think it is really cool."
Dideriksen shocked in Doha when she sprinted to victory, denying her team mate Lizzie Deignan the chance to defend her title.
Thank you for reading 5 articles this month* Join now for unlimited access
Enjoy your first month for just £1 / $1 / €1
*Read 5 free articles per month without a subscription
Join now for unlimited access
Try first month for just £1 / $1 / €1