Eight ways to make your commute more like the Doha World Championships
Riding in Qatar looks great, doesn't it? If you're itching to get the Doha vibe on your next ride to work, check out these handy tips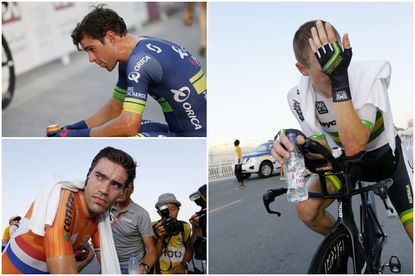 Turn up the heating to acclimatise before you leave the house
If you've not been paying attention to the daily reports of riders being unhappy about the weather, it's incredibly hot in Doha at the moment. In fact, it's incredibly hot in Doha all the time - it's in the middle of a desert.
Some riders have described it as like riding in a sauna, so before you leave the house in the morning, why not crank up the heating levels and have a quick thrash on the turbo to get your body used to the temperatures the pros are facing in Qatar.
Put hot water in a Camelbak and put it down your jersey
For some reason, riders are being allowed to use Camelbak water systems during the time trials, which means they can shove a bag of water down their jersey and have a straw coming all the way up to your mouth.
But by the time the riders have reached the finish line of the time trial 45 minutes later, the water will surely be tepid at best and almost boiling at worst.
To get the most realistic experience, boil the kettle, pour the water in your Camelbak and slide it carefully down your top. This may leave you with severe burns, but that's the risk you have to take to be a professional.
Leave before the crack of dawn to ensure no-one sees you riding
People were worried that the crowds in Doha would be small, but they were wrong - the crowds in Doha are non-existent!
To replicate these conditions, aim to leave the house at around 4.30am to ensure the streets are almost deserted when you ride through.
>>> Nine ways to make your commute more like the Tour de France
Do a full revolution of every roundabout
By the look of it, Doha has more roundabouts per square mile than Milton Keynes. The World Championship courses showcase quite a few of these roundabouts to the max by sending riders almost all the way round them.
Mess with the traffic flow in your town and city by doing at least 360-degrees of every roundabout you come to, which means you will also benefit from a few extra miles on your commute.
Pause your cycling computer for a few minutes mid-ride
For a few minutes every day in Doha, the sun gets in the way of the satellite that beams the live TV pictures of the race. It happens at the same time every day, apparently, which means Carlton Kirby has to blag a bit on Eurosport as footage of previous riders gets played again.
Obviously, you'll be riding in the dark if you follow these guidelines to the tee, so you can replicate this by simply pressing pause on your computer for a few minutes and starting it again when you're closer to work.
Fall off on every gravelly corner
The fact that Doha is both in the middle of a desert and a very windy city, there is a fair amount of sand on the roads at times, and even though there is a dedicated team to sweep the sand away some riders have fallen foul of the treacherous conditions.
If you see a patch of gravel on your ride, make sure to hit it at full speed and if possible try and make a sharp turn so that you fall off in the process.
Instruct your colleagues not to make a sound as you reach your desk
Not only are there no spectators along the route, there is also a significant lack of fans at the finish line for the time trials, meaning the riders cross the line in almost complete silence.
Rather than have you co-workers greet you with cheery "good morning" wishes, ask them to keep the noise down as you slink to your desk in peace to recover.
Pour a bidon of water over your head as you check your emails
You've probably mastered the thousand-yard stare for the end of your commute - especially if you've already made your commutes like Paris-Roubaix - but because you're so hot you'll need also to empty one of your water bottles over your head.
Alternatively, slump next to the office watercooler and get someone to press down the tap for a while to give you a cool chill after your sweltering ride.
Thank you for reading 10 articles this month* Join now for unlimited access
Enjoy your first month for just £1 / $1 / €1
*Read 5 free articles per month without a subscription
Join now for unlimited access
Try first month for just £1 / $1 / €1
Stuart Clarke is a News Associates trained journalist who has worked for the likes of the British Olympic Associate, British Rowing and the England and Wales Cricket Board, and of course Cycling Weekly. His work at Cycling Weekly has focused upon professional racing, following the World Tour races and its characters.