Tour of Britain team car roundabout mayhem in Norwich (video)
Spectator films team cars taking a wrong turn during the Tour of Britain, and mayhem ensues as they try to turn back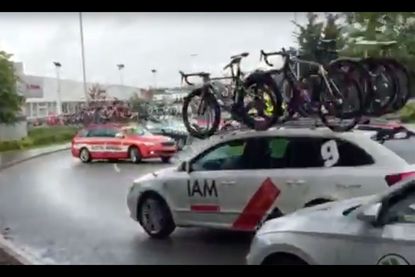 A roadside spectator filmed the chaotic result of team cars taking a wrong turn during stage six of the Tour of Britain on Saturday.
As the peloton passed through the roundabout in Norwich in the right direction, a cavalcade of team cars then come to the junction and head straight on instead of turning left.
A Tinkoff-Saxo car is the first to take the wrong turn with others following, including several dropped riders mixed up in the cars.
As drivers realise their mistake, instead of carrying on around the roundabout several decide to do a U-turn or reverse back - straight into the path of oncoming traffic. Some of the cars subsequently travel up the wrong side of the carriageway and over the central reservation.
>>> Greipel relegation gives Viviani win in final Tour of Britain stage; Boasson Hagen wins overall
Cue beeping of horns and spectators shouting "you're going the wrong way!".
The few riders caught up in the mishap quickly realise the mistake and find the correct route, it's easier for a bike to turn around than a large, fully-laden estate car.
"This video was taken by my partner on Halfords roundabout in Norwich. It's so funny on so many levels!" said YouTube user Lorna Jermyn who posted the clip online.
Thank you for reading 20 articles this month* Join now for unlimited access
Enjoy your first month for just £1 / $1 / €1
*Read 5 free articles per month without a subscription
Join now for unlimited access
Try first month for just £1 / $1 / €1