Paul Oldham continues National Trophy lead despite slipped chain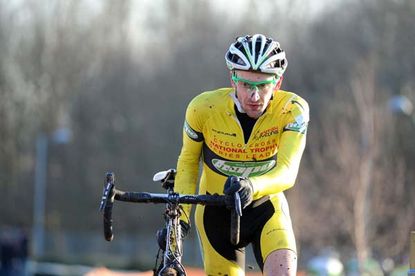 Paul Oldham retains the yellow jersey in the National Trophy series after recovering from a slipped chain in round two, held in Southampton.
The Hope Factory Racing rider was leading when his chain got trapped in the frame of his bike and the problem saw him lose 42 seconds, dropping to 15th place.
By the halfway point, Oldham had picked his way through the field and overtaken leader Ben Sumner to regain his lead. It was plain sailing from then on and he crossed the line 41 seconds ahead of Sumner. Adam Martin finished third.
Oldham said: "I did panic when the chain slipped off but after that you just have to ride your best race and catch the other riders one by one. I'm feeling good but I think I broke my hand last week. I can hear it clicking and that was in the back of my mind too. I'm really happy to have won here."
Oldham's Team Hope Factory Racing team mate Annie Simpson capitalised on the injury to Isla Rowntree as she claimed the yellow jersey in the women's category.
Simpson had Hannah Payton for company for much of the race but managed to carve out a gap at the front. By the time the bell rang, Simpson had a healthy lead and went on to win comfortably.
Giles Drake made it three wins in a row in the North West League as the Herbalife - Leisure Bikes rider pushed hard to peel away from the field. It was a tough circuit with many sections requiring the bike to be carried. But Drake came through the stern test to rack up yet another win. Simon Wilson came second and Matt Lawton finished third.
Another rider making it a hat-trick of league wins was in-form Paul Cox. Cox was the early leader of the VC Lincoln Cross in the Lincolnshire League but had Mark Cotton chasing him down.
But Cotton suffered a puncture and had to ride back to the pits on a flat to change bikes. He couldn't catch Cox as he stormed away to complete the race 26 seconds ahead of him. Veteran rider Greg Simcock completed the podium, finishing two minutes down on Cotton.
The sixth round of the Welsh League saw a three-way battle at the head of the race with David Thomas, Matthew Thompson and Ryan Bevis all staking their claim for victory. The final three laps saw all three of them exchange the lead but it was Thomas who was there when it mattered, holding off his opponents to notch the win.
Thank you for reading 20 articles this month* Join now for unlimited access
Enjoy your first month for just £1 / $1 / €1
*Read 5 free articles per month without a subscription
Join now for unlimited access
Try first month for just £1 / $1 / €1