Paul Oldham wins opening round of National Trophy cyclo-cross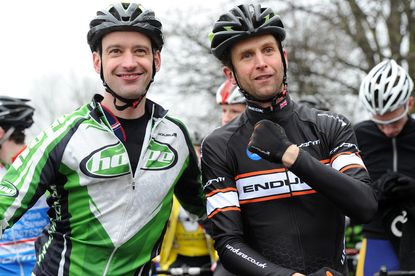 Paul Oldham (Hope Factory Racing) fought off the challenge of Oli Beckingsale (Endura MTB) to draw first blood in the opening round of the National Trophy in Abergavenny, Monmouthshire, on Sunday.
Oldham, 36 and from Colne, was in the mix from the off, setting off at breakneck speed with the Hope Factory Racing man being chased by Adam Martin.
But it was soon Beckingsale who replaced Martin in the pursuit and this proved to be the blueprint for the race.
Speaking after the race, Oldham said: "I had a great race with Oli, we were knocking lumps out of each other all the way round. It's one in the bank and a good start to the series."
Meanwhile, Three Peaks winner Isla Rowntree (Islabikes) took victory in the women's race, the veteran using her experience to edge out Hannah Payton on the final straight.
After finishing second in the two previous races, Wheelbase-Cannondale rider Mike Cotty finally secured a victory in the Wessex League when he won the Hargroves Cycles Cross at Newbury, Berkshire, on Saturday.
The 34-year-old from Southampton led from lap one and forged on to a confident victory while Chris Minter (Pedal On) took second, just ahead of Richard Mardle (Felt Colbornes) in third.
Scott UK rider Dieter Droger bagged his second consecutive win in the SRAM Notts and Derby League, taking a comfortable victory in round six at Alfreton Park in Derbyshire.
The 32-year-old from Barnsley was 48 seconds clear of his nearest rival Paul Cox (Pedal Power Loughborough) at the end of the race, while Chris Metcalfe (Charge Bikes) took third.
And Droger went on to taste a second victory of the weekend when he sprinted to victory in the CSP Windows cross, part of the North West League at Clitheroe in Lancashire.
He held off Herbalife's Giles Drake in a sprint finish, while Rob Partridge (UK Youth) was third.
New Hope Factory Racing signing Mike Thompson secured victory in the Newsome Cross at Huddersfield in Yorkshire on Sunday.
The 18-year-old from Saltburn who is the British junior cross-country MTB champion, took the win by 43 seconds from Yorkshire Velo's Andy Johnson.
And in the third round of the Central League at Hemel Hempstead, victory went to Team Corley Cycles' Nick Jones, who took his first win of the season after finishing fourth in both the races so far.
In Scunthorpe, George Thompson prevailed in the sixth round of the Lincolnshire League. It was a first win of the series for the 19-year-old Sleaford Wheeler who has finished on the podium three times in previous rounds.
Thank you for reading 20 articles this month* Join now for unlimited access
Enjoy your first month for just £1 / $1 / €1
*Read 5 free articles per month without a subscription
Join now for unlimited access
Try first month for just £1 / $1 / €1