Bianchi announces prices for its new Oltre XR3 aero bike
Bianchi has announced a new aero bike - the Bianchi Oltre XR3 (and yes, it's celeste)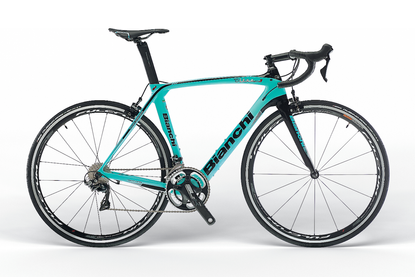 The Bianchi Oltre XR3 is the newest addition to Italian company's collection of aero road bikes and sits below the range topping Oltre XR4, which is raced by Lotto NL-Jumbo
The new Oltre XR3, which will be available from £2799.99, is claimed to feature many of the same frame-design features and developments first seen in the Bianchi Oltre XR4, including Bianchi's Countervail patented technology.
The XR3 is inspired by, and derived from, the XR4, and with it Bianchi is hoping to bring its aero bike platform to a wider number of customers. So it's more affordable than the XR4 which currently retails for £8,350 in a Campagnolo Super Record build.
According to Bianchi: "The Bianchi Oltre XR3 delivers the perfect combination of control, and the competitive advantage of advanced aerodynamics." Bianchi shows off the technology's vibration damping in this video:
https://www.youtube.com/watch?v=2WlrUYjOBNg
"Countervail" technology is embedded within the entire frame, but what is it?
According to Bianchi: "Countervail is a carbon composite-material system that, with its special fiber architecture, combines patented structural carbon with viscoelastic resin. Countervail cancels 80% of vibrations while increasing the stiffness and strength of our carbon frames and forks."
Bianchi suggests: "Traditional passive damping in frames using superficial rubber inserts and isolators are marginally effective compared to the integrated carbon Countervail system."
Originally developed in the USA to reduce vibration in carbon fibre cockpits of military helicopters, it's found use in sports goods such as surfboards and skis, as well as Bianchi's bikes. Most recently, it's been incorporated into Wilson's tennis racquets too.
Frame Specs for the XR3
Carbon Monocoque technology
High strength + medium modulus carbon fibers with Countervail material
Unidirectional carbon woven
Aero shape and design
BB set Press Fit 86.5 x 41
Internal cable routing
Full carbon dropout with metal insert
Weight in 55 size: 1110g (+/- 5%)
At launch, Bianchi is offering four Oltre XR3 models in the UK market.
SHIMANO DURA ACE mix 11sp Compact 50/34
Wheels: Fulcrum Racing Quattro LG
£4599.99
CAMPAGNOLO CHORUS 11sp Compact 52/36
Wheels: Fulcrum Racing Quattro LG
£4199.99
CAMPAGNOLO POTENZA 11sp Compact 52/36
Wheels: Fulcrum Racing 7 LG
£3299.99
SHIMANO 105 11sp Compact 52/36
Wheels: Fulcrum Racing Sport
£2799.99
The bike will be raced in the UK this year by the Bianchi Dama women's team and Bianchi says that it has immediate retail availability.
Thank you for reading 10 articles this month* Join now for unlimited access
Enjoy your first month for just £1 / $1 / €1
*Read 5 free articles per month without a subscription
Join now for unlimited access
Try first month for just £1 / $1 / €1
Oliver Bridgewood - no, Doctor Oliver Bridgewood - is a PhD Chemist who discovered a love of cycling. He enjoys racing time trials, hill climbs, road races and criteriums. During his time at Cycling Weekly, he worked predominantly within the tech team, also utilising his science background to produce insightful fitness articles, before moving to an entirely video-focused role heading up the Cycling Weekly YouTube channel, where his feature-length documentary 'Project 49' was his crowning glory.