Colnago reveals details of new £2,200 'entry-level' road bike
Colnago C-RS to be available form October with prices starting from £2,199.95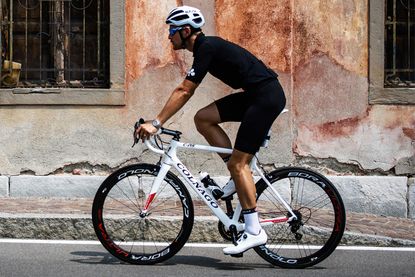 If you've got your heart set on a Colnago as your next bike but don't have the deep pockets to splash out on a top-end V1-R or C60, then the Italian brand has a new "entry-level" model out with a slightly more palatable price tag.
>>> Icons of cycling: Colnago C40
Ok, so with a starting price of £2,199.95, the new Colnago C-RS might not quite fit everyone's definition of entry-level, but seems to slot nicely into the bottom of Colnago's range with a number of features drawn from the company's more expensive offerings.
The bike is designed for people who want one machine suitable for all sorts of riding, so it has a 27.2mm seatpost and enough clearance for wider tyres in order to improve comfort, and a long wheelbase and tall head tube for smoother handling and a more relaxed position, but also comes with a wider PressFit bottom bracket and boxy chainstays for higher stiffness and (hopefully) better acceleration.
>>> Buy now: Colnago bikes at Wiggle from £1839.96
Available from October, the Colnago C-RS will be available in three different builds, two with complete Shimano 105 and Shimano Ultegra builds, and a third bridging the gap between those two. There will also be four different paintjobs to choose from
Thank you for reading 20 articles this month* Join now for unlimited access
Enjoy your first month for just £1 / $1 / €1
*Read 5 free articles per month without a subscription
Join now for unlimited access
Try first month for just £1 / $1 / €1