Sunday trading: 50% off 3T racing wheels and Northwave shoes
Revamp your wardrobe and give your bike some love with some of these wicked deals from the likes of Wiggle, Chain Reaction Cycles, Evans Cycles and many more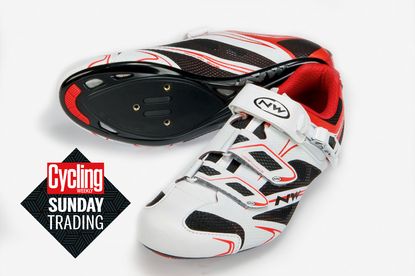 What a week we've had in the world of cycling, eh? The Tour de France is well and truly rolling, and there's already been so much drama, with Sagan being disqualified and Cavendish dropping out.
It strikes us, though, that cycling-mania represents the perfect time to spend some money on you and your precious bike, so here are our favourite Sunday trading deals this week.
3T Orbis II C35 Pro Clincher wheelset £499 £249
Read more: Wheel buyer's guide
3T says these are its entry level race wheels, which makes them a great upgrade for those wanting to start competing or even just training on some better rolling hoops. They're up to date in terms of wheel tech – supporting wider tyres for better grip and lower rolling resistance.
Buy now: 3T Orbis II C35 Pro Clincher wheelset at Wiggle for £249
Northwave Sonic 2 SRS road shoe £100 £44.99
Read more: Northwave Sonic SRS review
Well ventilated, stiff and lightweight at 290g, these are a great pair of shoes that'll go the distance with you. The integrated heel system also keeps you heel secure, so there's no chance of pulling out of the back of the shoe when hammering on the pedals.
Buy now: Northwave Sonic 2 SRS road shoe at Tweeks Cycles for £100
Shimano Ultegra SPD-SL pedals PD-6800 £149 £84.94
The same great retention system that all Shimano pedals have but with a lower weight and now a far lower price point. If you've upgraded everything else on your bike, pedals are always a great way to shave down some weight.
Buy now: Shimano Ultegra SPD-SL pedals at Tweeks Cycles for £84.94
Oakley Jawbreaker Prizm road sunglasses £175 £122
Read more: Oakley Jawbreaker Prizm road sunglasses review
Oakley's best sunglasses just got an even better price tag. We're starting to get well and truly into summer now, so if you haven't got hold of a pair of glasses, now's the time. Plus, the easy lens switch – Oakley's Switchlock tech – means they're useful in the winter time, too.
Buy now: Oakley Jawbreaker Prizm road sunglasses at Wiggle for £122
More tidy deals:
Garmin Edge 20 £109.99 – £84.49
Fulcrum Racing Zero Nite C17 Clincher Wheelset £1,050 – £824.99
Quarq DFour Power Meter £872 – £779.99
Shimano Dura-Ace 9100 crankset £499 – £354.99
Giro Peloton cycling cap £24.99 – £19.99
Specialized women's Pro SL bib short £139.99 – £111.99
Specialized Elasticised shoe cover £29.99 – £9.90
Shimano Ultegra 6800 compact chain set £249.99 £159.99
Look keo grip cleats – £20.99 – £10.49
BMC Team Machine ALR01 105 2016 – £1,249 – £949
Continental Grand Prix folding tyre – £34.95 – £18.98
Campagnolo Comp One OT 11spd Chainset – £339 –£214
Mavic Cosmic Pro carbon wheelset – £875 – £787.50
Castelli Imprevisto Nano water-repellant jersey – £80 – £55.99
Giro women's rain jacket – £169.99 – £44.99
Specialized SL Expert bib-short – £99.99 – £79.99
Louis Garneau knee warmers – £19.99 – £11.99
That's all for this week folks, check back next week for more mega deals!
Thank you for reading 10 articles this month* Join now for unlimited access
Enjoy your first month for just £1 / $1 / €1
*Read 5 free articles per month without a subscription
Join now for unlimited access
Try first month for just £1 / $1 / €1