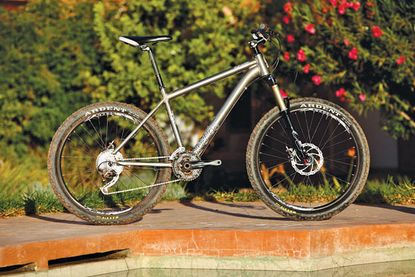 22nd January 2011 Words: Matt Lamy
Formerly a decidedly insider mountain bike brand, VooDoo is hitting the mainstream and teaming up with Halfords to produce top-spec but more affordable cycles.
After the success of its connection with Boardman bikes, Halfords has taken another step into the world of premium cycling products and will sell machines made by VooDoo Bikes from March this year.
Created in 1994, VooDoo is a Japanese-American company that has focused on off-road machines, with some notable successes in the cycling media. Until now, though, it has always been something of a niche manufacturer, little-known beyond the world of mountain biking enthusiasts. With this new Halfords deal that is about to change.
The VooDoo collection coming to our shores will include four hardtail and two full-suspension mountain bikes, two hybrids, three BMX and two dirt-jump frames. Like Boardman bikes, they promise to be top spec but reasonably priced. As a guide, VooDoo's flagship model, the Zobop full-suspension bike will retail at £1,499.99, while the Hoodoo and Bokor hardtails will cost £479.99 and £679.99 respectively.
VooDoo designer Joe Murray said: "We are extremely excited about the 2011 range. By teaming up with Halfords we've been able to ensure VooDoo's unrivalled level of specification and attention to detail is priced extremely competitively. It's the perfect partnership: VooDoo designs and creates and Halfords has the massive distribution network and Far East know-how."
We're certainly excited to see them, and will have a First Ride as soon as we can get our greasy paws on one. For now, we'll have to make do with looking at the VooDoo
Contact: www.voodoocycles.net (opens in new tab)
VooDoo Wanga from this March at Halfords
Thank you for reading 10 articles this month* Join now for unlimited access
Enjoy your first month for just £1 / $1 / €1
*Read 5 free articles per month without a subscription
Join now for unlimited access
Try first month for just £1 / $1 / €1