FIRST RIDE: BRIAN ROURKE CUSTOM BUILD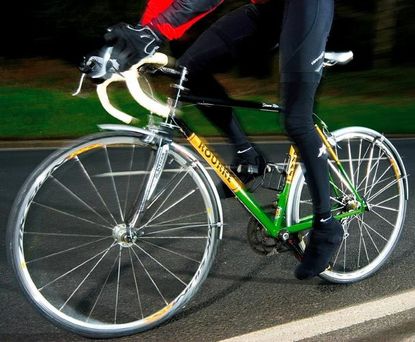 There's something very pleasing about riding a good, solid winter bike, especially when it fits as well as this one.
Hand built with Reynolds 853 ProTeam tubing, it?s also slightly higher spec than is strictly needed for a winter hack, but this increases the bike?s versatility. 853 is Reynolds? second ranking tubeset (after 953) and as such means this bike could be used for virtually anything from racing (minus the mudguards) to touring (with mudguards back on and a rack thrown in for good measure).
The equipment used is swapped straight over from a previous winter bike, and although it?s getting on a bit, it doesn?t detract at all from the ride. The frame came with a set of Dedacciai Black Rain carbon forks with extra clearance and mudguard eyelets, but they
still ride as well as a set of race-specific forks.
A custom-built frame made from a range-topping tubeset is always going to ride well and this ?Rourkie? is no different. It offers the comfort of the heavier steel framesets but with all the zip and responsiveness you?d get from a mid-range carbon frame.
The ride is further helped by the position and balance that only a perfectly fitting bike provides. But it?s no great surprise that a custom bike fits perfectly. Not only that, getting sized up by Brian Rourke is half the fun when done over a cup of tea in the bar above his shop.
Brian Rourke custom build
DistributorBrian Rourke Cycles 01782 835368
Price£695 frameset
FrameReynolds 853 ProTeam
ForkDedacciai Black Rain
Size rangeCustom
Weight9.96kg/21.95lb
GroupsetShimano 105
DeviationsBontrager chainset, Campag CT Record front mech
AlterationsNone
Gear ratios50/36 with 13/25
WheelsMavic Aksium Race
TyresVittoria Open Race Corsa
BarsITM Pro 260
StemITM Forged Lite Lux
SeatpostDeda Metal Stick
SaddleSpecialized Alias
Thank you for reading 5 articles this month* Join now for unlimited access
Enjoy your first month for just £1 / $1 / €1
*Read 5 free articles per month without a subscription
Join now for unlimited access
Try first month for just £1 / $1 / €1