FIRST RIDE: GTR CARBON PRO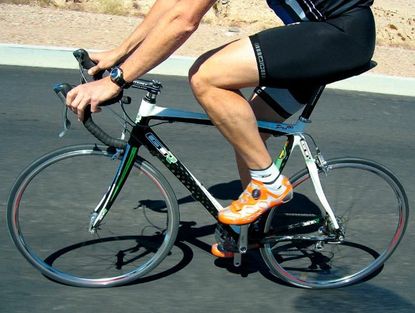 GT will probably be best remembered in the road market as the bike supplier to the Lotto team of Andrei Tchmil in the late Nineties. Famed for the ?triple triangle?, it is back with a modest range that is aimed at a wide sphere of riders.
The GTR Carbon Pro is the opening salvo aimed at the growing sportive bike market. Found at the top of the range of six models, the Carbon Pro is one of two carbon bikes that sit above four aluminium models. Nicely equipped with all branded componentry, from the Shimano Ultegra groupset and 105 wheels to the Ritchey finishing kit, there is no cost cutting as far as component choice is concerned.
Targeted at the non-racer market, this bike was clearly more comfort than performance oriented. Sharp attacking up hills and out of corners was met with a subtle lag, which can be excused as race performance is neither promised or to be expected. Despite this, the GTR gave a solid feel that remained true both on high-speed descents and through corners.
The focus on comfort was especially evident when the road surface deteriorated, which is an important factor in a sportive bike. Overall, the ride was more than pleasing for a bike in the sub-£1,800 category.
At this price it will be hard to find a better equipped sportive bike. The weekend warrior or new sportive rider will find it a tough task to find a bike more suited to their needs.
GTR CARBON PRO
ManufacturerGT
DistributoHot Wheels International
Price £1,799.99
FrameGTR Carbon monocoque
ForkRitchey Carbon pro
Size range50-58cm
Weight8.1kg
GroupsetShimano Ultegra
AlterationsNone
Gear ratios50/34 with 11-25
WheelsShimano 105
TyresVittoria Rubino pro
BarsRitchey Logic Pro
StemRitchey Logic Pro
SeatpostRitchey Pro carbon
SaddleFizik Arione
Size tested58cm
CW FIRST IMPRESSION 8/10
Thank you for reading 20 articles this month* Join now for unlimited access
Enjoy your first month for just £1 / $1 / €1
*Read 5 free articles per month without a subscription
Join now for unlimited access
Try first month for just £1 / $1 / €1