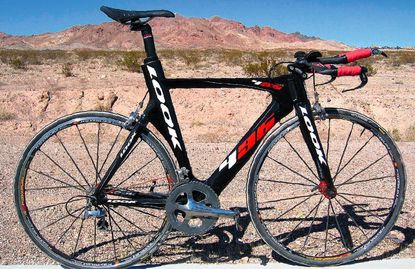 Originally designed for the Athens Olympians, Look?s 496 Tri has been adapted for the road time triallist. Two versions of this bike are made: the Tri, and the TT, which has the more laid-back geometry preferred by Grand Tour riders.
For domestic riders, the steeper 76-degree seat tube is clearly the better option, as it allows a more aggressive and aerodynamic position.
Some 500g have been cut from the bike in its adaptation for the road but all of the aerodynamics have remained, including the striking ?offset? fork. Oversize tube sections give the Look a purposeful, aero-dynamic profile and the hand-laid monobloc construction ensures lasting integrity.
With Look?s oversize Ergo stem built into the fork it?s easy to make adjustment to the bar set-up ? a great system for the fussy rider.
It?s clear from the first pedal stroke that Look has targeted stiffness with the 496. It is worth noting that with a list weight of 1.6kg it?s not the lightest bike but then the resulting stiffness, in the right hands, could really make up for this, especially on dragstrip courses.
It?s also worth noting that Look makes three sizes in the 496: XS, S, and M. Despite being over six foot, the medium was borderline too long, so do check the geometry if you order one.
Cornering stability of the 496 was first rate and the relatively short wheelbase made sure the bike was nimble ? all of which adds up to a truly capable time trial machine.
LOOK 496 TRI
DistributorFishers Outdoor 01727 798345, www.lookcycles.com
Price£2,699
FrameLook Monobloc High Modulus carbon fibre
ForkLook Offset
Size rangeXS, S, M
GroupsetShimano Dura-Ace
AlterationsNone
Gear ratios53/39 with 11-23
WheelsMavic Ksyrium ES
TyresHutchinson Fusion
BarsEaston Attack TT
StemLook Ergo
SeatpostLook Tri
SaddleFizik Gobi
Size testedMedium
CW FIRST IMPRESSION: 9/10
Thank you for reading 5 articles this month* Join now for unlimited access
Enjoy your first month for just £1 / $1 / €1
*Read 5 free articles per month without a subscription
Join now for unlimited access
Try first month for just £1 / $1 / €1