FIRST RIDE: RIDLEY HELIUM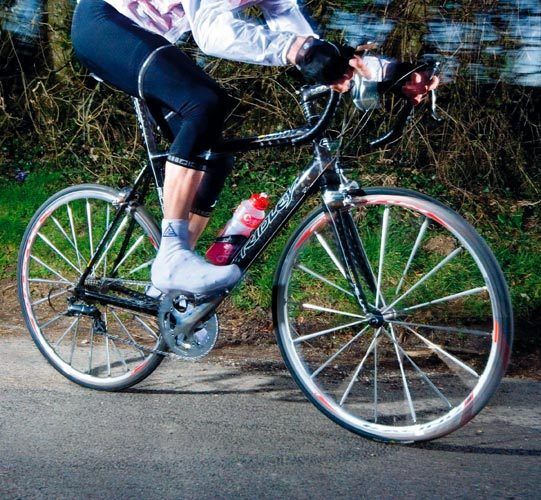 Ridley?s Helium has a totally new frame for 2008, redesigned with input from Cadel Evans and the rest of the Predictor-Lotto (now Silence-Lotto) team.
The medium size we tested weighs in at 900g including an integrated seatpost, making the Helium one of the lightest out there, 150 grams lighter than last year, and apparently stiffer too.
Weight reduction mainly comes from a new moulding technology which reduces excess material inside the carbon tubes, but particularly in the bottom bracket area. New caarbon dropouts, a full carbon headtube with no need for bearing races and super-thin seatstays make up the remainder of the saving.
There?s no arguing that the Helium is stiff. It?s dialled in at the front with a 1.5in oversized lower headset race and fork crown; at the middle with an oversized BB; and at the rear with massive chainstays.
The result is impeccable performance for climbing, hard accelerations and direct, very responsive steering ? all good and desirable. What is lacking is sufficient consideration for comfort. Ridley has tried to tame the Helium?s harshness with skinny, flattened seatstays but they make little impact on lessening vibration.
The integrated seatpost is more of a fashion accessory than a performance-enhancer and doesn?t aid comfort either. Ridley?s seatpost design is neater than others we have tested, with an aesthetically pleasing, minimal seat clamp, albeit only offering around 20mm of adjustment once the frame has been cut.
The new Helium is likely to have limited appeal outside of serious racers and it?s hard to believe that it was designed and tested on the roads of Belgium, not exactly noted for their glass- smooth surfaces.
RIDLEY HELIUM
Contact www.zyro.co.uk or www.ridley-bikes.com
Price£3,899 complete, £2,199 frameset
FrameRidley 40-ton High Modulus Carbon,
Fork4ZA Full carbon
Size rangeXS-XL
Weight15.84lb, 7.2kg complete, frame 900g
Groupset Shimano Dura-Ace
DeviationsUltegra cassette
Gear ratios53-39, 12-23
WheelsFulcrum Racing 1
TyresVredestein Fortezza, 700 x 23c
Bars4ZA Flyer carbon, ergonomic, wing shaped
Stem4ZA Shaft
SeatpostN/A: Integrated
Saddle4ZA Cirrus
Size TestedMedium
CW FIRST IMPRESSION: 8/10