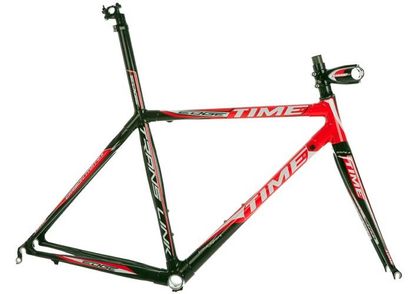 Welcome to our Frame Buyers' Guide 2008. Here you will find every road bike frame listed in order of UK retail price.
A quick scan of this year?s Frame Buyers? Guide reveals that, from aluminium alloy to carbon monocoque, off-the-peg to custom-made, the range and choice of frames has never been better.
With 537 frames entered in this year?s Cycling Weekly Frame Buyers? Guide, the list has grown by nearly 25 per cent compared to last year ? or to put it another way your choice of frames has never been better.
A quick scan of the listings reveals that carbon frames are still growing in terms of market share, but steel and titanium frames are making a comeback, too, thanks in part to the innovation of Sunday Bicycles and Litespeed, and the wider availability of the new stainless steel Reynolds 953 tubeset.
With the increase in specialised fitting systems that many shops now offer, more customers are realising that they can do better than a standard off-the-peg machine, and small-volume
manufacturers have found a new outlet for their custom-made frames ? all of which is great news, as you don?t have to buy your new bike off-the-peg and make it fit.
Details given are: UK retail price, make, model, frame material, fork material (if applicable) and the sizes in which the frame is available. We've also given you a handy list of contacts at the end.
You can find a comprehensive listing of complete bikes in our Bike Buyers' Guide 2008>>
Aluminium
Aluminium alloy frames all but killed off steel to take over as the frame material of choice, and now carbon is steadily doing the same thing for aluminium.
Thanks to aluminium?s ease of construction, particularly when mass produced, it allowed frames to be made very cheaply, and significantly lighter than comparable steel frames of the time. There is still nothing like the feel of a good quality scandium aluminium frame, though, so in the long term it?ll always have a place in the market.
Aluminium dominates the lower portion of our listing with very few offered above £1,000.
6000 and 7005 series aluminium alloys are the most commonly used versions in bike manufacture, but you?ll also find a number of manufacturers still use aluminium alloys that contain scandium and are commonly referred to simply as scandium. These come at a high price but should offer superior ride qualities.
Carbon-fibre
Carbon bikes started off being the most expensive on the market. But over the years prices have come down substantially, and you can now get a carbon frame for as little as £450 from Surosa. Due to the multilayer nature of carbon tubes, the frames can be engineered to have just about any desired property ? stiff in one plane and flexible in another.
As well as the layers that form the tube, the shape can be designed to offer better flexibility for comfort, aerodynamics or manipulated for specific strength. There still isn?t one classification for carbon-fibre in the cycling trade, but be aware that higher modulus, ?stronger? fibres are also more brittle and therefore not always the best ? it?s all about the engineering design.
Toray is arguably the largest carbon manufacturer for bicycles, offering different versions depending on the specific application. 12k, 3k and 1k refer to the weave of the cosmetic outer layer of carbon ? the smaller the number; the closer and more stylish the weave.
Steel
If there was ever a TV advert for steel-tubed bike frames it?d have to go something along the lines of ?the original and still the best?.
Certainly steel is an excellent material for building bike frames: it?s relatively easy to work with, requires little in the way of specific tools and, if done well, makes for a frame that rides brilliantly. The ?old faithful? chromoly steel, has had to make way for the latest 953 stainless steel tubes which have invigorated the market for steel. Expect to pay
anywhere from £149 for a basic steel frame, up to you-name-it for the option of a custom handmade frame here in the UK.
These days steel is best suited to frames where weight is a lower priority, but longevity and a classic look is just what the doctor ordered.
Reynolds is by far the most popular steel manufacturer, and many will remember the 531 as a classic steel tubeset. However, there are others making some great tubes. Reynolds 953 is the latest steel to gain popularity, as it?s classed as stainless yet is stronger and lighter than any other version, but it comes at a price.
Titanium
Along with steel, titanium is coming off the back of a few hard years, but it is gaining in popularity once again. Definitely a material for the long term, titanium is incredibly tough and resilient and yet improves with age as it ?work hardens?. Much like steel, titanium frames have a classic, narrow-gauge look that matches most people?s belief of what a bike ?should? look like. Litespeed and Sunday Bicycles are the current leaders of the ?Ti? market and are pushing the boundaries of what?s possible.
In general titanium frames have a more supple or springy ? and therefore comfortable ? feel than steel or aluminium. All these benefits don?t come cheap, however, as the cheapest frame will cost you £650 and you could spend over £3,000.
Titanium containing three per cent aluminium and 2.5 per cent vanadium, is referred to as 3AL/2.5V and is certainly the most common version used. Also look out for 6AL/4V, a tougher version that?s more expensive because it?s harder to work with.
Swipe to scroll horizontally
Price
Make
Model
Material
Fork
Sizes
£130
Surosa
Audax S2
Alu 7005 DB
Cbn
50-62
£130
Surosa
Audax C2
Alu 7005 DB
Cbn
50-62
£149
Planet-X
Kaffenback
Steel
Steel
S, M, L, XL
£149
On-One
Pompino Pro
Steel
Steel
S, M, L, XL
£169
Ambrosio
Solaro
Alu 7005 DB
Venturi Cbn
50, 52, 55, 58, 60
£169
Ambrosio
Guido
Alu 7005 DB
Venturi Cbn
50, 52, 55, 58, 60
£169
Ambrosio
Solaro Street
Alu 7005 DB
Momentum Cbn
50, 52, 55, 58, 60
£169
Ambrosio
Guido Street
Alu 7005 DB
Momentum Cbn
50, 52, 55, 58, 60
£179
Tifosi
CK6
Alu 7005
Columbus Tusk
XS, S, M, L, XL
£179
Tifosi
CK7
Alu 7006
Columbus Tusk
XS, S, M, L, XL
£179
Tifosi
CK3
Alu 7007
Columbus Tusk
XS, S, M, L, XL
£195
Dave Hinde
L?Etape
Columbus Zonal
Columbus Tusk Lite
custom
£199
Planet-X
SL Team
Alu
Cbn
S, M, L, XL
£199
Kinesis
Racelight T
Alu 7005
Cbn T -12k
51, 54, 57, 60, 63
£223
Simoncini
Eco
Alu 7005
Columbus Mega Tusk Cbn
47.5-56.5
£229
Kinesis
Crosslight 4T
Alu 7005
Cbn-Pro
51, 54, 57, 60, 63
£230
Genesis
Flyer
520 Steel
Cbn
52, 54, 58, 60
£243
Simoncini
Eco CNC
Alu 7005
Columbus Mega Tusk Cbn
46-60
£250
Aeron
TR
Alu 7005
Cbn-Alu
S, M, L, XL
£258
Simoncini
Cromor
Steel
Columbus Mega Tusk Cbn
47-66
£290
Pearson
Touche
Alu DB
Cbn
48, 50, 52, 54, 56, 58, 60
£299
Thorn
Audax Mk3
Thorn 858 Cro-mo
Thorn Cro-mo
495, 525, 550, 570, 600
£299
Thorn
Raven Sterling
Thorn 858 Cro-mo
Pace Cbn/Magura/Mt-Tura
582, 590, 610
£299
Planet-X
Uncle John
Alu
Cbn
S, M, L, XL
£299
Kinesis
Racelight TK
Kinesium Alu
Cbn T-12k
51, 54, 57, 60, 63
£299
Kinesis
Racelight RC2
Kinesium Alu/Cbn
Cbn-Energy
45, 48, 51, 55
£299
Kinesis
Crosslight PRO 5
Kinesium Alu
Cbn-Pro
51, 54, 57, 60, 63
£299
Flandria
Competition
Alu 7005
Cbn / Alu Steerer
S, M, L, XL
£299
Flanders
FSR SR1
Alu 7005 DB
Cro-mo
XS, S, M, L, XL
£299
Flanders
Mega Race SR1
Alu 7005 DB
Cro-mo
XS, S, M, L, XL
£300
Surly
Cross Check
4130 Cro-mo
4130 Cro-mo
42-62
£300
Surly
Steamroller
4130 Cro-mo
4130 Cro-mo
49-62
£300
Surly
Pacer
4130 Cro-mo
4130 Cro-mo
42-62
£300
Kona
Paddy Wagon
Deda COM 12 5 Cro-mo
Retro Road
49, 52, 54, 56, 58, 60
£318
Simoncini
Cro-mo
Steel
Columbus Mega Tusk Cbn
47-66
£325
Surly
Long Haul Trucker
4130 Cro-mo
4130 Cro-mo
42-62
£325
Orbea
Dama
Aqua HF Alu
Orbea Cbn
46, 49, 53
£345
Alan
Mercurial
Alu 7020
F03 Cbn/Alu
sloping 42, 45, 47, 50, 53
£349
Dave Hinde
Race Series
Deda HF
Deda BlackForce 4
custom
£350
Rondelli
Prologue
Alu 7005
Cbn/Alu
S, M, L
£350
Kona
Zing
Kona 7005 Butted Alu
Cbn Race
49, 53, 56, 58, 61
£350
Kona
Lisa RD
Kona 7005 Butted Alu
Cbn Race
44, 46, 49, 51, 53
£350
Kona
Jake the Snake
Kona 7005 Butted Alu
Cbn Cross
47, 49, 52, 54, 56, 58, 60, 62
£375
Salsa
Casseroll
Cro-mo
Cro-mo
45-59
£389
Quest
Sportive
Butted Alu
Alloy
52, 54, 56, 58, 60
£389
Quest
Vivione
Alu/Cbn
Cbn
S, M, L, XL
£395
Alan
Cross Mercurial
Alu 7020
CF03 Cbn/Alu
cross 50, 52, 54, 56, 58
£399
Thorn
Sherpa
Thorn 4130 Cro-mo
R-531ST
46, 51, 56, 48.5, 53.5, 58.5
£399
Thorn
Voyager
Thorn Cro-mo
Thorn Cro-mo
20/18, 20/20, 19/14, 15.75/11
£399
Somec
Atom
Alu 7003
Cbn
9 sizes
£399
Somec
Atom First lady
Alu 7003/Cbn
Cbn
9 sizes
£399
Ridley
Triton T
Alu 7005 DB
HM Cbn
XXS, XS, S, M, L
£399
Ridley
Crossbow
Alu 7005 DB
Cbn-Alu
41, 48, 50, 52, 54, 56, 58, 60
£399
Pearson
Dayrider
Reynolds 631
Steel
50, 52, 54, 56, 58, 60
£399
Pearson
Velorose
Alu DB
Cbn
48, 50, 53
£399
Kinesis
Racelight KiC2
Kinesium Alu/Cbn
Cbn-Attack
52, 54, 56, 58, 60, 62
£399
Flandria
CSS-1
Alu 7005 / Cbn S/S
Cbn/Alu Steerer
S, M, L, XL
£399
Flanders
Mega Race
Alu 7005 DB smooth weld
Cbn/Alloy
XS, S, M, L, XL
£399
Flanders
FSR
Alu 7005 DB smooth weld
Cbn/Alloy
XS, S, M, L, XL
£400
Condor
Agio
Alu 7003
Deda Black Rain Cbn
46, 49, 52, 55, 58, 61, 64
£405
Simoncini
SLX
Steel
Columbus Mega Tusk Cbn
47-66
£415
Fixie Inc
Peacemaker
Steel
Steel
XS, S, M, L
£419
Scott
Speedster S10 CD
Alu 7005 HF DB
Addict Cbn/Alloy
XXS, XS, S, M, L, XL, XXL
£425
Orbea
Triton
Aletta Alu Aero
Zeus AC Triathlon
48, 51, 54, 57, 60
£425
Orbea
Dauphine
Aqua + 50% Cbn
Orbea Cbn
48, 51, 54, 57, 60
£425
Orbea
Altube
Aqua + 50% Cbn
Orbea Cbn
48, 51, 54, 57, 60
£425
Orbea
Vento
Aqua + 50% Cbn
Orbea Cbn
48, 51, 54, 57, 60
£449
Thorn
Club Tour
Reynolds 725 Steel
R-531ST
49.5, 51.7 53.3, 55.5, 57.2, 59.5
£449
Kinesis
Crosslight EVO 3
Easton Ultralight/Cbn
N/A
51, 54, 55.5, 57, 60, 63
£449
Flanders
Cyclo-Cross
Alu 7005 DB
Cbn/Alloy
44, 47, 49, 51, 53, 55, 57, 59
£449
Dave Hinde
Pro Carbon
Deda Nero Corsa 12K
Deda BlackForce 4
custom
£449
Cube
Agree Blackline
Alu 7005 HF TB
Deda Black Blade Cbn
50, 53, 56, 58, 60, 62, 64
£449
Cinelli
Xperience
Columbus Zonal
Cbn Tusk
XS, S, M, L, XL
£450
Surosa
Carbon Pro-C
Cbn
Cbn
S, M, L, XL
£450
Rondelli
Super Cross
Alu 7005
Cbn/Alu
S, M, L
£459
Scott
Cyclocross Team
Scott Cyclo Cross Alu 7005
Scott Cbn CX Alloy Steerer
S, M, L, XL
£459
Cinelli
Vigorelli
Columbus Airplane
Cbn Columbus
50, 52, 54, 56, 58
£474
Simoncini
COM 12.5
Steel
Columbus Mega Tusk Cbn
47-66
£479
Cinelli
Little Wing
Columbus TB Alu
Cbn Tusk
XS, S, M
£495
Giant
TCX
Alu 6000
T700 Cbn composite
51, 54, 57, 60, 62
£495
Ciocc
Saphir
Deda 7003 Alu
Cbn
9 sizes
£499
Pearson
Compass Tourer
Reynolds 631
Steel
50, 52, 54, 56, 58, 65
£499
Glider
Boxer
Deda Fire Alu
Colombus Magic
48-60
£499
Dave Hinde
Pro Series
Deda HF + Cbn
Deda Black Fin
custom
£499
Cube
Aerium Pro
Alu 7005 HF TB
Deda Black Fin Cbn
49, 52, 55, 59
£499
BMC
Streetfire
Easton Ultralite
Easton Cbn EC70
S, M, L, XL
£499
Alan
Mercurial Pro CS
Alu 7020/Cbn
F03 Cbn/Alu
5 sloping, trad 48-63, custom
£499
Alan
Mercurial Pro
Alu 7020
F03 Cbn/Alu
5 sloping, trad 48-63, custom
£500
Thorn
Raven Tour
Thorn 969 Cro-mo
Twin Plate Crown R-531ST
11 sizes
£500
Condor
Italia
Alu 7003 TB / Cbn stays
Deda Nero Cbn
46, 49, 52, 55, 58, 61
£500
Condor
Bellissima
Alu 7003 TB / Cbn stays
Deda Nero Cbn
46, 49, 52, 55, 58, 61
£500
Condor
Fratello
TB Steel
Deda Black Rain Cbn
46, 49, 52, 55, 58, 61, 64
£500
Condor
Heritage
TB Steel
Tange Prestige Steel
46, 49, 52, 55, 58, 61, 64
£500
Condor
Pista
TB Steel
Deda Nero full Cbn
46, 49, 52, 55, 58, 61
£500
Condor
Tempo
TB Steel
Deda Nero full Cbn
46, 49, 52, 55, 58, 61
£500
Salsa
Chilli Con Crosso
Scandium
N/A
49-53
£500
Salsa
La Cruz
True Temper OX Platinum
True Temper OX Platinum
47-59
£500
Bianchi
Via Nirone 7 Alu Carbon
Alu 7000 / Cbn S/S
Cbn with K-Vid
50, 53, 55, 57, 59, 61
£536
Simoncini
Zona
Nivacrom Steel
Columbus Mega Tusk Cbn
47-66
£549
Kinesis
KT-415 TT
Alu/Cbn
Cbn Energy TT
47, 50, 53, 56, 59
£550
Pearson
Audax Pro
A6N TB Alu
Cbn
50, 52, 54, 56, 58, 61
£560
Brian Rourke
Reynolds 631 O/S
Reynolds 631 O/S
Deda Black Rain
custom
£570
Ridley
Oval
Alu 7005 DB
Cbn-Alu
48, 50, 52, 54, 56, 58, 60, 62
£570
Alan
Mercurial Pro Pista
Alu 7020
F286 Cbn/Alu pista
5 sloping, trad 48-63, custom
£570
Alan
Cross Mercurial Pro
Alu 7020
CF03 Cbn/Alu
cross 5 sloping, trad, custom
£577
Simoncini
Airplane
Alu
Columbus Mega Tusk Cbn
47-66
£579
Gios
Compact Pro
Deda 14.5 Steel
Steel
9 sizes
£580
Alan
Mercurial Fixie
Alu 7020
F03 Cbn/Alu road
5 sloping, trad 48-63, custom
£595
Fixie Inc
Black Jack
Steel
Steel
XS, S, M, L
£595
Eddy Merckx
Gara
Custom Deda Fire
Easton EC-70
5 sloping, trad 50-62
£596
Simoncini
SAT 14.5
Steel
Columbus Mega Tusk Cbn
47-66
£599
Wilier
Lavareodo Crono
Aero Alu
Full Cbn Aero
S, M, L
£599
Thorn
Explorer
Thorn Cro-mo
Thorn Cro-mo
S/S, M/M, L/L, L/S
£599
Mondiale
3.4
Deda Fire Track
Amadeus Track
custom
£599
Flandria
FCS-1
Alu 7005/Cbn rear
Cbn/Alu Steerer
S, M, L, XL
£599
Flanders
Carve
Alu 7005 HF DB / Cbn S/S
Full Cbn
S, M, L, XL
£599
Flanders
Carve Cyclo-Cross
Alu 7005 DB / Cbn S/S
Cbn/Alloy
49, 51, 53, 55, 57, 59
£599
Dave Hinde
Pro+ Series
Deda U2
Deda BlackFin
custom
£599
Cinelli
Unica
Columbus Alu/Cbn
Cbn Tusk
XS, S, M, L, XL
£600
Basso
Devil
Ultra Lite Alu
Cbn w/Alloy Steerer
45, 48, 51, 53, 56, 58, 61
£600
Basso
Devil Donna
Ultra Lite Alu
Cbn w/Alloy Steerer
45, 48, 51, 53, 56, 58, 61
£600
Basso
Devil Cross
Ultra Lite Alu
Cbn w/Alloy Steerer
50, 52, 54, 56, 58, 60
£600
Condor
Acciaio
TB Steel
Deda Nero Cbn
46, 49, 52, 55, 58, 61
£600
Condor
Lavoro
Alu 7003
Pista Nero Cbn Track
46, 49, 52, 55, 58, 61
£600
Thorn
Raven Enduro
Reynolds 853 Steel
Magura Odur Sus
53.3, 53.4, 55.9, 56.5, 58.9
£600
Thorn
Raven Catalyst
Reynolds 853 Steel
Pace Cbn/Magura Odur
53.1, 53.2, 55.8, 56.4, 58.8
£600
Bianchi
1885 Alu Hydro-Carbon
Alu 7000 S/S
Cbn
49, 51, 53, 55, 57, 59, 61, 63
£615
Eddy Merckx
Cross
Custom Deda Fire
Amadeus Cross
trad 50-60
£625
Brian Rourke
Reynolds 631 O/S
Reynolds 631 O/S
Deda Black Fin
custom
£625
Brian Rourke
Reynolds 853 Pro Team
Reynolds 853 Pro Team
Deda Black Rain
custom
£629
Glider
Boxercross
Deda Fire Alu
Colombus Cbn CX
48-60
£630
Simoncini
XLR8R
Scandium Alu
Columbus Mega Tusk Cbn
47-66
£634
Simoncini
SC61
Alu
Columbus Mega Tusk Cbn
47-66
£640
Eddy Merckx
Track
Custom Deda Fire
Amadeus Pista
sloping 41, 44, 47, 50
£640
Alan
Xtreme full alu
Amadeus 7046 Alu
F28 full Cbn
5 sloping, trad 48-63, custom
£645
Ambrosio
Rapide Carbon
AN6 TB Alu/Cbn
Celcius Cbn
51, 53, 55, 59, 61
£647
Van Nicholas
Euros
Titanium
Easton EC70
48, 50, 52, 54, 56, 58, 60
£649
Kinesis
Racelight Gran Fondo
Scandium/Cbn
Cbn-Granfondo
45, 48, 51, 55
£649
HED
R1C
Cbn
Full Cbn
S, M, L
£666
Simoncini
Life
Niobium Steel
Columbus Mega Tusk Cbn
47-66
£670
Alan
Cross Xtreme
Amadeus 7046 Alu
CF03 Cbn-Alu
cross 5 sloping, trad, custom
£685
Simoncini
Zonal
Alu
Columbus Mega Tusk Cbn
47-66
£687
Simoncini
Spirit
Niobium Steel
Columbus Mega Tusk Cbn
47-66
£687
Simoncini
EOM 16.5
Steel
Columbus Mega Tusk Cbn
47-66
£690
Alan
Xtreme TT full alu
Amadeus 7046 HF Aero Alu
FL7 Cbn crono
trad 48-63 + custom
£695
Brian Rourke
Reynolds 853 Pro Team
Reynolds 853 Pro Team
Deda Black Fin
custom
£699
Thorn
xTc
Reynolds 853 Steel
R-531C
10 sizes
£699
Thorn
Raven Dynamic
Thorn 969 Cro-mo
Twin Plate Crown R-531T
L/XXS, S/XXS
£699
Thorn
Raven Adventure
Thorn 969 Cro-mo
Twin Plate Crown R-531T
S/XS, M/S, M/M, L/S
£699
Ridley
Boreas
Alu 7000 HF TB / Cbn S/S
HM Cbn
XS, S, M, L, XL
£699
Ridley
Crosswind
Alu 7000 TB
HM Cbn Mono
48, 50, 52, 54, 56, 58, 60
£699
Gios
A90
Deda 7003 Alu
Cbn
9 sizes
£699
Flandria
C-Six
Cbn/Alu Hybrid
Full Cbn
S, M, L
£699
Dave Hinde
Pro+ Carbon
Deda Scuro HCR
Deda Black Fin
custom
£699
Dalkiia
F1-Zero
Cbn
Full Cbn Aero
XS, S, M, L
£700
Basso
Reef
Alu / Cbn S/S
Full Cbn
45, 48, 51, 53, 56, 58, 61
£700
Thorn
Raven Sport Tour
Thorn 853 Cro-mo
R-531C
11 sizes
£700
Kona
Major Jake
Kona Scandium Race Butted
Easton EC90X Cbn
49, 52, 54, 56, 58, 60, 62
£728
Van Nicholas
Chinook
Titanium
Easton EC70
52, 54, 56, 58, 60
£728
Van Nicholas
Yukon
Titanium
AX Cbn audax fork
50, 52, 54, 56, 58, 60
£749
Simoncini
V 107
Alu
Columbus Mega Tusk Cbn
47-66
£750
Brian Rourke
Deda 14.5
Deda 14.5 steel
Deda Black Rain
custom
£766
Simoncini
Standard Racing Carbon
Cbn
Columbus Mega Tusk Cbn
various
£766
Simoncini
U 2
Alu
Columbus Mega Tusk Cbn
47-66
£783
Simoncini
Starship
Alu
Columbus Mega Tusk Cbn
47-66
£795
Casati
Vinci
Deda 7003/Cbn
Cbn
9 sizes
£795
Casati
Linea Oro
Deda Sat 14 5/Steel
Cbn
9 sizes
£795
Casati
Pista
Deda SC61 Alu
Cbn
9 sizes
£799
Thorn
Raven Nomad S+S
Thorn 969 Cro-mo
Twin Plate Crown R-531ST
497, 512, 537, 562, 587
£799
Thorn
Raven Discovery
Thorn 969 Cro-mo
Twin Plate Crown R-531T
S/M, M/S+, M/M, L/S, L/L+
£799
Surosa
Carbon X-Lite
Cbn
Cbn
S, M, L, XL
£799
Sunday Bicycles
September
3AL/2.5V titanium, 6AL/4V drop outs
ITM 4ever mudguard
S, M, L, XL
£799
Sunday Bicycles
Silk Road
3AL/2.5V titanium, 6AL/4V drop outs
Reynolds Ouzo Pro
S, M, L, XL
£799
Somec
Atom KR
Alu 7003/Cbn
Cbn
9 sizes
£799
Gios
Cinquantenario
Deda Custom 7003 Alu
Cbn
9 sizes
£799
DeRosa
Team
Alu Deda 7300-7500
Mizuno Cbn
59, 63, 66, 69 integrated
£799
BMC
Road Racer
Easton Ultralite, CNT Cbn
Easton Cbn EC70
49, 52, 54, 56, 58, 61
£799
Ambrosio
Celcius
Cbn
Celcius Cbn
S, M, L, XL, XXL,
£800
Basso
Zero 9
Alu/Cbn stays
Mono Cbn
45, 48, 51, 53, 56, 58, 61
£800
Surly
Travellers Check
4130 Cro-mo
4130 Cro-mo
42-62
£800
Condor
Squadra
Alu/Scandium / Cbn stays
Deda Nero Cbn
46, 49, 52, 55, 58, 61
£800
Salsa
Campeon
Scandium / Cbn stays
Cbn
41-53
£809
Van Nicholas
Zephyr
Titanium
Reynolds Ouzo Pro
50, 52, 54, 56, 58, 60, 62
£809
Van Nicholas
Amazon
Titanium
SLX Cbn touring
50, 54, 56, 58, 60
£839
Isaac
Pascal
Cbn SM
Cbn
48-60
£849
Orbea
Urkiola
6000Lobular+100%Cbn
Zeus FCM Cbn
15 sizes
£849
Orbea
Vertex
6000Lobular+100%Cbn
Zeus FCM Cbn
15 sizes
£849
Cube
Agree GTC Pro
Mono Modular Fiber Tech Cbn
Deda Black Blade Cbn
53, 56, 58, 60, 62
£850
Somec
Pyramis
Columbus Airplane
Cbn
9 sizes
£850
Kona
Kapu
Deda SAT Cro-mo/Chrome lugs
Retro Road
49, 53, 56, 58, 61
£850
Brian Rourke
Deda 16.5
Deda 16.5 Steel
Deda Black Fin
custom
£860
Fixie Inc
Pure Blood
Steel
Steel
XS, S, M, L, XL
£875
Eddy Merckx
Racing
Easton 7000 Series
Easton EC-70
5 sloping, trad 48-62
£899
Thorn
Adventure
Reynolds 531 Steel
Twin Plate Crown R-531T
L/L, L/S, M/M, S/S
£899
Thorn
Trident
Thorn 4130 Cro-mo
Thorn Cro-mo
20/18/16
£899
Orbea
Vuelta
Cbn Mono
Zeus AC Cbn
48, 51, 54, 57, 60
£899
Orbea
Bira
Cbn Mono
Zeus AC Cbn
48, 51, 54, 57, 60
£899
Orbea
Giro
Cbn Mono
Zeus AC Cbn
48, 51, 54, 57, 60
£899
Orbea
Tour
Cbn Mono
Zeus AC Cbn
48, 51, 54, 57, 60
£899
Orbea
Onix Dama
Cbn Mono
Zeus AC Cbn
49, 53
£899
Enigma
Eclipse
Titanium 3AL/2.5V
Enigma Electron Cbn
S, M, L, XL
£899
Enigma
Elite
Enigma Genius Ultra-Butted Steel
Reynolds Cbn
custom
£899
Dave Hinde
Elite 7.9
Deda D7 9
Pro-Lite Grande
custom
£899
Cinelli
Willin?
Cbn Mono
Cbn Tusk light
XS, S, M, L, XL
£900
Condor
Baracchi
HM Cbn
Deda Nero Cbn
47, 51, 54, 56, 58
£909
Time
Speeder
Cbn
Cbn
XS, S, M, L
£925
Eddy Merckx
LXM
6F UHM Cbn
LXM
sloping 41, 44, 47, 50, 53
£939
Kuota
Kross
Mono 12KCbn
Mono 12KCbn
S, M, L, XL, XXL
£949
Kinesis
Racelight KR-810
Cbn
Cbn-Tracer
45, 48, 51, 55
£949
Crosslight
C-Six
Cbn
Cbn-EVO
54, 56, 57, 59, 61
£949
Cannondale
Synapse Carbon
Alu
Cannondale Synapse S.A.V.E.
50, 53, 56, 58, 60
£950
Simoncini
Altec
Alu
Columbus Mega Tusk Cbn
47-66
£950
Glider
Tupelo
Colombus TB Steel
Alpha Q CS
48-62
£950
Glider
Tupelo Mono
Colombus Air-hardened TB Steel
Alpha Q CS
50-60
£950
Giant
Trinity Alliance Zero
T700 Cbn/6000 Alu
T700 Cbn composite
43, 46.5, 50, 55.5
£960
Alan
Cross Xtreme CS
Amadeus 7046 + Cbn
CF12 Mono
cross 5 sloping, trad, custom
£970
Van Nicholas
Pioneer
Titanium
TRX Alu expedition fork
48, 52, 55, 58
£970
Fixie Inc
Betty Leeds
Steel
Reynolds Ouzo Pro
XS, S, M, L, XL, XXL
£970
DeRosa
Neo Primato
Deda Zero/Uno
Steel
14 sizes, custom
£970
Alan
Xtreme Matrix
Amadeus 7046 + Cbn
F28 full Cbn
5 sloping, trad 48-63, custom
£975
Quest
Team Issue
Deda Scuro
Deda Black Fin
S, M, L, XL
£995
Somec
Iron
Columbus Spirit Steel
Cbn
9 sizes
£995
Somec
Elite
Cbn Mono
Cbn
9 sizes
£995
Mondiale
3.2
Deda V107/Cbn
Advanced full Cbn
custom
£995
Casati
Challenge
Deda SC61/Cbn
Cbn
9 sizes
£999
Scott
CR1 Pro 20 sp
Scott CR1 HMF Cbn
Scott Cbn CR1 Integrated
XXS, XS, S, M, L, XL, XXL
£999
Ridley
Orion
HM 24 ton Cbn
HM Cbn
S, M, L, XL
£999
Ridley
Supercross
TB Scandium / Cbn S/S
HM Cbn Mono
48, 50, 52, 54, 56, 58, 60
£999
Pearson
Nuovo Pro
Cbn Mono
Cbn
50, 52, 54, 56, 58, 62
£999
Pearson
Carbon Audax Pro
Cbn Mono
Cbn
50, 52, 54, 56, 58, 63
£999
Orbea
Arin TPB
Arin Alu
Zeus FCM Cbn
15 sizes
£999
Kuota
Kebel
Mono 12KCbn
Mono 12KCbn
XS, S, M, L, XL, XXL
£999
Kuota
K Factor
Mono 12KCbn
Mono 12KCbn
XS, S, M, L, XL
£999
Flanders
Cobra
Full 3k Cbn Mono / Int seatpost
Full Cbn
S, M, L, XL
£999
Enigma
Etape
Titanium 3AL/2.5V
Enigma Etape Cbn
S, M, L, XL + custom
£1,000
Thorn
Discovery
Reynolds 725 Steel
Twin Plate Crown R-531T
L/L, L/S, M/M. S/S
£1,000
Colnago
Strada
Scandium
Cbn
45-58 sloping
£1,000
Basso
Laguna
Mono Cbn
Mono Cbn
45, 48, 51, 53, 56, 58, 61
£1,000
Saracen
Galibier
ACCM Mono Cbn
T400-3K Cbn Mono
S, M, L, XL
£1,000
Cervélo
Soloist
Custom Alu
Cbn Wolf CL
48, 51, 54, 56, 58, 61
£1,000
Bianchi
C2C 928
Cbn with K-Vid
Full Cbn with K-Vid
50, 53, 55, 58, 61
£1,000
Bianchi
FG Lite Alu
EV4 Alu Hyperalloy
Full Cbn Straight
15 sizes & custom
£1,020
Mondiale
3.1
Colmbus XLR8R Alu + Cbn
Advanced Full Cbn
custom
£1,020
Mondiale
3.3
Columbus Altec 2
Easton Full Cbn Aero
custom
£1,039
Cinelli
Man Machine
Cbn Mono
Cbn Custom
XS, S, M, L, XL
£1,049
Cannondale
Six13
Cbn/Alu
Cannondale Premium
48, 50, 52, 54, 56, 58, 60, 63
£1,049
Cannondale
Cyclocross SL
Alu
Easton EC 90 X
47, 50, 52, 54, 56, 58, 60
£1,050
Colnago
Master X Light
DT15 Steel
Steel
49-64 trad
£1,069
Isaac
Kelvin
Cbn IM
Cbn Mono
48-60
£1,069
Isaac
Velocity
Cbn HM
Cbn Mono
XS-L
£1,095
Simoncini
Gilco 15 CDV6
Steel
Columbus Mega Tusk Cbn
47-66
£1,095
Gios
Carbon
Deda V107 Alu/Cbn
Cbn
9 sizes
£1,095
Ciocc
Exige
K12 Mono
Cbn
9 sizes
£1,095
Casati
Laser
Deda 16.5 Steel
Cbn
9 sizes
£1,099
Wilier
Izoard
Cbn Monoscocca
Full Cbn
XS, S, M, L, XL, XXL
£1,099
Wilier
Mortirolo
Cbn Monoscocca
Full Cbn
XS, S, M
£1,099
Sunday Bicycles
Silk Road Pro
Titanium 3AL/2.5V DB
Reynolds Ouzo Pro
S, M, L, XL
£1,099
Pearson
Cartouche
Cbn
Cbn
50, 52, 54, 56, 58, 64
£1,099
Enigma
Echo
Titanium 3AL/2.5V DB
Enigma Electron Cbn
S, M, L, XL + custom
£1,099
Enigma
Excel
Titanium 3AL/2.5V
N/A
custom
£1,099
BMC
Time Machine 03
Cbn
Easton Cbn EC70 Aero
S, M, L, XL
£1,100
Thorn
Audax Classic
Reynolds 725 Steel
R-531C
50, 51.5, 53, 54.5
£1,100
Thorn
Audax 853
Reynolds 853 Steel
R-531C
40.5, 52.0, 55.0, 58.0, 50.5, 53.5, 56.5, 59.5
£1,100
Thorn
Cyclosportif
Reynolds 725 Steel
R-531C
custom
£1,100
Giant
TCR C Zero
T700 Cbn composite
T700 Cbn composite
46.5, 50, 53.5, 55.5
£1,110
Alan
Blade
Toray T600-12K Cbn
F28 Full Cbn
sloping 43, 45, 48, 50, 52
£1,150
Colnago
Dream HX
Alu/Cbn
Cbn
22 sizes
£1,159
Flanders
Razor
Full 12k Cbn Mono
Full Cbn
S, M, L, XL
£1,195
Somec
Pyramis KR
Columbus Airplane/Cbn
Cbn
9 sizes
£1,199
Quest
TT
Cbn Mono
Cbn
S, M, L
£1,199
Orbea
Ora TRI 4
T700 Cbn Mono
Ora Cbn Aero
48, 51, 54, 57
£1,199
Flanders
Pro Team
Full 3k Cbn Mono
Full Cbn
S, M, L, XL
£1,199
Cube
Litening HPC Ultegra
Tube2Tube Technology Cbn
Deda CSL-1 Full Cbn
53, 56, 58, 60, 62
£1,199
Cube
Aerium HCP Ultegra
Mono Cbn Twin Mold Tech
Easton EC90 Aero CNT Cbn
49, 52, 55, 59
£1,200
Thorn
eXp
Reynolds 725 Steel
Twin Plate Crown R-531ST
custom
£1,200
Pegoretti
8:30
Alu
Reynolds Ouzo Pro
custom
£1,205
Isaac
Efficiency
Cbn IM
Cbn Mono
XS-L
£1,213
Van Nicholas
Blaze
Titanium
Easton EC70
52, 54, 56, 58
£1,215
DeRosa
Corum
Deda Zero
Mizuno Cbn
14 regular, 14 sloping, custom
£1,218
Simoncini
Z110
Cbn
Columbus Mega Tusk Cbn
47-66
£1,219
Time
Edge Pulse
Cbn
Cbn Pilot
XXS, XS, S, M, L, XL, XXL
£1,230
Pegoretti
Duende
Columbus Steel
Reynolds Ouzo Pro
custom
£1,249
Wilier
Mimosa
Cbn Monoscocca
Full Cbn
XS, S, M
£1,250
Enigma
Esprit
Titanium 3AL/2.5V DB
Enigma Electron Cbn
S, M, L, XL + custom
£1,275
Luna
Luna
Toray T700 UDM Cbn, hand-laid
UHM Cbn
trad 50-62, custom
£1,276
Simoncini
Inoxtube
SS
Columbus Mega Tusk Cbn
47-66
£1,295
Somec
Matrix
K12 Cbn
Cbn
9 sizes
£1,295
Independent Fabrication
Steel Crown Jewel
Steel
Custom Steel
custom
£1,295
Independent Fabrication
Steel Planet Cross
Steel
Custom Steel
custom
£1,295
DeRosa
Cross Pro
Deda with Cbn stays
Mizuno Cbn
custom
£1,295
Ciocc
Extro
K12 Mono
Cbn
9 sizes
£1,295
Casati
53 x 11
K12 Cbn
Cbn
6 sizes
£1,295
Alan
Max
HM nanotech Cbn
F28 Full Cbn
sloping 39, 45, 48, 51
£1,299
Ridley
Excalibur
HM 24+30 ton Cbn
HM Cbn Mono
XS, S, M, L, XL
£1,299
Orbea
Opal Shu
M30 Cbn Mono
Zeus FCM Cbn
48, 51, 54, 57, 60
£1,299
Enigma
Effusion
Titanium 3AL/2.5V DB
Enigma Electron Cbn
S, M, L, XL + custom
£1,299
Cinelli
Estrada Pro
Cbn Oversize
Cbn Mono Tusk
XS, S, M, L, XL
£1,300
Look
555
Cbn
Cbn
49-59
£1,300
Serotta
Fierte steel
PS Steel
Alpha Q CS
47-62
£1,300
Cervélo
P2C
Aero Cbn
Cbn Wolf SL
48, 51, 54, 56, 58, 61
£1,300
Bianchi
928 Carbon T-Cube
Cbn
Full Cbn
49, 51, 53, 55, 57, 59, 61, 63, custom
£1,311
Seven
Axiom Steel
Steel
Seven 5E Cbn
custom
£1,325
Pegoretti
Duende CX
Columbus Steel
Alpha Q Cross
custom
£1,342
Simoncini
Gilco Inoxtube
SS
Columbus Mega Tusk Cbn
47-66
£1,350
Rondelli
Maxima Potentia
Cbn
Cbn
S, M, L
£1,350
Independent Fabrication
Steel Club Racer
Steel
Custom Steel
custom
£1,375
Van Nicholas
Aeolus
Titanium
Easton EC90 SLX
52, 54, 56, 58
£1,375
Alan
Blade Cross
Toray T600-12K Cbn
CF12 Mono
cross 47, 50, 53, 55
£1,379
DeRosa
Avant
DeRosa Mizuno Mono
Mizuno Cbn
46, 49, 51.5, 55, 58 sloping
£1,390
Brian Rourke
953 Stainless
SS 953
Deda Black Rain
custom
£1,395
Independent Fabrication
Independence
Steel
Custom Steel
custom
£1,399
Scott
Addict R4
HMF NET Cbn
Addict HMF NET Ltd Cbn
XS, S, M, L, XL, XXL
£1,399
Litespeed
Sportive
Titanium
Cbn Touring
S, M, ML, L, XL, custom
£1,399
Cannondale
System Six
Cbn/Alu
Cannondale System SIX
48, 50, 52, 54, 56, 58, 60, 63
£1,399
Cannondale
Synapse Carbon
Cbn
Cannondale Synapse S.A.V.E.
47, 50, 53, 56, 58, 60, 63
£1,399
Cannondale
Slice Carbon
Cbn
Cannondale Slice Aero+
51, 54, 56, 58, 60
£1,400
Basso
Z9 Titanium
Titanium
Mono Cbn
45, 48, 51, 53, 56, 58, 61
£1,400
Specialized
S-Works Roubaix SL
Cbn
S-Works FACT Mono / Cbn
49, 52, 54, 56, 58, 61
£1,400
Specialized
Transition Pro
Aero Cbn
FACT N?Aero fork, Cbn
S, M, L, XL
£1,400
Trek
Madone 5.2 Pro
OCLV Black Cbn
OCLV Cbn + Alloy Steerer
50, 52, 54, 56, 58, 60, 62
£1,400
Trek
Madone 5.2 Performance
OCLV Black Cbn
OCLV Cbn + Alloy Steerer
50, 52, 54, 56, 58, 60, 62
£1,400
Eddy Merckx
Premium
Easton Scandium
Easton EC-90 SLO
5 sloping, trad 48-62
£1,419
Time
Edge Racer
Cbn
Cbn Pilot
XXS, XS, S, M, L, XL, XXL
£1,424
Isaac
Impulse
Cbn HM
Cbn Mono
51-60
£1,450
Somec
Mito
Columbus XCR Tig
Cbn
9 sizes
£1,450
Brian Rourke
953 Stainless
SS 953
Deda Black Fin
custom
£1,475
DeRosa
Tango
Deda Mono
Mizuno Cbn
46, 49, 53, 55 sloping
£1,480
Thorn
Rohloff eXp
Reynolds 725 Steel
Twin PLate Crown R-531ST
custom
£1,480
Eddy Merckx
SXM
3k Cbn
Easton EC-90 SLO
sloping 41, 44, 47, 50, 53
£1,485
Enigma
Eulogy
Titanium 3AL/2.5V DB
Enigma Electron Cbn
custom
£1,495
Independent Fabrication
Steel Crown Jewel SE
Steel
Reynolds Ouzo Pro
custom
£1,495
Gios
Carbon Lite
Custom Cbn
Cbn
9 sizes
£1,495
Ciocc
Drifter
Toray 800 Cbn
Cbn
9 sizes
£1,495
Ciocc
Tecno Light
Deda 7 9 Alu
Cbn
9 sizes
£1,495
Ciocc
Deluxe
Columbus Spirit
Cbn
9 sizes
£1,495
Casati
M;7.9
Deda 7 9 Alu
Cbn
9 sizes
£1,495
Casati
Mistral
K3 Cbn
Cbn
6 sizes
£1,495
Alan
Blade STX
Toray T600-12K Cbn
F28 full Cbn
sloping 44, 48, 52, 56
£1,499
Sunday Bicycles
Mondays Child
Titanium 3AL/2.5V DB
Reynolds Ouzo Pro
S, M, L, XL
£1,499
Litespeed
Ardennes
Titanium
Real Design Cbn
S, M, ML, L, XL, custom
£1,499
Glider
GPM
Deda Black Pearl Cbn
GPM Cbn
48-60/custom
£1,499
Enigma
Exocet
Titanium 3AL/2.5V
N/A
custom
£1,499
BMC
Time Machine 02
Cbn
Easton Cbn EC70 Aero
S, M, L, XL
£1,500
Colnago
CLX
Cbn
Cbn
42-59 sloping
£1,500
Condor
Leggero
HM Cbn
Deda Wave Cbn Mono
46, 49, 52, 55, 58, 61
£1,500
Condor
Moda
Titanium
Deda Nero Cbn
46, 49, 52, 55, 58, 61
£1,500
Condor
Gran Fondo
Titanium
Deda Black Rain Cbn
46, 49, 52, 55, 58, 61
£1,500
Condor
Percorso
Titanium
Deda Nero Full Cbn
46, 49, 52, 55, 58, 61
£1,500
Condor
Stadio
HM Cbn Fibre
Pista Nero Cbn Track
46, 49, 52, 55, 58, 61
£1,500
Serotta
HSG steel CX
Steel
Alpha Q CX
48-60
£1,500
Pegoretti
Marcelo
Columbus Steel
Reynolds Ouzo Pro
custom
£1,500
Bianchi
D2 Chrono Carbon
Cbn
Cbn Aero
S, M, L
£1,530
Thorn
Mercury
Reynolds 853 Steel
Twin PLate Crown R-531C
custom
£1,530
Thorn
eXp R
Reynolds 725 Steel
Twin PLate Crown R-531C
custom
£1,549
Kuota
Kredo Ultra
Mono 3KCbn
Mono 3KCbn
XS, S, M, L, XL, XXL
£1,549
Kuota
Kalibur
Mono 3KCbn
Mono 3KCbn
S, M, L, XL
£1,550
Glider
Tupelo TI
Titanium
Serotta S2
48-62
£1,565
DeRosa
Merak
Alu Deda HF
Cbn DAVS
3 sloping, 14 regular
£1,565
DeRosa
Merak Pista
Alu Deda HF
Cbn DAVS
3 sloping, 14 regular
£1,580
Thorn
eXXp
Reynolds 725 Steel
Twin Plate Crown R-531ST
custom
£1,595
Somec
Leader
Deda Cbn
Cbn
9 sizes
£1,599
Ridley
Damocles
HM 24+30 ton Cbn
HM Cbn Mono
XS, S, M, L, XL
£1,599
Litespeed
CX
Titanium
Easton EC90 Cross
S, M, ML, L, XL, custom
£1,600
Cervélo
RS
Squoval Cbn
Cbn Wolf SL
48, 51, 54, 56, 58, 61
£1,629
Time
Cross Proteam
Cbn HM
Cbn
50, 52, 54, 56, 58
£1,650
Pegoretti
Luigino
Steel
Custom Steel
custom
£1,650
Pegoretti
Love 3
Alu
Reynolds Ouzo Pro
custom
£1,650
Luna
Luna Pro
Toray T700 UHM Cbn
UHM Cbn
5 sloping, trad 50-62, custom
£1,665
Alan
X Style
Cbn Toray T700 3K
F28 Full Cbn
5 sloping, trad 48-63, custom
£1,695
Somec
Olympus
Deda Z1 08 Cbn
Cbn
9 sizes
£1,695
Ciocc
Blade
K3 Cbn
Cbn
6 sizes
£1,695
Ciocc
Mutant
Toray 600 Cbn
Cbn
9 sizes
£1,699
Orbea
Orca TDS
M40 Cbn Mono
Orca Cbn
48, 51, 54, 57, 60
£1,699
Orbea
Diva TPB
M40 Cbn Mono
Diva Cbn
46*, 49, 53
£1,699
Orbea
Ordu TRI 2
M30 Cbn Mono
Ordu Cbn Aero
48, 51, 54, 57
£1,699
Litespeed
Bella
Titanium
Real Design Cbn
S, M, ML, L, XL, custom
£1,699
Kuota
KOM
3K4H Nanotech Cbn Matrix
3K4H Nanotech Cbn Matrix
XS, S, M, L, XL
£1,699
Isaac
Sonic
Cbn XHM
Cbn Mono
51-60
£1,699
Cube
Litening HPT
Titan Deda 3/2 5 K19 / Butted
Deda CSL-1 Full Cbn
53, 56, 58, 60, 62
£1,699
BMC
Team Machine
Optimised Cbn and Alu
Easton EC90 SL
47, 49, 51, 53, 55, 57, 59, 61
£1,700
Condor
Diamante
HM Cbn
Deda Wave Cbn Mono
46, 49, 52, 55, 58, 61
£1,700
Serotta
Couer d?Acier GS
C5S TB Steel
Serotta S2
custom
£1,700
Kona
King Zing
Deda Scuro HCR Cbn
Dedacciai Black Drive Cbn
49, 53, 56, 58, 61
£1,745
DeRosa
Dual H.F.
Alu Deda HF
Cbn Mono
11 sizes
£1,750
Seven
Alaris SG
Titanium
Seven 5E Cbn
custom
£1,750
Seven
Mudhoney
Titanium
Seven 5E Cbn
custom
£1,759
Time
Edge Translink
Cbn HM
Cbn Pilot
XXS, XS, S, M, L, XL, XXL
£1,780
DeRosa
Idol
Cbn Mono
Cbn Mono
7 sloping sizes, custom
£1,795
Somec
Zeus
Columbus XLR8 Cbn
Cbn
9 sizes
£1,795
Independent Fabrication
Steel Crown Jewel SEC
Steel/Cbn
Reynolds Ouzo Pro
custom
£1,795
Casati
Crono
Cbn/Titanium
Cbn
6 sizes
£1,799
Wilier
Le Roi
Cbn Monoscocca
Full Cbn
S, M, L, XL, XXL
£1,799
Lynskey
R120 Brushed
Titanium
Alpha-Q GS-10 Full Cbn
XS, S, M, ML, L, XL
£1,799
Litespeed
Siena
Titanium
Easton EC90 SL
XS, S, M, ML, L, XL, XXL, custom
£1,799
Isaac
Joule Aerotic
Cbn XHM
Cbn Mono
XS-L
£1,800
Specialized
S-Works Tarmac SL2
Cbn
S-Works FACT Mono / Cbn
49, 52, 54, 56, 58, 61
£1,800
Look
585
Cbn
Cbn
49-59
£1,800
Look
585 Optimum
Cbn
Cbn
49-59
£1,800
Serotta
Couer d?Acier CX
Premium Steel
Alpha Q CX
custom
£1,800
Serotta
CXII steel
PS Aero Steel
Customer Choice
custom
£1,850
Moots
Vamoots
Titanium
Reynolds UL
custom
£1,850
Independent Fabrication
FactoryLightweight
Steel
Reynolds Ouzo Pro
custom
£1,895
Ciocc
Devilry
Toray 600 Cbn
Cbn
9 sizes
£1,899
Merlin
Camena
Titanium
Reynolds Ouzo Pro
XS, S, M, L, XL custom
£1,900
Moots
Psyclo-X
Titanium
N/A
custom
£1,949
Lynskey
R220 Brushed
Titanium
Alpha-Q GS-10 full Cbn
XS, S, M, ML, L, XL
£1,949
Lynskey
R120 Custom
Titanium
Alpha-Q GS-10 full Cbn
custom
£1,950
Parlee
Z4
Cbn
Cbn
51-59
£1,950
Giant
TCR Advanced 2
T800 Cbn composite
T800 Cbn composite
46.5, 50, 53.5, 55.5, 58.5
£1,950
Casati
Marte
Deda Custom Cbn
Cbn
9 sizes
£1,959
Scott
Addict R1
HMX NET Cbn
Addict HMX NET Ltd Cbn
XS, S, M, L, XL, XXL
£1,959
Scott
Addict R2
HMX NET Cbn
Addict HMX NET Ltd Cbn
XS, S, M, L, XL, XXL
£1,995
Somec
Titanio
Titanium Tig
Cbn
9 sizes
£1,999
Merlin
Works CR
Titanium
Reynolds Ouzo Pro
XS, S, M, ML, L, XL, custom
£1,999
Litespeed
Saber
Titanium
Real Design Aero HP
49 ,51, 53, 55, 57, 59, 61
£2,000
Basso
Diamante
Mono Cbn
Mono Cbn
13 sizes
£2,000
Specialized
S-Works Transition
Aero Cbn
S-Works FACT N?Aero fork, Cbn
S, M, L, XL
£2,000
Trek
Madone 6.9 Pro
OCLV Red Cbn
Full OCLV Cbn
50, 52, 54, 56, 58, 60, 62
£2,000
Trek
Madone 6.9 Performance
OCLV Red Cbn
Full OCLV Cbn
50, 52, 54, 56, 58, 60, 62
£2,000
Trek
Equinox TTX 9.9 SSL
OCLV Red Cbn
Cbn / Alu steerer
S, M, L
£2,000
Serotta
Couer d?Acier SE
C5S TB Steel
Serotta F3
custom
£2,000
Pegoretti
Big Leg Emma
Columbus Steel
Reynolds Ouzo Pro
custom
£2,000
Moots
Mootour
Titanium
N/A
custom
£2,000
LeMond
Tête De Course
Cbn
Cbn / Alu steerer
49, 51, 53, 55, 57, 59, 61
£2,000
Kent Eriksen
Custom Road
Titanium
N/A
custom
£2,000
Kent Eriksen
Custom Cross
Titanium
N/A
custom
£2,000
Giant
Trinity C
T700 Cbn composite
T700 Cbn composite
50, 54, 58
£2,000
Cervélo
SLC
Aero Cbn
Cbn Wolf SL
48, 51, 54, 56, 58, 61
£2,000
Cervélo
R3
Squoval Cbn
Cbn Wolf SL
48, 51, 54, 56, 58, 61
£2,000
Bianchi
928 Carbon SL UD
Cbn UD Nanotech
Full Cbn straight
50, 53, 55, 58, 61
£2,015
Alan
Supreme
Toray T700-3K Cbn
FF12 Mono
5 sloping, trad 48-63
£2,050
Giant
TCR Advanced 1
T800 Cbn composite
T800 Cbn composite
46.5, 50, 53.5, 55.5, 58.5
£2,095
Giant
TCR Advanced Team
T800 Cbn composite
T800 Cbn composite
46.5, 50, 53.5, 55.5
£2,099
Museeuw
MF3 Cross
50% HM Cbn/50% Flax
Cbn
XS, S, SM, M, L, XL, XXL
£2,099
Lynskey
R120 Painted
Titanium
Alpha-Q GS-10 full Cbn
XS, S, M, ML, L, XL
£2,099
Lynskey
R220 Custom
Titanium
Alpha-Q GS-10 full Cbn
Full custom
£2,099
Kuota
Kueen K
Mono 3KCbn
Mono 3KCbn
XS, S, M, L, XL
£2,100
Colnago
Cristallo
Cbn
Cbn
45-57 sloping
£2,100
Look
586
Cbn
Cbn
49-59
£2,149
Cannondale
Super Six
Cbn
Cannondale Super Six+
48, 50, 52, 54, 56, 58, 60, 63
£2,150
Pegoretti
Responsorium
Columbus XCR SS
Reynolds Ouzo Pro
custom
£2,175
Eddy Merckx
EXM
759F Cbn
Easton EC-90 SLO
sloping 41, 44, 47, 50, 53
£2,195
Somec
Davino XLT
Deda Z1 10 Cbn
Cbn
9 sizes
£2,195
Casati
Vola
Deda Custom Cbn
Cbn
6 sizes
£2,199
Wilier
Cento
Cbn Monoscocca
Full Cbn
S, M, L, XL, XXL
£2,199
Ridley
Helium
HM 30, 40 + 50 ton Cbn
HM Cbn Mono
XS, S, M, L, XL
£2,199
Merlin
Extralight
Titanium
Reynolds Ouzo Pro
49, 51, 53, 55, 57, 59, 61, custom
£2,199
Merlin
Cyrene
Titanium
Reynolds Ouzo Pro
49, 51, 53, 55, 57, 59, 61, custom
£2,200
Cervélo
P3C
Aero Cbn
Cbn Wolf SL
48, 51, 54, 56, 58, 61
£2,239
Time
VXR Proteam
Cbn HM
Cbn Pilot
XXS, XS, S, M, L, XL, XXL
£2,240
Pinarello
X Track
46HM3K Cbn
Cbn
46-58
£2,249
Lynskey
R220 Painted
Titanium
Alpha-Q GS-10 full Cbn
XS, S, M, ML, L, XL
£2,250
Pinarello
Paris
46HM3K Cbn
Cbn ONDA
45.5-59.5
£2,295
Casati
Arte
Cbn/Titanium
Cbn
9 sizes
£2,299
Museeuw
MF5
Flax Tubes with Cbn lugs
Cbn
XS, S, SM, M, L, XL, XXL
£2,299
BMC
Pro Machine
Easton CNT Unilateral Cbn
Easton EC90 SLX
47, 49, 51, 53, 55, 57, 59, 61
£2,335
Seven
Axiom Race
Titanium
Seven 5E Cbn
custom
£2,335
Seven
Axiom SG
Titanium
Seven 5E Cbn
custom
£2,335
Seven
Tsunami
Titanium
Seven 5E Cbn
custom
£2,349
Wilier
Cento Crono
Cbn Monoscocca
Full Cbn
S, M, L
£2,350
Independent Fabrication
953 SR
Reynolds 953 SS
Reynolds Ouzo Pro
custom
£2,350
Independent Fabrication
954 SR
Reynolds 953 SS
Reynolds Ouzo Pro
custom
£2,350
Independent Fabrication
955 SR
Reynolds 953 SS
Reynolds Ouzo Pro
custom
£2,350
Eddy Merckx
AXM
759F Cbn
Easton EC-90 SLO
trad 48-60
£2,350
DeRosa
Titanio Ti2
Titanium 6AL/4V
Mizuno Cbn
13 trad, 12 sloping, custom
£2,395
Independent Fabrication
Ti Planet Cross
Titanium
Alpha Q Cross
custom
£2,399
Ridley
Noah
HM 30+40 ton Cbn
HM Cbn Mono
XS, S, M, L, XL
£2,400
Serotta
Fierte IT
C2IT Cbn/Titanium
Serotta S2
47P-62
£2,400
Serotta
HSG IT
C2IT Cbn/Titanium
Serotta S2
48-62
£2,400
Serotta
HSG Ti CX
Titanium
Alpha Q CX
48-60
£2,400
Cervélo
R3 SL
Squoval Cbn
Cbn Wolf SL
48, 51, 54, 56, 58, 61
£2,450
Independent Fabrication
Ti Club Racer