Garmin Edge 510 and Edge 810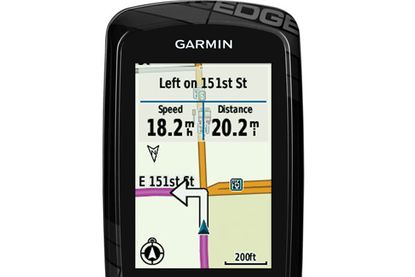 Ever wondered where your training partner is or whether they're meeting you at your usual spot? Now you can track their precise whereabouts through email or social media on Garmin Connect.
Garmin has released its latest Edge 510 and 810 bike computers, the first devices with connectivity through a smartphone. Share ride data with friends in real time with the LiveTrack feature, developed with the Garmin-Sharp team.
Both of the new devices allow users to customise data fields and settings based on which type of cycling activity they're about to undertake such as training, racing or off-roading. Plus, they will immediately update Garmin Connect and display new personal records, including farthest distance and most ascent gained the moment your ride is complete, using the wonder of wireless. And they will even display weather conditions and warnings.
The 510 was designed with performance-driven cyclists in mind. The compact size has a 2.2in touchscreen and weighs just 80g. Compatibility with both GPS and Glonass satellites means detection is quicker and, once connected, improves signal lock. The Edge 510 is fully waterproof and has a battery life of up to a 20 hours to record speed, distance, time, GPS position, elevation, calories burned, climb and descent.
For navigation, training and racing, the Edge 810 is the complete package. The unit has a redesigned 2.6in colour touchscreen display and 17-hour battery life. The 810 is compatible with detailed topographic maps which include bird's-eye satellite imagery.
Being GPS enabled, its navigation capabilities don't require data usage, so it will work in any country. Similar to the 800, it has a worldwide base map pre-programmed, but you'll still need a mapping card to get turn-by-turn navigation. There's also an option to switch on different routes for different bike types.
The Edge 510 and 810 are priced at £249 and £379 respectively. The Garmin Connect mobile app is available for free download at the App Store and in Google Play.
Contact www.madison.co.uk


This article was first published in the MONTH DAY issue of Cycling Weekly. You can also read our magazines on Zinio, download from the Apple store and also through Kindle Fire.
Thank you for reading 20 articles this month* Join now for unlimited access
Enjoy your first month for just £1 / $1 / €1
*Read 5 free articles per month without a subscription
Join now for unlimited access
Try first month for just £1 / $1 / €1