New Ride Phantom balance bike comes with light-up plastic frame (video)
Flashing and glitter versions available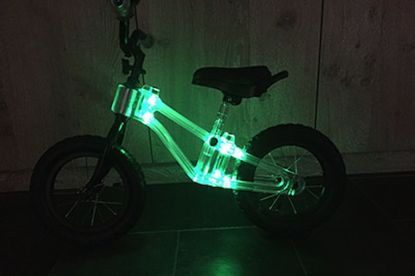 Getting small kids outside to burn off some energy might be a bit easier with the new Ride Phantom balance bike.
Its frame is made of clear polycarbonate and includes two holders for interchangeable LED lights, one at the front and one at the back of the frame.
>>> The best balance bikes: a buyer's guide
These light up the frame, so it's very visible at night as well as by day. There are flashing as well as constant illumination options.
There's a choice of LED colours, so kids can swap frame colour just by swapping the lighting units. And there's a glitter version of the frame available, to add even more bling.
>>> Top tips for buying kids' bikes
The bike comes with 12 inch wide profile pneumatic tyres and steel spoked wheels, along with smaller diameter handlebar grips to suit smaller hands.
Both the saddle and the bars are height adjustable, to cater for growing kids. There's also a handle on the back of the saddle in case some extra adult help is needed.
Watch: How to teach your kid to ride a bike
Ride Phantom (opens in new tab) was founded in California in 2011 and has a patent on its illuminated frame design.
However, it took until 2015 for it to develop a design with the right combination of strength, light transmission and ability to be mass produced for it to launch its first product.
It plans to follow up the balance bike quickly with a pedal bike and a tricycle.
UK distribution of the Ride Phantom balance bike is by Moore Large (opens in new tab) and its Today's Cyclist website, with a UK retail price of £140. The light units run on three AAA batteries which aren't included, so you might want to stock up on these too.
Thank you for reading 5 articles this month* Join now for unlimited access
Enjoy your first month for just £1 / $1 / €1
*Read 5 free articles per month without a subscription
Join now for unlimited access
Try first month for just £1 / $1 / €1