Your chance to own a replica of Chris Froome's rhino Pinarello Dogma F8
New colours for Dogma F8 to celebrate Froome's Tour de France victory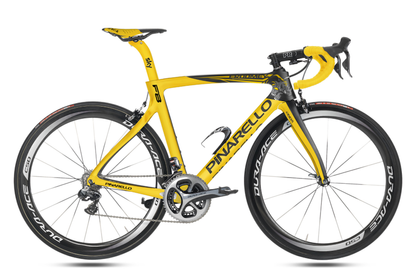 Hot on the heals of Chris Froome's second Tour de France victory on Sunday, Team Sky's bike sponsor Pinerello has announced a series of new colour schemes for its F8, the bike ridden to victory by Froome.
>>> Highlights from Stage 21 of the Tour de France (video)
If your dedication to Froome is such – and your pockets deep enough – you can have a bike in the bright yellow colour scheme ridden into Paris by Froome. It comes complete with the rhino-painted head tube and Froomey across the top tube, as featured on Froome's bike, yellow bar tape, seatpost and Fizik saddle.
>>> Eight key moments in Froome's win
If you are more inclined to celebrate Team Sky's part in Froome's victory, there's a version in Team Sky colours too. Again this comes with the rhino design on the head tube and Froomey on the top tube, but comes in a more subdued black with blue accents.
>>> Chris Froome's Dogma F8 (video)
And if you are more of a shrinking violet, but still fancy a celebratory Dogma paint job, there's always the Rhino Bob paint job, where the rhino, Froomey lettering and Pinarello logos come in stealth grey on black. There are red, yellow on black and polka dot options available too.
Pinarello's Dogma K8-S with its rear shock absorber can also be bought with a new Tour de France colour scheme. Although the rhino is absent, there are yellow highlights, yellow bar tape and a part-yellow saddle. If none of these options rock your boat there's always Pinarello's F8 My Way personalised bike design system too.
>>> Geraint Thomas's Dogma K8-S (video)
If you choose the all-yellow colour scheme, just make sure that you can burn off all the wheel suckers and chasers you will undoubtedly attract.
Chris Froome's Pinarello Dogma F8
Thank you for reading 20 articles this month* Join now for unlimited access
Enjoy your first month for just £1 / $1 / €1
*Read 5 free articles per month without a subscription
Join now for unlimited access
Try first month for just £1 / $1 / €1