Shimano Ultegra mechnical groupset moves up to 11-speed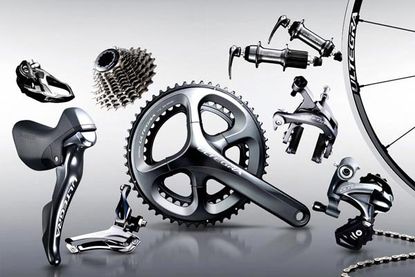 Shimano's Ultegra is the latest road groupset gain an extra sprocket. In keeping with current trends, the new mechanical 11-speed 6800 also moves closer to big brother Dura-Ace 9000 in looks as well as function.
While the 11th sprocket is enough to cause a stir of excitement, which on its own is easier said than done as it requires a complete overhaul of the back-end, the groupset gets a full make-over of all constituent parts.
With the 'how to' engineering costs having already been calculated into designing Dura-Ace 9000, 6800 has somewhat piggy-backed on the knowledge and by opting for cheaper materials, the final cost moves to a more realistic bracket.
However, there's no such thing as a free lunch - the amended bill of materials will add weight, and naturally will still play second fiddle to Dura-Ace due to slightly different constructions. Oh and you will need to factor in at least the cost of purchasing the wider freehub presuming your current wheels are capable, or if not, a Shimano 11-speed compatible rear wheel.
With trial productions only just starting, we've not had a chance to tinker with an up and running 6800 groupset, but on appearances alone it certainly looks the part.
Chainsets from £224.99 765g (53x59 inc BB)
The Chainset uses the same Dura-Ace four-arm Hollowtech construction and boasts a similar stiffness. It also gains a few additional gear ratios. The 6703 triple has been done away with, and along with a standard 53x39, a 52x36, 50x34 and 46x36 can also be found in the range.
New HollowTech II Bottom Bracket Cups £39.99
A slightly updated shape promises of up to half the friction over the previous 6700 BB, and, for the weight perverts out there, loses 14grams.
Gear Shifters - STI £299.99 425g (set)
A redesign of the dual control lever brings 6800 much closer inline with 9000. While internals are still constructed differently, the lever reach adjuster screw now has been carried across to the 6800, making the rubber wedges of old 6700 defunct. Shimano say comfort and leverage is better than before thanks to improved ergonomics.
Front Derailleurs £42.99 104g (Band) £37.99 89g (Braze on)
In combination with the new 6800 STIs and polymer-coated cables, the painted alloy shifter has been redesigned to shorten lever stroke and reduce effort.
Cassettes from 69.99 212g (11-23)
The steel sprockets with alloy carrier cassettes are available in four sizes, 11-23, 11-25, 11-28 plus the version we're calling the 11-32 version Spiderman - ideal for climbing walls.
Chain £36.99
As with Dura-Ace, the new 6800 chain gets the new slippery PTFE coating but sticks with solid link pins.
Brake calipers £64.99 and £59.99
Brakes are now available in two mount options. The traditional dual-pivot cantilever brake (£59.99), albeit with a new symmetrical pivot design, and the, currently limited application, direct mount. Considered an aero brake, Trek's Madone will be the biggest compatibility contender, along with a handful of time trial bikes.
Rear Derailleurs from £74.99 195g
The painted alloy rear mech has had a redesign to improve the previous 6700 issue with accentuated lever hold the further up the block you went. Available in two sizes to take account of the new larger cassette sizes (28-32). The GS version is adds £5 to the price and 12g to the weight.
Wheelsets From £349
To complete the 6800 line-up are Shimano's tubeless-ready wheels, which will of course have the wider freehub body to take account of the 11th sprocket. These will get you rolling on the new 6800 groupset, but carbon laminate clincher C24 and C35 will prove popular at £539.99 and £629 respectively, while the range-topping C50 carbon clincher will set you back £809.99
Contact and more information: www.madison.co.uk
Read Cycling Weekly magazine on the day of release wherever you are in the world with our iPad and iPhone edition - International digital edition, UK digital edition. And if you like us, rate us!
Thank you for reading 20 articles this month* Join now for unlimited access
Enjoy your first month for just £1 / $1 / €1
*Read 5 free articles per month without a subscription
Join now for unlimited access
Try first month for just £1 / $1 / €1