Prudhomme asks Armstrong to pay back prize money from Tour wins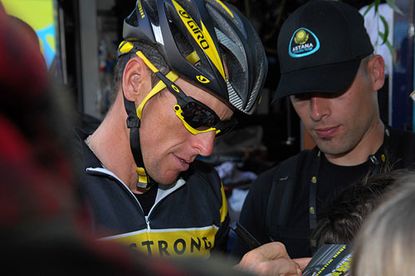 Hot on the heels of the UCI's decision to ratify USADA's sanctions on Lance Armstrong, Tour de France director Christian Prudhomme has asked Lance Armstrong to pay back prize money from his seven stripped Tour de France wins between 1999 and 2005.
"The UCI rules are clear. When a rider is disqualified, he must pay the prize money back," Prudhomme said.
Armstrong is thought to have won almost $3 million on his seven-Tour winning streak.
At a press conference in Paris on Monday afternoon, Prudhomme also re-stated his desire that the seven stripped editions that Armstrong won ought to be assigned no champion.
"The formal decision has to be taken by the UCI but for us, we must have a clean record... this period must be marked by the absence of winners," he said.
"We are in a mafia system beyond doping and the world of sport, in a way," he said. He called the USADA report "overwhelming".
"This is a global crisis, the aura of Armstrong affects the whole world," Prudhomme added. "The UCI must take all the lessons [from the Armstrong affair]."
"In 1998, certain people played a good game in denouncing Festina and saying that they were the only ones to cheat. That was clearly not the case. It's something that transcends cycling, that concerns all disciplines," he said.
There will likely be more questions relating to Armstrong for Prudhomme to field on Wednesday, when he announces the route of the 100th Tour de France.


Related links
Barredo under scrutiny for biological passport anomaly
Armstrong steps down as LiveStrong chairman, Nike and Trek terminate his contract
USADA's Armstrong doping report in brief
USADA doping report repercussions continue
Leipheimer sacked by Omega Pharma-QuickStep
Leipheimer, Zabriskie, Vande Velde and Danielson all admit to doping
USADA publishes details of Amrstrong doping case
UCI responds to USADA Armstrong doping evidence
Former Armstrong team-mate Barry: Doping had become an epidemic problem
Hincapie admits to doping during career
Thank you for reading 20 articles this month* Join now for unlimited access
Enjoy your first month for just £1 / $1 / €1
*Read 5 free articles per month without a subscription
Join now for unlimited access
Try first month for just £1 / $1 / €1