Katie Archibald and Daniel Bigham double up on day two of National Track Championships
Ten champions crowned on marathon day of racing in the Manchester velodrome on day two of the British Track National Championships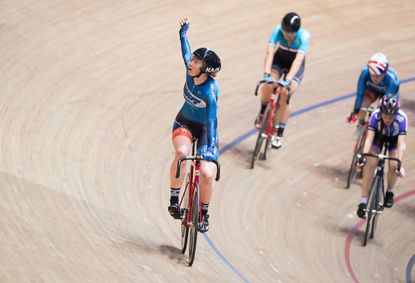 Olympian Katie Archibald, amateur Daniel Bigham and para-cyclist Lauren Booth all claimed a second national title on the second day of competition at the British National Track Championships.
Archibald (WNT) took her second championship title of the meet with victory in what she said was a "savage" scratch race. Archibald gained a lap along with team-mate Emily Kay and fellow Olympic gold medalist Eleanor Barker with 10 laps to go.
Barker then put in a dig to keep Archibald behind her but she narrowly came around the outside to take the title. "It's beyond expectations," she said.
Later in the evening, Archibald tried to come round the outside again in the final of the women's keirin but was bested by Sophie Capewell (Terminator) who held off her advance. Archibald had to settle for second with Neah Evans (Boot Out Breast Cancer) third and newly crowned sprint national champion Jessica Crampton fourth.
Archibald claimed the individual pursuit title on Friday.
Daniel Bigham (Brother NRG Driverplan) claimed the kilo time trial title, just edging out Matt Rotherham (Sportcity Velo) with a time of 1-03.2.
>>> Katie Archibald blazes to pursuit title in Manchester on day one of National Track Champs
Bigham has been on flying form this weekend claiming the men's individual pursuit title on Friday night.
Bigham said he hadn't trained for the kilo and so it was a "wing it an see kind of race". Having been seeded early he had to endure a long wait before being crowned national champion.
He said: "I was expecting to be seeded a bit later after I got 1-04.1 at the Welsh champs. It was a bit nerve-racking I was just hoping those sprinters would park up on the last lap."
Bigham's team-mate Jonathan Wale also rode a personal best of 1-04.5 in the kilo to place sixth.
Their performance adds a little more expectation for his team's performance in the team pursuit on Sunday, where they are expecting to be strong contenders.
Para-cyclist Lauren Booth (Carnac-Planet X) also added a second title to her collection winning the C1-5 flying 200m title. In the contest for visually impaired athletes over the same distance tandem pairing of Aileen McGlynn (Cheshire Maverick) and Louise Haston (TORQ Performance) were victorious.
Stacked sprint field
Ryan Owens (BC North West) was crowned men's sprint champion after topping a very strong field in which 24 riders qualified with a flying 200m time under 11 seconds.
Owens qualified forth and progressed to the final where he beat team-mate Joe Truman 2-1.
He said: "It didn't feel like I was going to win it until the last meter. Joe and I know each other well we know how to race each other in a way that makes it harder because you don't go in with your normal game plan… he knows how you're going to be strong and you know how he is. It's about trying to be as unpredictable and smart as you can."
Earlier, in the men's points race Joe Nally (Hardie Bikes) took home the national champion's jersey ahead of Ethan Hayter (100% Me) and Zach May (Metaltek Kuota RC).
Paralympian Megan Giglia (Para-T) claimed the C1-5 national pursuit title with a factored time of 4-34.3 for 4,000m. Giglia very nearly didn't ride the event after suffering a concussion from being thrown off her bike earlier in the month.
The pairing of Sophie Thornhill (Boot Out Breast Cancer) and pilot Corrine Hall (Matrix Fitness) won the para-cycling BVI pursuit title.
In the women's team pursuit Team Breeze, made up of British Cycling academy riders Emily Nelson, Manon Lloyd, Eleanor Dickinson and Megan Barker caught their Liv CC rivals to take the national champions jerseys. The quartet qualified with a time seven seconds faster than anyone else and showed that form to make the catch in under four minutes in the final.
Thank you for reading 20 articles this month* Join now for unlimited access
Enjoy your first month for just £1 / $1 / €1
*Read 5 free articles per month without a subscription
Join now for unlimited access
Try first month for just £1 / $1 / €1