Bardiani-CSF rejoins anti-doping group on 'probationary basis' after three positive tests
MPCC says it would never refuse applications to join anti-doping group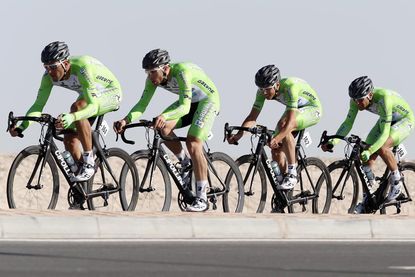 (Image credit: Yuzuru Sunada)
Bardiani-CSF have rejoined the MPCC (Movement for a Credible Cycling) anti-doping group on a "probationary basis" despite three of their riders having delivered positive tests in the last 12 months.
The Italian team were previously members of the group, which supports additional, more stringent anti-doping measures, but left in 2015 after breaking the group's rules by reportedly not withdrawing a rider from the Giro d'Italia after he showed abnormally low levels of cortisol.
>>> Chris Froome should be 'voluntarily suspended' by Team Sky, says anti-doping group
"Bardiani-CSF has decided to adhere in 2018 to association MPCC," a team statement read. "The decision taken by Bruno and Roberto Reverberi, general and team manager of Bardiani-CSF, arises from the will to strengthen more and more the internal policy on anti-doping and transparency.
"The decision of Bardiani-CSF is based on the sharing of values and purposes promoted by MPCC to have a more and more clean cycling, a relevant and prevailing factor over the contrasts emerged in the past. Of course, the team has accepted and immediately adopted the Association's rules and relative obligations."
Watch: Top 10 unforgettable moments from 2017
Three Bardiani-CSF failed doping tests during the 2017 season. Nicola Ruffoni and Stefano Pirazzi both received four-year bans after testing positive for a form of human growth hormone ahead of the Giro d'Italia, while Michael Bresciani was banned for two months after testing positive for a banned diuretic, a result that he blamed on his food being contaminated by his mother's medication.
In a statement issued to welcome the Italian team back into its fold, the MPCC said that it would never refuse applications for team to join.
>>> Race organisers reveal wildcard team selection for 2018 Tour de France
"On 27 December, the MPCC's board of directors validated their membership on probation. The purpose of the movement is not to refuse teams applications.
"We will always be pleased when a team wants to commit to rules that are stricter than international authorities. In return, the MPCC demands an uncompromising respect for the regulation of the movement before considering full membership."
Thank you for reading 20 articles this month* Join now for unlimited access
Enjoy your first month for just £1 / $1 / €1
*Read 5 free articles per month without a subscription
Join now for unlimited access
Try first month for just £1 / $1 / €1