Brian Cookson pushes for penalties for Van den Driessche's 'entourage'
UCI president Brian Cookson doesn't believe Femke Van den Driessche was the only party involved in her mechanical doping and is pushing for further sanctions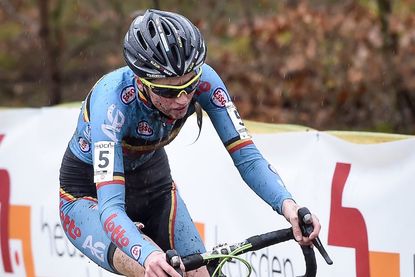 (Image credit: Watson)
After Belgian cyclo-cross rider Femke Van den Driessche was handed a six-year ban by the UCI for mechanical doping, president Brian Cookson is certain she didn't act alone.
Cookson has called for the rider's accomplices to be punished as well, saying he does not believe the 19-year-old acted alone when she was found to have a motor in one of her bikes at the U23 World Championships in January.
Van den Driessche was banned for six years and fined €20,000 by the UCI disciplinary commission in April.
"I do not think it all stops here for her entourage," Cookson said, quoted in Het Nieuwsblad. "Let me put it this way: I can not imagine that this young lady has done this on her own."
He added: "If it turns out that other people were involved in the fraud, you can also expect consequences for them. If necessary, we will refer them to the Belgian federation."
Van den Driessche's lawyer, Kristof De Saedeleer, said he did not know of any sanctions for the rider's entourage and questioned who the authorities would punish in any case.
"Her father was called in front of the committee, but only as a witness, not a defendant," he told Het Nieuwsblad. "Only Femke herself was liable as a defendant. If there are soon to be sanctions for other people, you can do so only through new disciplinary procedures."
>>> Everything you need to know about the motorised doping scandal
Van den Driessche's suspension was backdated to October 11, 2015 - the date of the cyclo-cross event in Ronse, where a suspicious video of her speeding away from a group of riders on a cobbled climb emerged.
Thank you for reading 20 articles this month* Join now for unlimited access
Enjoy your first month for just £1 / $1 / €1
*Read 5 free articles per month without a subscription
Join now for unlimited access
Try first month for just £1 / $1 / €1