Everything you need to know about the motorised doping scandal
As the 'technological fraud' scandal heats up, here is everything you need to know about the history of motorised doping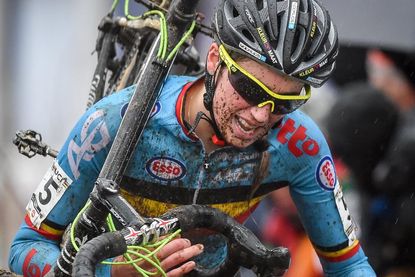 (Image credit: Watson)
The cycling world is in a frenzy about 'technological fraud', with riders, managers and race organisers calling for a full investigation into whether motors are being hidden in bikes used in races.
Motorised doping, as it's colloquially been dubbed, has been rumoured for years, but the discovery of a motor in a spare bike of Femke Van den Driessche at the U23 cyclo-cross World Championships in January gave some foundation for the previously dismissed allegations.
The UCI started scanning bikes for motors at races using a magnetic resonance app, but a report on French television claimed that heat sensors picked up motors in seven bikes at two top Italian races.
How is it done? Why do riders do it? And what can be done to stop it? All questions we hope to answer here.
How is it done?
It sounds easy to do and hard to spot - putting a motor in a bike doesn't seem to be rocket science.
In layman's terms, all you need to do is slip a small motor into your seat tube with a gear that will power your bottom bracket axle and your pedals will essentially go round on their own.
While the motor will require a battery pack, this can also be stored down the seat tube if you're on a bike with at least a 30.9mm tube diameter in order to disguise it from your fellow competitors and prying eyes from the UCI.
If set up correctly, the motor can be started and stopped with a touch of a button, allowing you a boost when you need it the most.
More advanced methods include using electromagnetic wheels to gain extra power.
Why is it done?
As Greg LeMond famously said, cycling "doesn't get any easier, you just get faster", but with a motor in your bike cycling does get easier and you will get faster.
Winning bike races often comes down to making a move in a decisive moment, one which could only last two or three seconds.
Imagine you're riding the Tour de France and riding up mountains for days on end - having a motor in your bike could give you a few minutes respite, leaving you slightly fresher than your opponents when you need it the most.
>>> Great Britain team manager slams electric motor cheating
In a race like Paris-Roubaix, an attack when your opponents are floundering could be the difference between getting your own cobblestone and being known as the perennial runner-up. Having assistance in your pedals could give you the extra boost you need to distance yourself from your rival.
Many of us have been out on rides, slogging away into the wind and been overtaken by someone on an e-bike who's making it look like a leisurely spin - we're always looking for ways to make cycling easier.
With money, reputation and sponsorship on the line at races, professional riders and teams are always looking for ways to win races, and now it seems that putting motors in bikes is a way to do that.
A brief history of motorised doping allegations
Davide Cassani accuses Fabian Cancellara in 2010

https://www.youtube.com/watch?v=8Nd13ARuvVE
Allegations of motorised doping first really appeared when former professional rider Davide Cassani suggested that suspicious hand movements by Fabian Cancellara in the 2010 Paris-Roubaix and Tour of Flanders indicated a motor in his frame.
In both races, Cassani alleges, the Swiss rider speeds away from other riders after moving his hand over his right brake lever momentarily. At Roubaix, Cancellara is seen effortlessly riding away from a group of riders including Tom Boonen, before again powering away from Bjorn Leukemans to effectively seal the win.
Then, the video shows the Swiss making the same hand movement before riding away from Boonen at the Tour of Flanders.
Cancellara vigorously denied the allegations and the UCI said the Swiss rider had no case to answer.
Ryder Hesjedal's spinning bike at the 2014 Vuelta a España

https://www.youtube.com/watch?v=ynLMfzLTc8M
When Ryder Hesjedal, then riding for Garmin-Sharp, crashed on a descent on stage seven of the 2014 Vuelta a España something strange happened.
Instead of lying stationary on the road, Hesjedal's bike spun in a circle as if it had a life of its own - the back wheel seemed to move the bike around.
Hesjedal, in a rush to get back on his bike to continue the chase down the hill, had to scramble to catch his bike.
The UCI moved to investigate Garmin-Sharp's Cervélos and found nothing untoward.
Philippe Brunel points finger at Alberto Contador at 2015 Giro d'Italia

The case against Alberto Contador seems to be that he's just 'too good' to not have some kind of motorised bike. L'Equipe's chief cycling writer Philippe Brunel angled such suspicion at the Tinkoff rider as he won the Giro d'Italia in 2015.
The reporter claimed that Contador faked a puncture on a descent on stage 16 in order to ditch his motorised bike for a regular one, so that UCI testers would not find anything dodgy.
Contador dismissed the allegation as 'ridiculous' and then was seen frolicking around on an e-bike made by Specialized after the climax of the final stage where he cemented the pink jersey.
French TV report claims seven riders used motors at Italian races in 2016
French television station Stade 2 claimed in April 2016 that seven riders used motors at Strade Bianche and Coppi e Bartali, picked up by heat sensors disguised as cameras.
The report said that five of these bikes had heat-emitting devices in the seat tube, while the others were located in the hub of the rear wheel.
What the riders say
Riders have long been concerned about the possibility that motors are being used in bikes, so much so that the independent report into doping - the CIRC report - made reference to the practice.
"This particular issue was taken seriously, especially by top riders, and was not dismissed as being isolated," the report says.
While the report didn't go into any details about which riders were concerned or how they came to the conclusion that motors were in use - but it appears they might have been close to the mark.
>>> Motor found in Belgian cyclo-cross bike 'a disgrace' says national cycling coach
At the cyclo-cross World Championships, British riders reacted to the news of a motor being found, mostly with incredulity.
Helen Wyman said: "It's extraordinary and I can't understand why you would do it. Women's cyclo-cross is at such an accessible level I don't understand why you would have to do it.
"I just think it's crazy personally because I can win races, Sanne [Cant] can win races and Nikki [Harris] can too because we train hard and race to the best of our ability.
"This year has been the most open year there has ever been and it's so accessible to get to that top level. Yet she feels that she still wants to cheat – I just don't understand."
Cancellara, in 2010, said a similar thing: "It's a sad and really outrageous story. Believe me, my feats are the result of hard work."
What the UCI are doing about it
From 2015, the UCI announced a 200,000 CHF fine and minimum six-month ban for any rider caught with a motor in their bike and stepped up their spot searches at races.
It is reported, though, that the UCI are pushing for a lifetime ban for Van den Driessche, with people such as Tour de France director Christian Prudhomme calling for the "most severe measures" to be taken against those who cheat the system
No motors have been found at road races, which has so far made everyone wonder whether mechanical doping actually exists. But rather than simply responding to accusations of cheating, the UCI proactively went on the hunt for motorised bikes, dismantling bikes at Milan-San Remo in March.
Throughout this season and last, random bike checks have been made after races, including one on Contador's bike at the 2015 Giro d'Italia, which was captured on video.
https://www.youtube.com/watch?v=twzXs6lxSOs
Additionally, the UCI have now developed a scanning machine to test for motors, which was reportedly present at the Cyclocross World Championships, but it is unclear whether the motor was discovered by the machine.
>>> Motorised bikes may have been used in the WorldTour, admits UCI technical chief
What this discovery means for cycling
It's not great news for cycling, admittedly - it's similar to Lance Armstrong denying doping for years and then admitting that he did it, but slightly less high profile.
Rumours have circled for years and riders have strenuously denied accusations, but with the discovery of an actual motor the whole thing seems a lot more real.
This means that motorised doping is, indeed, a 'thing' - even if there has only been one discovery in nearly a year of bike checks. The fact that one bike has been modified means that many more could have been in the past and gone undetected.
>>> Motorised bike? Movistar respond to social media conspiracy theories
Granted, taking performance enhancing drugs would probably give you a bigger boost than a small motor in your seat tube, but dopers get busted all the time, whereas motorised dopers may have walked free for years.
As Prudhomme said in an interview with La Derniere Heure, cycling has taken great steps forward to move on from doping scandals only to be hit by this latest bombshell.
Thank you for reading 20 articles this month* Join now for unlimited access
Enjoy your first month for just £1 / $1 / €1
*Read 5 free articles per month without a subscription
Join now for unlimited access
Try first month for just £1 / $1 / €1