The world's toughest time trial returns: the 2015 Dutch Headwind Championships (video)
Gale force headwind and a sit-up-and beg bike - the perfect ingredients for a time trial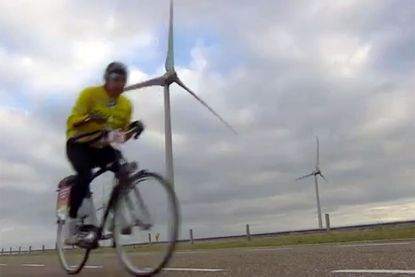 The third edition of the Dutch Headwind Championships took place on Sunday, an event regarded by some as the world's toughest time trial.
The Netherlands is well known for its strong winds, and in December they can reach peak speeds. Perfect conditions for a bike race against the clock.
There are no fancy aero bikes allowed to help you cheat the breeze: competitors must take part on a sit-up-and-beg commuter special with lights, rack, mudguards and all, just to add to the pain.
The bikes are provided by the organiser, so there's no chance of modifying a bike to gain an advantage.
>>> How to be more aero on your road bike (video)
The course is mercifully short at 8.5 kilometres, and runs along the Oosterscheldekering storm barrier that provides absolutely no respite from the gale-force winds striking the coast from the North Sea.
The organiser waits for a storm to be forecast, and then sets the date.
This year's winner was Pico de Jager from Amsterdam and the wind was measured at gale force 7. De Jager posted his ride on Strava, so you can see the stats: a grinding 22.04kmh average speed.
Thank you for reading 20 articles this month* Join now for unlimited access
Enjoy your first month for just £1 / $1 / €1
*Read 5 free articles per month without a subscription
Join now for unlimited access
Try first month for just £1 / $1 / €1