Motor found in Belgian cyclo-cross bike 'a disgrace' says national cycling coach
Belgian cycling federation and UCI respond to the discovery of an electric motor hidden in under-23 rider Femke Van den Driessche's bike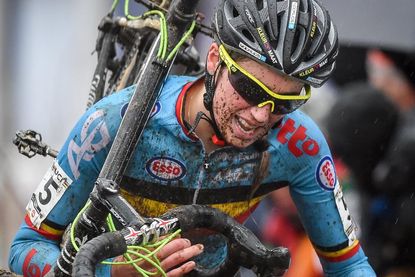 (Image credit: Watson)
The Belgian national cycling coach, Rudy De Bie, has branded the first case of mechanical doping yesterday at the Cyclo-cross World Championships as a 'disgrace'.
De Bie responded to the news on Saturday that the Union Cycliste Internationale (UCI) had caught Belgian Femke Van den Driessche with an electrical motor hidden in the carbon tubes of her Wilier bicycle in the under-23 women's race in Zolder, Belgium.
"This is a disgrace," De Bie said. "I never imagined something like this would go on in our team. Why would one do this, and especially at such a young age? I'm embarrassed."
>>> UCI detains bike suspected of containing electric motor at cyclo-cross world championships
UCI president Brian Cookson said: "Technological fraud is unacceptable. We want the minority who may consider cheating to know that, increasingly there is no place to hide, and sooner or later they will pay for the damage they're causing to our sport."
"This is the first time the UCI has established a technical fraud case and for us, that's a downer. Most people are bewildered by it," UCI's off-road manager Peter Van Den Abeele told Belgian's Sporza television.
"Was this a specific control? We've carrying out tests for some time now at the world championships. In recent years, and we've adapted the technology. The UCI's technology commission was at the Worlds with good equipment."
The UCI reportedly used a tablet computer that reads radio frequencies to detect the hidden motor. After taking the bike away, UCI members removed the seat post to see wires. After some time trying to remove a stuck crank arm and bottom bracket, they discovered a motor.
The Switzerland-based UCI has het to issue an official response on the incident.
Nineteen-year-old Van den Driessche raced in the wind and rain battering Zolder's track while experts wheeled away her spare bike from the pits for inspection.
>>> Motorised bikes may have been used in the WorldTour, admits UCI technical chief
Evie Richards became the first Brit to win a gold medal in the category and pre-race favourite Van den Driessche abandoned with one lap remaining due to a broken chain. It is unclear if she knew about the back and forth between the UCI and the Belgian team.
During the season, Van den Driessche races for Belgian trade team Kleur Op Maat-Nodrugs. The bike taken away was reportedly one from Italian manufacturer Wilier.
"It's not Femke's bike," her father told Het Nieuwsblad newspaper. "Someone from her group, who sometimes trains with her, brought the bike to the race, but it was never the intention that she would ride it."
"We want to distance ourselves from this," Andrea Gastaldello of Wilier told La Gazzetta dello Sport. "This completely goes against the values of our company, and the basic principles of sport."
If proven guilty, she could face a fine of 20,000 to 200,000 Swiss francs (£13,700 to 137,000) and a minimum six-month suspension. The UCI added a technical fraud rule to its discipline and procedures regulations January 30, 2015.
Thank you for reading 20 articles this month* Join now for unlimited access
Enjoy your first month for just £1 / $1 / €1
*Read 5 free articles per month without a subscription
Join now for unlimited access
Try first month for just £1 / $1 / €1