British Cycling Elite Circuit Series to conclude with Lancashire showdown
Chris Lawless won the Sheffield Grand Prix on Wednesday evening, but it's Sebastian Mora who leads the overall standings with one round to go - Photos by Andy Jones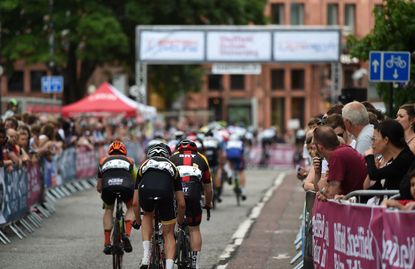 (Image credit: Andy Jones)
The 2016 British Cycling Elite Circuit Race Series is set to be decided on Tuesday, July 26, in Colne, Lancashire.
The Sheffield Hallam University Grand Prix – round seven of the series – took place on Wednesday evening.
On-form Chris Lawless (JLT Condor) took the victory, his third of the series. Lawless attacked toward the finish to hold off Harry Tanfield (Pedal Heaven) in second and Tobyn Horton (Madison Genesis) in third.
>>> Kilometre-long closed circuit in Hull given British Cycling funding
Series leader Sebastian Mora (Raleigh-GAC) placed fifth and goes into Tuesday's final round as the man to beat. Tanfield is currently second overall, with Felix English (Madison-Genesis) in third.
Earlier in the evening in Sheffield, Dean Watson led home a clean sweep of the podium for his Out of the Saddle team in the support race, with Jack Stephenson and Dan Stephenson placing second and third.
https://www.youtube.com/watch?v=XsQZOYF4-I0
The 2016 British Circuit Race National Championships takes place on Thursday, July 28, in Birmingham. Ian Bibby (NFTO) and Nikki Juniper (Ford-Ecoboost) go into the race as respective men's and women's defending national champions in the discipline.
British Cycling Elite Circuit Series: Sheffield Grand Prix
1. Chris Lawless (JLT Condor)
2. Harry Tanfield (Pedal Heaven)
3. Tobyn Horton (Madison-Genesis)
4. Alex Paton (Pedal Heaven)
5. Sebastian Mora (Raleigh-GAC)
6. Tom Pidcock (VCUK PH-MAS)
7. Jonathan McEvoy (NFTO)
8. Thomas Stewart (Madison-Genesis)
9. Evan Oliphant (Raleigh-GAC)
10. Steven Roach (Raleigh-GAC)
British Cycling Elite Circuit Series standings after round seven
1. Sebastian Mora (Raleigh-GAC) 150 points
2. Harry Tanfield (Pedal Heaven) 138 points
3. Felix English (Madison-Genesis) 125 points
4. Albert Torres (Raleigh-GAC) 102 points
5. Tobyn Horton (Madison-Genesis) 97 points
6. Alex Paton (Pedal Heaven) 94 points
7. Chris Lawless (JLT Condor) 90 points
8. Jonathan McEvoy (NFTO) 64 points
9. Alistair Slater (JLT Condor) 62 points
10. Russell Downing (JLT Condor) 48 points
Thank you for reading 5 articles this month* Join now for unlimited access
Enjoy your first month for just £1 / $1 / €1
*Read 5 free articles per month without a subscription
Join now for unlimited access
Try first month for just £1 / $1 / €1