Ian Field and Helen Wyman crowned British cyclo-cross champions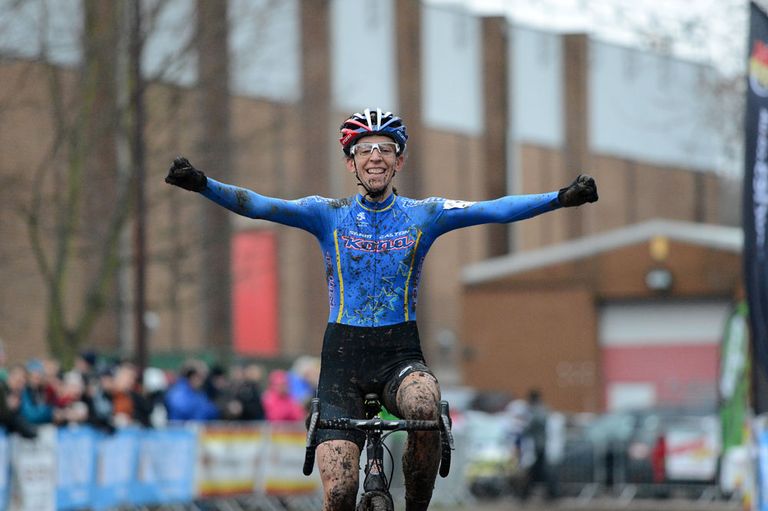 Ian Field (Hargroves Cycles) capitalised on the misfortune of Paul Oldham (Team Hope Factory Racing) to claim a third straight elite men's national cyclo-cross title but it could have been a different story.
Despite an early and convincing lead, a fall by Field allowed Oldham to close the gap and rejoin his rival.
But with three laps to go, both riders descended into the woods together. However, Field emerged alone and several seconds ticked by before David Fletcher (Orange Monkey Pro Team) emerged next in second.
Oldham eventually appeared carrying his bike following an altercation with the tape forcing him to run to the pits.
Field saluted the crowd has he soloed down the finish straight to claim his hat-trick of title wins.
Fletcher maintained his second place whilst Nick Craig added to his veteran's national title of Saturday with a fine third. Despite a spirited and determined fight-back, Oldham was left to claim fourth.
Field said after the race: "I'm really pleased with this. I had to keep my head in tricky conditions and keep it to the end. I had a fairly big lead on Fletch and had to be sensible to bring it home.
Helen Wyman (Kona/FSA Factory Team) put in a blistering performance to regain her title from Nikki Harris to make it a total of eight titles in nine years.
Her domination was brought to a halt by Nikki Harris (Young Telenet Fidea CT) last year but the defending champion couldn't cope with Wyman's pace, finishing over a minute behind.
The gap in experience between the two Belgian-based professionals and the domestic riders was clear from the start as they rode away from the field.
Surprisingly, for everyone including herself, Wyman easily distanced Harris and claimed an emphatic victory. The battle for bronze was fought between the junior with long time third place Abby Mae Parkinson (RST Racing), eventually losing out to Ffion James (Abergavenny CC).
Wyman said: "I was surprised by the gap. Nikki's incredible competition and you never take anything for granted. But as the conditions altered significantly from pre-race to race, it just swung in my favour."
The men's under 23 race saw Superior Brentjens teammates Grant Ferguson and Kenta Gallagher run off at a fast pace on a crisp, frozen track.
Having ridden away from the rest of the field, Ferguson used his favoured section at the back of the course to gain advantage, putting Gallagher under pressure and eventually stretching he gap to 10 seconds. A composed Ferguson took no chances over the final sections of the course and before pumping the air in delight as he raced down the finish straight.
Thomas Craig (Team Scott UK) overcame a race long battle with Dylan Kerfoot-Robson (Marsh Tracks Racing Team) to take his first junior national title and add to his father's silverware in the Craig household.
"That last lap was so hard. I got a little gap and I just gave it everything," said a delighted Thomas Craig.
Ian Field celebrates his win
Paul Oldham's title hopes dashed after tangling with marker tape
Back in the British champ's jersey: Helen Wyman
Nikki Harris
Thomas Craig wins junior title
Grant Ferguson takes under-23 men's title
Related links
British cyclo-cross national champs 2014 day two photo gallery
British cyclo-cross national championships day one report
British cyclo-cross national champs 2014 day one photo gallery