Louise Mahé wins Tour de Yorkshire women's race
Ikon-Mazda's Louise Mahé pips national crit champion Eileen Roe (Wiggle-Honda) and Katie Curtis (Pearl-Izumi)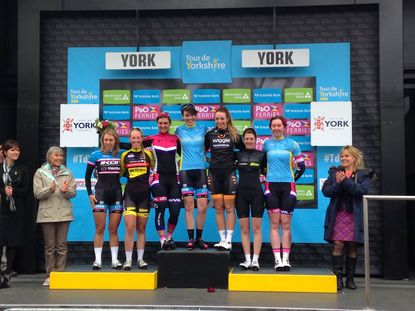 (Image credit: Richard Abraham)
With a fast sprint finish that was just enough to pip Eileen Roe by six inches, Louise Mahé (Ikon-Mazada) has won the inaugural women's road race at this weekend's Tour de Yorkshire in York.
Mahé beat Wiggle-Honda's national criterium champion and Pearl Izumi rider Katie Curtis after two hours of racing that saw the average pace nudge 40kmh.
"It was quick from the off and you looked back at times and it was just a line, it wasn't a bunch it was just a line," said Mahé. "We were going fast.
"Some girls were starting their sprints quite early but I knew the finishing straight was quite long and I didn't want to go too early. I waited and a gap opened up, and I went for it."
"It was really close; it must have been close enough to need a photo finish," said Roe. "I think she [Louise] had a better lunge than me, I need a bit of practice at that. She must have longer limbs that me, or a longer stem!"
Riders praised the large crowds who had descended on York city centre in their thousands and the challenging 20km circuit.
"It was a technical circuit with uneven surfaces, so it was a good challenge," said Dame Sarah Storey (Pearl Izumi), who finished 42nd. "There were a lot of gaps in the wind, and it was hard to pick your way through.
"The crowds were fantastic, really good, everyone shouting 'Sarah,' which was really appreciated!"
"It was awesome," added Roe. "Half the course is in the city centre and it was amazing. There were people all over the course and it was really nice to actually race in front of people rather than just have the women's race in the middle of nowhere.
"It's really nice to put on a show, and I think we did that at the end."

Results
Tour de Yorkshire, women's race, 80km
1. Louise Mahé (Ikon-Mazda) in 2:00:36
2. Eileen Roe (Wiggle-Honda)
3. Katie Curtis (Pearl Izumi)
4. Charline Joiner (Team WNT)
5. Alice Barnes (Betch.NL-Superior)
6. Grace Garner (Team Giordana)
7. Emily Kay (Team USN)
8. Amy Hill (Team Rytger)
9. Nicola Juniper (Team Giordana)
10. Abigail Dentus (Team Velosport) all at same time
Thank you for reading 10 articles this month* Join now for unlimited access
Enjoy your first month for just £1 / $1 / €1
*Read 5 free articles per month without a subscription
Join now for unlimited access
Try first month for just £1 / $1 / €1
Richard Abraham is an award-winning writer, based in New Zealand. He has reported from major sporting events including the Tour de France and Olympic Games, and is also a part-time travel guide who has delivered luxury cycle tours and events across Europe. In 2019 he was awarded Writer of the Year at the PPA Awards.