Riders slam plans to ban cyclists from 'dangerous' V718 time trial course
Highways England wants to ban cyclists from riding on A63 near Hull, the road used for what is regarded as the fastest 10-mile time trial course in the country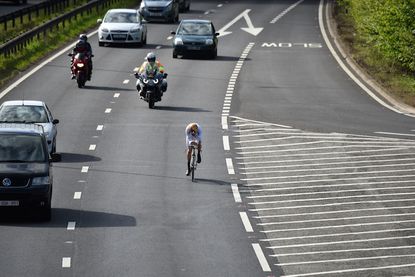 (Image credit: Andy Jones)
Riders and organisers have hit out at plans to ban cyclists from using a stretch of road which forms part of one of the fastest 10-mile time trial courses in the country.
The V718 in East Yorkshire uses part of the A63 near Hull, but Highways England has applied for a Traffic Regulation Order from the Department for Transport that would bar all cyclists from the stretch of road.
It has been the scene of hundreds of personal bests and several competition records, including the current men's and women's records, held by Marcin Bialoblocki and Hayley Simmonds.
>>> The secrets of Britain's fastest time triallists
But Highways England has cited safety concerns as the reason for the move, claiming there have been five accidents in the last six years, including a fatality in 2013.
However, riders and organisers say it is one of the safest courses around, with the fatality only occurring when Chris Auker rode into the back of a broken down caravan, something his widow described as a "freak accident, and nothing to do with the time trial course".
"I have never felt at risk riding on the V718," said Simmonds. "I think it would set a dangerous precedent — what would then stop calls to ban riding on all dual carriageways or A-roads?"
And men's competition record holder Bialoblocki added: "Dual carriageways are safer because drivers can see you from a long way off."
Events on the V718 have been included in the list of 2018 events, with the first one being the City Road Club Good Friday 10 in March.
>>> How to set a 10-mile time trial PB - experts reveal their top tips
The organiser of that event, Geoff Backshall, has ridden and organised time trials on the course for years. He said: "It will be a sad day for time trialling and it's worrying that cyclists are now being told where they can and can't ride.
"Legally, according to the Highway Code, we have every right to be there."
A consultation on the proposals ends on February 19, and CTT national secretary Nick Sharpe confirmed the governing body would be "objecting in the strongest possible terms".
Thank you for reading 20 articles this month* Join now for unlimited access
Enjoy your first month for just £1 / $1 / €1
*Read 5 free articles per month without a subscription
Join now for unlimited access
Try first month for just £1 / $1 / €1