The secrets of Britain's fastest time triallists
The 'race of truth' remains a signature of the British cycling calendar, and riders just keep getting quicker... how do they do it?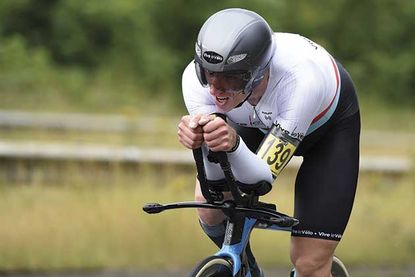 (Image credit: Andy Jones)
Believe it or not, the sun was out in Hull on the Sunday of the August Bank Holiday weekend in 2017. The air was warm and slippery. Winds were light.
The traffic was flowing smoothly on the A63 and James Gullen arrived at the Hull Ionians rugby club car park and got changed. He had raced a sporting 10-mile time trial the previous day and was training hard for the upcoming Tour of Britain; feeling the efforts of the previous weeks' efforts, he casually rode up and down the back roads to warm up for the Team Swift charity open 10.
The JLT-Condor rider set off and got to the turn of the notoriously quick V718 course in just eight minutes, but he didn't feel that 35mph seemed particularly speedy. Being overtaken by cars and lorries doing in excess of 60mph, it probably wouldn't.
Nevertheless, he stopped the clock at 16-59 to become the fastest man over 10 miles in the country in 2017 and only the second member of the elusive sub-17 club. Marcin Białobłocki, who clocked 16-35 on the same course in 2016, is the only man to have gone faster.
"It's only when you catch another rider that you feel how fast you're going. I caught my two-minute man and he still did a 19," Gullen recalls. "It's crazy when you think of it like that… he does a PB and a 19 and gets caught for two minutes!
"It was always talked about whether sub-17 was even possible, let alone whether I could do it. So it is nice to join the club… it's just a shame I couldn't join it first and get in the record books."
It turns out that Britain's fastest riders seldom know that they are the fastest until they are back at the village hall with their tracksuit trousers on, bikes in the boot and a cup of tea in their hands. Good weather can give them an inkling, and so can a fast course, which in 2017 was the V718 for 10 miles, R25/3H for 25 miles and E2 for almost everything else.
Sometimes their cycle computer gives the game away but they generally don't know for sure until the fat lady sings or, in Rachael Elliott's case, until Cycling Weekly rings. The Drag2Zero rider only found out that her time over 10 miles — 19:40 on the same day as Gullen — was the fastest in the country in 2017 when we phoned her up in December.
Her time would have been good enough for a competition record 18 months ago were it not for Hayley Simmonds's 18-36 in near perfect conditions in September 2016. But just as Gullen was targeting the Tour of Britain, Elliott had other goals on her mind: the National 25 earlier that month and breaking her own record for 30 miles.
>>> Cycling time trials: how to get started and training for best results
"Because time trialling is such a fickle thing you can target championships but you can't really target times," she says, "so you can put in good times when you're trying to peak for another event. The National 25 in August was a target so the 10 was symptomatic of that."
Elliott finished second in the National 25 (behind Simmonds) and then went on to break the 30 record in October. That she did know about, and she shrieked with delight when she crossed the line after one hour and 34 seconds to knock nearly three minutes off her previous best. Conditions could hardly have been more different than Hull's balmy bank holiday however; rain soaked the riders and a wind gusted around the E2 near Newmarket. But luckily numb fingers and numb toes meant numb nerves too.
"I didn't have much pressure for the 30 because the weather was dire," Elliott says. "You can get overly stressed if you do target events, you can put a lot of pressure on yourself to get those times. But if you do too many events then you can become a bit laissez-faire about all of it. You do need some adrenalin."
Britain's fastest have to roll with the punches as the clouds, wind and rain roll in off the sea.
They target events but accept that even the best made plans can be undone by the British summer (or come to think of it, the British autumn, winter and spring too). To be Britain's fastest you require that goldilocks level of pressure along with a very British expertise in making the best of a weather-affected situation. When it rains on your summer garden barbecue, stick the sausages under the grill. When it chucks it down on the A14 in Cambridgeshire, keep calm and carry on. Rain can never stop play.
"You have to be selective with events and just hope that you get decent conditions," Elliott says.
"Cycling, it can be a lottery sometimes."
The long run
You might imagine that long distance testers would need to target their events more precisely, reducing the margin for error and aiming for a specific window of peak performance. After all, scrunching yourself onto a time trial bike and eating nothing but energy gels for 12 hours is a little bit more extreme than a 20-minute effort in the mid-afternoon. However for the fastest riders over 100 miles and 12 hours in 2017 — Adam Duggleby and Alice Lethbridge — that wasn't strictly true.
Duggleby, medallist in the pursuit, time trial and road race in the Rio Paralympics with his tandem partner Steve Bate, set himself the goal of being the Best British All-Rounder (BBAR) in 2017. To do so he decided to try out successively longer events, eventually realising that his quick 50 and record-breaking 100 somewhat obligated him to ride the 12 hour too.
>>> Hayley Simmonds and Dan Bigham take National 10-mile time trial titles
"I didn't have a clue how good I was at long distances because I'd never done it before," he says, with astonishing matter-of-factness. "I didn't know this year [2017] that I was going to be any good at all. It was just part of doing the BBAR."
Britain's mid-June heatwave gave him perfect conditions to shave 4-40 off the 100-mile record on the E2/100, even if he felt his pacing was off and he dropped his chain inside the final few miles. But the 12 hour, ridden in Norfolk, was far from ideal. He endured 15 miles of the cyclist's bane — loose surface dressing — in order to get onto the 25-mile circuit that made up the course, deciding to throw his power averages out of the window and ride flat out to the smooth tarmac.
He then had two punctures and a further wheel change. Having previously never ridden further than 160 miles in one go, he was pleasantly surprised that he didn't at least run out of energy. His computer didn't show quite the same aptitude for ultra-endurance: it conked out after 11 hours.
"I didn't know how fast I was going, how many miles I'd done," he says. "I thought I'd done 310, then people were telling me they thought I was near the record."
He came an agonising 0.6 miles short of Andy Wilkinson's competition record, clocking 317.343 miles. Yet it was more than enough to win the BBAR, where Duggleby became the first man to average over 29mph. Duggleby now confidently says he has no unfinished business with Wilko's 12-hour record and that long distance solo efforts are behind him for the time being, arguing that "there are plenty of other things to do
in cycling.
>>> Project 49: How to ride a 25-mile time trial in under 50 minutes (video)
"It's hard to describe what it's like," he says of record-breaking long-distance TTs. "You just sort of keep asking yourself questions all the time: 'can I keep this up? Am I hitting the right numbers?'
"In the end you're just thinking, 'I'm still riding alright.' That's all it is really."
The science of speed
Britain's fastest may have been unproven over long distances in 2017, but that didn't mean they were any less motivated to succeed. Alice Lethbridge had seen Hayley Simmonds win the BBAR Trophy in the previous year's CTT Champions Night and decided that in 2017 she wanted the silverware for herself.
Fast times are also about bravery and a willingness to push your limits. Lethbridge knew she'd need a good time in the 100 miles to stand any chance of winning the BBAR, but added the competition record pace to a set of sticky notes on her top tube just in case.
"I wrote what pace I needed for a PB," she says. "And then I thought, just write down what the record is. Because if everything goes perfect you might be able to get close.
>>> Steve Cummings turns up to local time trial and smashes it on his road bike
"The whole time I'm time trialling, whatever the distance, I'm always doing sums in my head," she adds. It comes as no surprise when she later reveals she is a science teacher.
Her record-breaking ride in the 100 alongside Duggleby in the hot morning of June 18 was her standout performance. "I'd never had a performance like that and I think I shocked myself as much as I shocked anyone else," she says. It was that ride which meant she considered tackling 12 hours: unnecessary for the BBAR but somewhat tempting for a 'tester' in the true meaning of the word.
However, her trip back to Cambridgeshire for the National Championships on August 18 was a nerve-ridden ride into the unknown. Lethbridge had never ridden a TT bike longer than 100 miles. She had only ridden for 12 hours once before in her life. She was worried about the effects of half a day of holding aero-bars on a long-term shoulder injury. The existing competition record had stood for 50 years; its holder was a certain Beryl Burton.
In the end Lethbridge's sticky notes meant she knew she was on record-breaking pace the whole day, eventually riding 285.645 miles. Her success, her scintillating form from a string of races, and a threat from her own team-mate then spurred her on to the BBAR title.
"I was in the lead in the BBAR for most of the year then my team-mate Kate [Allan] got in the lead towards the end. I put in my hardest two weeks of training ever after the 12 hour, to get the 25 time down. Because it's your average speed, 10 seconds faster in the 25 counts for 40 seconds faster in the 100."
Committed to the cause
Riders may not have been specifically training for their record efforts, but doing so evidently requires no less dedication to the cause of cycling. Elliott enjoys riding 400 miles a week to and from work. Duggleby rode at least 120 miles every Monday for several months. Lethbridge still gets up at 5am three times a week to fit in turbo sessions around her job, doing longer rides on the weekend and overloading her training in the school holidays.
They have made it routine to push their limits. But Britain's fastest also feel that they can go further. They are never satisfied. For Duggleby, it's new challenges. Gullen knows he can work on his position some more, although reckons that Białobłocki's 10 record may be out of reach for some time. "The person riding it would have to be at the sort of level where they should be doing bigger things than a 10 at Hull," he dryly observes.
>>> The greatest time triallist that never was: Derek Cottington's disallowed 25-mile record, 1971
Elliott has already worked on her position and has enlisted a coach for the first time, none other than former national champion and multiple competition record holder Julia Shaw. "She threw her hands up in horror when she saw the type of training I've been doing!" Lethbridge also sees improvements to be made.
"I ended up just eating gels and sweets, which prompted my coach to tell me I need to do a 12hr properly next year [2018]! Nutrition is something I can definitely work on."
What are the secrets of Britain's fastest? Favourable conditions and courses, talent, training and motivation, a mixture of boldness and calmness under pressure, and that little bit of luck. But in actual fact the perfect ride never exists: Britain's fastest always feel that they can go faster. Which is why we all do it, isn't it?
Fastest time trial times of 2017
Men
10 miles – James Gullen (JLT-Condor) 16.59 on the V718, 27.8.17
25 miles – John Dewey (Team Bottrill) 45.20 on the E2/25, 8.4.17
50 miles – Carl Donaldson (GS Metro) 1:36.13 on the E2/50c, 15.7.17
100 miles – Adam Duggleby (Vive le Velo) 3:16.51 on the E2/100c, 18.6.17
Women
10 miles – Rachael Elliott (Drag2Zero) 19.40 on the V718, 27.8.17
25 miles – Hayley Simmonds (Team WNT) 50.10 on the R25/3H, 5.8.17
50 miles – Kate Allan (Drag2Zero) 1:45.36 on the E2/50c, 15.7.17
100 miles – Alice Lethbridge (Drag2Zero) 3:42.37 on the E2/100c, 18.6.17
British Best All-Rounder 2017 (three distance)
Men
Swipe to scroll horizontally
| | | | | | |
| --- | --- | --- | --- | --- | --- |
| Name | Team | 50 | 100 | 12hr | Avg speed |
| Adam Duggleby | Vive le Velo | 1:36.20 | 3:16.51 | 317.343 | 29.356mph |
| Richard Bideau | Pendle Forest CC | 1:38.22 | 3:18.54 | 312.101 | 28.891mph |
| Peter Harrison | AS Test Team | 1:38.41 | 3:18.58 | 312.868 | 28.876mph |
| Mark Turnbull | TORQ Performance | 1:38.13 | 3:21.00 | 312.612 | 28.815mph |
| Carl Donaldson | GS Metro | 1:36.13 | 3:22.11 | 305.098 | 28.760mph |
Women
Swipe to scroll horizontally
| | | | | | |
| --- | --- | --- | --- | --- | --- |
| Name | Team | 25 | 50 | 100 | Avg speed |
| Alice Lethbridge | Drag2Zero | 50.20 | 1:47.20 | 3:42.37 | 28.220mph |
| Kate Allan | Drag2Zero | 50.14 | 1:45.36 | 3:50.38 | 28.095mph |
| Laura Bartlett | a3crg | 53.57 | 1:53.04 | 3:57.02 | 26.550mph |
| Karen Ledger | Team Bottrill | 53.21 | 1:51.35 | 4:07.15 | 26.423mph |
| Chris Melia | Born to Bike | 54.58 | 1:55.14 | 3:55.41 | 26.260mph |
Thank you for reading 20 articles this month* Join now for unlimited access
Enjoy your first month for just £1 / $1 / €1
*Read 5 free articles per month without a subscription
Join now for unlimited access
Try first month for just £1 / $1 / €1