Hayley Simmonds and Dan Bigham take National 10-mile time trial titles
Wet and windy conditions in Cumbria didn't deter some quick times in the 2017 National 10-Mile TT Championships - All photos by Andy Jones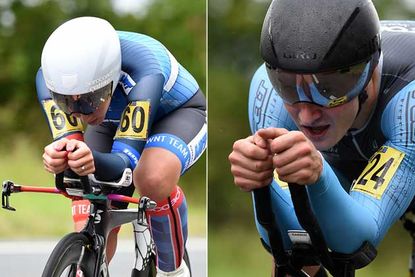 (Image credit: Andy Jones)
Hayley Simmonds (Team WNT Pro Cycling) and Dan Bigham (Brother NRG Wattshop) were crowned British National 10-mile time trial champions on Sunday, September 3, in Cumbria.
Both riders went into the competition as the favourites for the senior titles, with Simmonds claiming her fourth consecutive National 10 title and Bigham continuing his successful 2017 season with his fifth championship title of the year.
Wind and rain greeted the riders on the A66 Cockermouth course, but that didn't seem to affect the rider's times as Bigham clocked 19 minutes and one second to win with an average speed of 31.551mph.
>>> Cycling time trials: how to get into time trialling
Ryan Perry (Team Raleigh GAC) was runner-up in the men's event with 19-13, and Matt Langworthy (Mid Devonc CC) completed the podium in third with 19-33.
Bigham's Brother NRG Wattshop squad also took the team prize.
Simmonds set a time of 20-57 to beat Drag2Zero team duo Alice Lethbridge, with 21-40, and Kate Allan, with 22-00.
The day also saw the junior 10-mile titles settled, with Jake Wright (Zappi Racing Team) taking the junior men's title with a time of 20-15 and Caitlin Peters (i-Team Cyclists Club) securing the junior women's crown with 24-00.
Results
National 10-mile Time Trial Championships 2017
Senior men
1. Daniel Bigham (Brother NRG Wattshop), in 19-01
2. Ryan Perry (Raleigh GAC), at 12 secs
3. Matt Longworthy (Mid Devon CC), at 32 secs
4. Matthew Smith (Team Bottrill HSS Hire), at 34 secs
5. Charlie Tanfield (Brother NRG Wattshop), at 45 secs
=6. Jon Archibald (Pro Vision Cycle Clothing), at 46 secs
=6. Carl Donaldson (GS Metro), at 46 secs
8. Steve Lampier (JLT Condor), at 47 secs
9. Simon Wilson (Brother NRG Wattshop), at 56 secs
10. George Evans (Team Bottrill HSS Hire), at 1-09
Senior women
1. Hayley Simmonds (Team WNT Pro Cycling), in 20-57
2. Alice Lethbridge (Drag2Zero), at 43 secs
3. Kate Allan (Drag2Zero), at 1-03
4. Liz Powell (Mike Vaughan Cycles), at 1-11
5. Anna Turvey (Tyneside Vagabonds CC), at 1-14
6. Melissa Lowther (Team Breeze), at 1-19
7. Molly Patch (Fusion RT Fierlan), at 1-35
8. Victoria Smith (AeroCoach), at 1-38
9. Chanel Mason (Storey Racing), at 1-39
10. Karen Ledger (Team Bottrill HSS Hire), at 2-11
Junior men
1. Jake Wright (Zappi Racing Team), in 20-15
2. Joshua Sandman (Backstedt Hotchillee), at 17 secs
3. Cavan Walker (Prologue Race Team), at 41 secs
Junior women
1. Caitlin Peters (i-Team Cyclists Club), in 24-00
2. Miriam Jessett (Tyneside Vagabonds CC), at 17 secs
3. Lydia Watts (Zappi Racing Team), at 44 secs
Thank you for reading 20 articles this month* Join now for unlimited access
Enjoy your first month for just £1 / $1 / €1
*Read 5 free articles per month without a subscription
Join now for unlimited access
Try first month for just £1 / $1 / €1