Cycling time trials: how to get started and training for best results
Or - how not to punch yourself in the eye with your overshoes and remortgage your house to pay for a slippery bike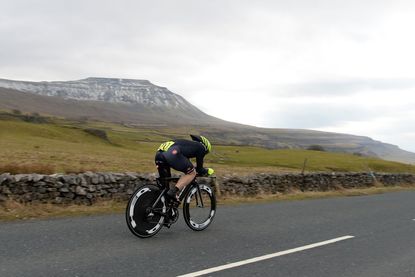 What are cycling time trials?
Cycling time trials are solo events that push riders to achieve the best result they can, racing only themselves and the ever ticking hands of the clock. Intrepid racers are set off at intervals – usually every minute – and drafting is off limits.
Most events are based on distance – the end goal being for the individual to get from start to finish in the shortest time possible. Though some events don't quite conform, most are 10, 25, 50 or 100 miles long.
>>> How to set a 10-mile time trial PB – experts reveal their top tips
There are some events based on time – 12 or 24 hours – in which the rider's goal is to cover the largest distance possible (ideally without being classified mentally unstable).
Cycling time trials events carry a weight of history and tradition. The format began as a response to a ban on bunched racing on the open road, put in place by the National Cyclists' Union in 1890. It's believed the first time trial was held in October 1895.
Secret events were held on courses known only by an indecipherable code – the code system is still in use today – and riders would set off at minute intervals, from dawn, wearing black from head to toe.
Of course, events are no longer illegal and are run under the rules and regulations of Cycling Time Trials (CTT), the sport's governing body. Riders no longer take fashion advice from ninja warriors and are encouraged to use rear lights – but the codes are still in place and many events still begin at 6am or even earlier.
Project 49: how to get a time trial PB
What kit do you need to enter a cycling time trial?
Aerodynamic drag is the greatest obstacle facing a rider at speed and there's a lot of expensive equipment available to cyclists looking to slice off seconds.
>>> Project 49: how to set a time trial PB
However, with the right engine and a good set-up it is possible to be competitive for a lot less that the five-figure RRP on a superbike.
In 2015, the National 10 mile time trial was won by a rider aboard a £1000 bike - though admittedly the rider, Richard Bussell, had obtained some bargains and received expert positioning advice from wind-cheating expert Xavier Disley of AeroCoach Ltd.
The point still stands: with careful attention to position and some clever investments, you don't need to spend a bomb to be competitive.
Any rider can gain fitness and motivation from racing the clock on a road bike with a standard set-up. At sporting events (hilly, often on less than perfect roads) road bikes can even be equal or superior to time trial bikes.
A road bike can be set up like a time trial bike, with clip-on bars, but installing a proper time trial base bar and adjusting the position – moving the saddle forwards and dropping the front end – is preferable.
One note of caution - TTs require riding 'on the rivet' for an extended period and it's not uncommon to find that your normal saddle is no longer ideal, but there are plenty of time trial specific saddles on the market - ISM, Specialized Power, Fizik Tritone, Pro Stealth and Selle Italia Iron Tekno Flow are all examples.
If you decide to invest in a specific rig, you can save a lot of time over a road bike on a flat course – there's a round-up of the best time trial bikes and what to look for here.
>>> The best skinsuits: aero tested
On a flat stretch, 80 per cent of drag is created by the rider. Therefore, when it comes to greatest time saving for the smallest cost, an aero helmet, skinsuit and overshoes (possibly the most cost effective time saving) are very savvy investments and can be comparable to buying a TT bike and failing to purchase the ad-ons.
How do you enter a cycling time trial?
There are two common forms of time trial: open time trials, and club time trials.
Club time trials are organised by a cycling club, typically once a week on a school night and over a distance of 10-miles. To ride, you just have to turn up, pay £3, line up alongside your club mates and off you go.
Entering open cycling time trials – which are more competitive and usually on a weekend – has become a lot easier in the last five years.
Not too long ago, to enter you needed to receive the annual handbook from the CTT. This contained a list of events, and their course codes plus the organisers' address. A printed form and cheque had to be sent in the post, arriving with the organiser 10 days before the event.
The 10-day rule still applies, since the organiser needs to seed riders in speed order and send start sheets out but you can now enter online, filtering events by district.
Most events have a map of the course online, too (which cuts down the likelihood of realising a week before an event that the H25/8 you've entered isn't in any way geographically related to the R25/3h and is in fact 200 miles from home).
What happens at a cycling time trial?
Once you've entered your event, you'll receive a start sheet by post or by email. This will tell you what time you set off. There's no point arriving at 6am if there are a lot of riders and you won't be on the road til 8.04am.
It's important to read all the details as there may be specific rules in place at that course such as not using aero bars on certain roundabouts or not turbo training (to warm up) in view of houses...
Most riders aim to get to the headquarters (HQ) an hour before their set-off time. On arrival, you'll sign in, take your number then you just need to funnel yourself into your skinsuit (try not to punch yourself in the face when pulling on aero overshoes, like Velotoze), check your bike, and warm up.
Take some time to re-read the course route – major turns should have arrows and ideally marshals, but this varies between events.
A lot of riders warm up on turbo trainers at the HQ (pre-start punctures are the worst) – but you can use the road, as long as you don't ride on the course once the event has started.
Leave plenty of time to get from the HQ to the start. You'll line up, in number order - making gaps every time a red faced, panicked looking rider arrives with just 30 seconds before their start (do not be this rider).
When it's your turn, someone will hold you up so that you can start clipped in. You'll get a count down - which in time will become so intensely familiar that the phrase '30 seconds, 10 seconds, 5, 4, 3, 2, 1-g'd-luck-watch-r'd'bts' alone will be able to raise your heart rate by 20bpm. Then you're on your own.
Assuming there are arrows laid out, you follow these until the end. Aside from the string above, a popular phrase in time trialling is 'Heads up, Accidents down' - obey this, since failing to do so could lead to disaster - for example you being captured on camera with the tail of your aero helmet flailing around in the wind.
If someone passes you, it's polite (and technically required) that you let them go - do not try to latch on, or attempt to re-pass them. If you pass someone else, make sure to give them lots of room.
Ideally, shout your number to the time keeper as you cross the line – a tradition that dates back to the days of the secret events where riders didn't wear numbers so that they couldn't be accused of racing.
How can you improve at cycling time trials?
Well, pacing, practice, and position...
Pacing
The key when it comes to time trials is in pacing.
Hour Record holder Chris Boardman once described the art thus: "You have three questions going through your mind: How far to go? How hard am I trying? Is the pace sustainable for that distance? If the answer is "yes", that means you're not trying hard enough. If it's no, it's too late to do anything about it. You're looking for the answer "maybe"."
>>> Fabian Cancellara's top 11 time trial tips
During the first couple of miles, you might feel like you just want to stop. Don't. Keep going and learn how to find that sweet spot – the 'maybe' intensity.
The scientific way to find this intensity would be to perform an FTP test (based on power ideally, or heart rate) and use this to base your effort for an event that you expect to take an hour.
In time, you'll learn what heart rate or power you can hold for a 10, 25, 50 and 100 – of course adjusting it as you improve, or based on the course.
Practice
The more time trials you do, the better you'll get at pacing.
But practice here also refers to training. Ideal training sessions for time triallists will prepare rides for long efforts at threshold (during a 25), a bit above (a 10) and a bit below (a 50).
The bread and butter time trial training session is the 2x20 - two 20 minute efforts at 95-105% of FTP with 5-10 minutes' recovery. Including this session once a week in your training plan is a good idea – ideally assessing your progress with a best-effort 20-minute test once a month.
>>> Four of the best turbo training sessions and indoor cycling workouts
Shorter intervals – one to five minutes – are also good sessions to include, for riders looking to develop power – which can in turn be applied to longer efforts.
Position
Aerodynamic drag is the greatest obstacle between a rider and a good time. Ok, punctures, 'pedalling squares', hangovers etc could all contribute, but drag is something you can reduce.
>>> How to be more aero on your road bike
There are all sorts of fancy things bike brands can do to reduce drag when it comes to the bike: trip strips, integration, tube shapes. But of the bike and rider duo, it's the rider that is the least streamlined.
To cut down drag, you need to reduce the surface area of... yourself. This usually means bringing your elbows in and getting low. But not at the detriment of power output – or at least, to the extend that it cancels out the benefits of being more slippery.
>>> How much does your position affect your speed?
The are many factors involved in finding the perfect position – your own flexibility and core strength will affect how much power you can put out in an optimised position. A bike fit is a very good place to start, otherwise, trial, error – and maybe a few turbo sessions in front of a mirror.
Thank you for reading 20 articles this month* Join now for unlimited access
Enjoy your first month for just £1 / $1 / €1
*Read 5 free articles per month without a subscription
Join now for unlimited access
Try first month for just £1 / $1 / €1