Project 49: How to ride a 25-mile time trial in under 50 minutes (video)
The inside story of one determined Cycling Weekly journalist's mission to break 50 minutes for the 25-mile time trial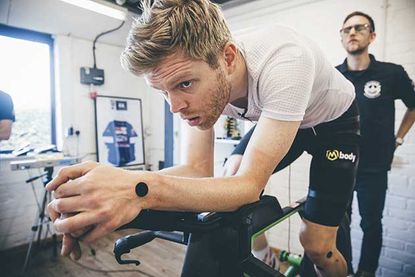 Get The Leadout Newsletter
The latest race content, interviews, features, reviews and expert buying guides, direct to your inbox!
Thank you for signing up to The Pick. You will receive a verification email shortly.
There was a problem. Please refresh the page and try again.
Read more on 'Project 49' in Cycling Weekly magazine August 24 issue, on sale now.
In 1978 the great Alf Engers became the first person to break 50 minutes for the 25-mile time trial. Fifty minutes is still an important yardstick, not least because it requires an average speed of over 30mph.
Engers's record lasted an impressive 12 years. These days, thanks to improved technology — principally, tri-bars and disc wheels — going sub-50 is within reach for well-equipped, ambitious amateurs. Could a mere mortal like me crack this once-hallowed benchmark?
I have always been drawn to the purity of the time trial. It captures my imagination; I love how it's uniquely British, with its own quirky sub-culture. To the unacquainted observer, it is a ridiculous spectacle: people in Spandex onesies and silly helmets congregating like flash mobs outside village halls.
>>> How to warm-up for a time trial (video)
I will never be an elite cyclist. Alas, my biological inheritance did not include a heart the size of Shergar's. Never mind. For me, time trialling is about measuring myself against my own parameters and willpower — doing the best I can do.
The question in my mind was this: using all the modern technology available to me — sports science, coaching and nutritional advice — could I, a non-elite cyclist, break the coveted 50-minute barrier? Could a modern donkey be whipped into shape to gallop like a Seventies racehorse? Could I go as fast as Engers?
When this question first entered my head, my 25-mile PB was 53:18, set on the R25/3H Wales course in decent conditions, equating to a power output of 275W. If I was to ride 25 miles in 49 minutes, I would need help with every aspect of my riding: fitness, nutrition, bike-fit, equipment and aerodynamics.
Training and coaching
For coaching advice, I recruited the help of Ken Buckley (buckleyperformancecoaching.co.uk). Ken is a friend, and he's also the fastest ever British man in a pedal-powered vehicle. His 77mph is the UK land speed record for a human-powered vehicle (basically a recumbent bike enclosed in a teardrop-shaped fairing).
Nutrition
Before taking on this challenge, I ate pretty much whatever and whenever I wanted. I felt sure there was plenty of room for improvement.
Alan Murchison, AKA the Performance Chef, has worked as a Michelin-starred chef and also has an elite sports background: he is one of the few people to have run 10km in under 30 minutes and ridden a 19-minute 10-mile time trial — an almighty mixed-discipline double. These days, he provides nutritional advice to several of the UK's top domestic athletes.
Equipment
The faster you ride, the more important aerodynamics become. At my target speed of 30mph, aerodynamic drag would be the most important resistive force — 90 per cent of my power would be spent overcoming air resistance. Only 10 per cent would be used in defeating rolling resistance and friction.
To have any chance of achieving my goal, I would need a quality TT bike. Having previously reviewed, and been hugely impressed with, the Canyon Speedmax CF SLX (£7,299), it was the logical choice. It's rapid, and Canyon were happy to lend me one complete with Dura-Ace Di2 groupset.
The next key decision was wheels. It is widely accepted that the aerodynamic efficiency of a wheelset is system-dependent and can vary from frame to frame. Having performed extensive testing with different wheels, Canyon engineer Sebastian Jadczak suggested that the fastest wheels within the Speedmax frame were the Zipp Sub 6 Disc and 808 NSW front — my selection was made.
To optimise the aerodynamics of all this kit, I called on Dan Bigham, the seven-time national champion who's handily also an aero expert with his own company, Wattshop. Bigham assessed my position, and compared various skinsuits and helmets, at Palmer Park Velodrome in Reading.
Bike-fit
During training it soon became apparent that, though aerodynamic, I was struggling to maintain threshold power in the TT position. The discrepancy between the power I was able to produce on my road bike versus my TT bike was substantial: 240W for 20 minutes in the TT position (with quads ablaze), compared to 320W on my road bike.
It was clear I needed a TT-specific bike-fit that would help me meet the biomechanical demands of the time trial bike. So I paid a visit to Garth Kruger of Vankru Performance Cycling, a specialist bike-fitter based near Winchester.
Part of the solution was spending more time training on the TT bike, getting used to the position; even after the bike-fit, I still needed to condition my body to sustain power in the position.
>>> How to pace a long time trial (video)
Putting it all into practice
Heading to the R25/3H TT course in South Wales on May 14, I felt prepared. I was ready and it was nice to be heading into an event knowing I had done everything I possibly could to prepare for it. The one thing I couldn't control was the weather. Wind, its speed and direction, as well as temperature, air density and pressure are all critical factors in time trialling.
Unfortunately my first attempt was scuppered by a 12mph block headwind on the outward leg. My time of 51.50 fell some way short. Having put out 287W, my goal seemed very distant at this point, despite more experienced riders consoling me by assuring me it was a 'slow day'.
Twice I returned to the R25 and edged only marginally closer to my goal. Then, on July 2, I went back again and rode the best TT of my life, in reasonable but not ideal conditions. I hit the turn, 15 miles in, with an average speed of 51kph (31.7mph), but on the return leg, that average was eroded by a killer headwind. Agonisingly, the clock stopped at 50.07.
Though gutted, I was also happy; it was a PB, my normalised power was 295W, and I was confident I had pushed myself harder than ever before. I had also achieved a time that I would have never dreamt possible a year earlier.
July 23 was to be my final opportunity on the R25. I had a decent week of preparation and the forecast looked decent, with low air pressure (1010mb) and density 1.205kg/m3. Wind was also light, a gentle 6mph south-westerly.
Game face on, I psyched myself up for the pain and suffering I was about to endure. It may have been a humble time trial, starting in a nondescript industrial estate, but to me in that moment, it may as well have been the final time trial of the Tour de France. You have to have your head in the right place if you truly want to destroy yourself.
Within a kilometre, I had a good feeling about my chances: my legs were feeling good; even the air felt fast.
>>> How to set a 10-mile time trial PB – experts reveal their top tips
I focused on making myself small, keeping my head low and rolling my shoulders in, especially on the faster sections where drag matters most. Going into the final 4km, I was on track and I began to pray that I wouldn't fall victim to a cruel puncture. No such misfortune; the finish was in sight. I stopped the clock at 49.03, having sustained normalised power of 291W. I'd done it!
How did it feel to achieve my goal? Absolutely bloody fantastic! It may be a modest feat compared to the performances of current elite riders, but it has been a huge achievement for me — far harder than I thought it would be, requiring a huge amount of hard work, training, commitment and discipline.
Completing this challenge has also given me a new-found respect for what Alf Engers achieved — bearing in mind that he was wearing a wool jersey and riding a steel road bike with box-section rims.
Chapeau, Alf.
Acknowledgements
A massive thank you to all who helped me in achieving this goal
Ken Buckley: buckleyperformancecoaching.co.uk
Alan Murchison: performancechef.com
Garth Kruger: vankru.com
Dan Bigham: shopforwatts.co.uk
Paul Hough: stmarys.ac.uk
Endura: endurasport.com
Canyon: canyon.com/en-gb
Zipp: zipp.com
Ceramic Speed: ceramicspeed.com
Continental: continental-tyres.co.uk
Zyro: zyro.co.uk
Read more on 'Project 49' in Cycling Weekly magazine August 24 issue, on sale now.
Thank you for reading 20 articles this month* Join now for unlimited access
Enjoy your first month for just £1 / $1 / €1
*Read 5 free articles per month without a subscription
Join now for unlimited access
Try first month for just £1 / $1 / €1
Get The Leadout Newsletter
The latest race content, interviews, features, reviews and expert buying guides, direct to your inbox!
Oliver Bridgewood - no, Doctor Oliver Bridgewood - is a PhD Chemist who discovered a love of cycling. He enjoys racing time trials, hill climbs, road races and criteriums. During his time at Cycling Weekly, he worked predominantly within the tech team, also utilising his science background to produce insightful fitness articles, before moving to an entirely video-focused role heading up the Cycling Weekly YouTube channel, where his feature-length documentary 'Project 49' was his crowning glory.