The greatest time triallist that never was: Derek Cottington's disallowed 25-mile record, 1971
A series of smallprint setbacks and bad luck have conspired to make Derek Cottington the greatest time triallist that never was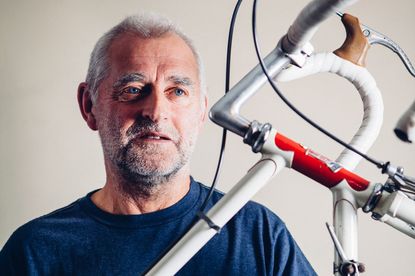 Get The Leadout Newsletter
The latest race content, interviews, features, reviews and expert buying guides, direct to your inbox!
Thank you for signing up to The Pick. You will receive a verification email shortly.
There was a problem. Please refresh the page and try again.
"Cotters smashes '25' record!" screamed the cover of Cycling on October 9, 1971.
The previous Saturday Derek Cottington had taken 13 seconds off Alf Engers's 1969 record of 51.00.
At 21 years old Cottington was a sensational young talent. He was already national champion at 25 and 50 miles. He had won the season-long Campagnolo Trophy two years running.
Cottington had not only taken Engers's record and his jersey but he also had the rock star looks and attitude to entirely usurp 'King' Alf, who was that year yet again battling a ban for infringing amateur regulations.
>>> Fabian Cancellara's top 11 time trial tips
But the Road Time Trials Council (RTTC) announced in February 1972 that because the starting order of the last 20 riders that day on the K16/25 course on the A38 in Staffordshire did not comply strictly with Regulation 31a, Cottington's record would not be accepted.
Regulation 31a required "faster competitors" to be started at "not less than five minute intervals". The organiser of the Oldbury and District event had set the top 20 in the Campagnolo Trophy off at the back of the field at one-minute intervals.
His aim had been to ensure weather conditions would be the same for the fastmen, as well as to create a buzz for the many spectators, but he had unwittingly got them all disqualified.
Cottington's response at the time was a shrug and "I'll just have to do it again".
On the day he broke the record he had told Cycling's reporter, Bernard Thompson, that he was "not very happy" because he hadn't broken 50 minutes.
It might have seemed like breathtaking arrogance but that was the reality of Cottington's potential.
It was also an insight into a complicated man who, by his own admission, was "always pessimistic" but who was able to harness his lack of self-belief to drive his extraordinary performances.
However, the disallowed competition record seemed to trigger a run of injustices or instances of simple bad luck that turned Cottington's pessimism into a self-fulfilling prophesy, ensuring he was never credited with a competition record at any distance.
>>> The best time trial bikes and triathlon bikes
Cottington, now 66, is wearing a Weird Fish T-shirt ("make sure you get 'weird' in," he tells photographer Chris) and carpet slippers and is perching on the edge of his sofa, looking at once youthful and world weary as he recalls scenes from the 1970s that still fill him with both pride and regret.
"At the time I was more disappointed that I hadn't beaten 50 minutes," he confirms.
Putting in the miles
"It was the end of the season so there weren't any more chances but the way I was going I thought … next year, won't be a problem.
I'll just target fast courses and it'll be easy. Which it would have been in '71 if I'd just done that all year."
Cottington had instead spent the 1971 season, as he had done in 1970, chasing the points-based Campagnolo Trophy, which took him to courses around the country that weren't necessarily the fastest:
"I thought it was a better thing to win than the National 25 because it was right through the season. Most of the top riders rode the events."
There were bonus points for wins, course records and competition records and Cottington had got course records in all the Trophy events he'd ridden except one.
He puts his super form that year down to a colossal increase in his training. "I was doing 40 miles to work each way and training in the evenings as well. I was doing 25,000 miles a year in 1970 and 1971," he says.
>>> How to fuel for long distance rides
"I started doing that towards the end of '69. I was working at a carpet and upholstery warehouse in Guildford and they relocated to Catford. I was too lazy to find another job — I don't like change — so I thought, well I'll ride up there.
"The first four months, autumn going into the winter, I was shattered. I'd get home and, bang, on the bed."
However, as Cottington's body adapted to the phenomenal load he found himself going faster and faster until by the end of the 1970 season his 25-mile time was down to 52 minutes and the first 30mph '25' seemed within his grasp.
Cottington had already publicly declared he thought it was possible, and had put a famous back up in the process.
"I used to go to Herne Hill, Monday Comp. Reg Harris was up there. I didn't ride — I just went in there on the way home to see what was happening.
"I got chatting to somebody and even then we were talking about beating 50 minutes for the '25' when my best was only a '55'. Reg Harris and some other lads came over and he didn't seem to think that was a reasonable thing to think, that I could do that. Because it was 10 per cent.
"So I asked him what sort of times he did. I said well on here you do about 11.2 for 200 metres. It's only the same as you going down to 10.2 — it's only a 10 per cent increase. To Reg Harris, five-times world champion and me a little nipper, a mouthy little git! I can't remember what his reaction was but we didn't speak much after that."
The Oldbury and District CC 25 on Saturday October 2, 1971 was the penultimate round of the Campagnolo Trophy.
"The aim was just to win it, to get course record, which I think was only a 54. My best at that point was a 52 and then it [comp record] just happened," Cottington remembers.
Cottington, on scratch, was off last. A minute in front of him was Phil Bayton. "I don't know if I've remembered this correctly or if I should even say it but as I was warming up Phil Bayton was sitting on the kerb with some mates," says Cottington.
"As I rode by he said 'if you catch me you'll get comp record'. I didn't say anything. I knew he was good and I didn't know what was going to happen but I was going to give it a good go."
Watch now: how to beat long time trials
So did Bayton act as a carrot?
"I would have done the same ride even if it was in training. Some people need something to motivate them when they're riding a time trial but I just like doing it. I just like riding hard."
However, the RTTC's Regulation 31a must have been put in place because of the risk of top riders pacing each other, whether intentionally or not?
"Yeah but that can't make you do something you're not capable of doing," insists Cottington. "I think I would have done the same sort of ride whether he was there or not."
Chasing Bayton
Cottington got to within 50 metres of Bayton with five miles to go.
"I thought, do I really want to get involved in this, this far out from the finish? Because he might need a carrot and if I go there he might start blasting past again."
So Cottington decided not to go straight past Bayton.
"I wouldn't say I eased off but I just stayed there until about half a mile to go. There were hoardings out so I knew. So I thought right, now, bang. I went past him and I could see his wheel coming back up to my bottom bracket and it was just real gritting the teeth.
"Then I blew him away and he ended up two seconds behind me, which is quite a lot at that speed. But he was really giving it some, trying to get back past me. That was the only time I passed him."
Cottington and Bayton finished first and second, Cottington with his 50.47 and Bayton on 51.49. Willi Moore, in third place, was a minute and a half back with 53.24.
"It was a nice day on the K16 but it wasn't that quick," remembers Cottington.
If you look at the times they were average except for me and Bayton. John Burnham was fourth and he did a '54'. He did 51.40 when Alf did the 51 dead.
Bayton went past him and I went past him for three minutes. You know, there's the second-fastest 25-miler ever and he's just…" Cottington seems momentarily overwhelmed.
"I'm not worried. I know what I did and that it was legitimate and that's good enough for me," Cottington concludes.
>>> How much speed can you buy? (video)
Despite the shrug and the casual pledge to "do it next year" the wheels fell off Cottington's campaign in 1972 as he was hit by more disappointment.
"I was ill, bronchitis, not good, rode the Christmas 25 and you shouldn't do that when you're not well. I don't know if that affected me long term because I was alright in other events in '72.
"But my job changed — they moved back to Kingston so I was doing 45 miles a day instead of 80. I was too lazy to go out and do the other bit."
Did the disallowed comp record have an effect on Cottington's morale for 1972?
"I don't know… maybe it did. But the Olympics — yeah, that was worse."
Cottington and a team of crack riders from the London West district — Martyn Roach, Jeff Marshall and Bob Porter — won the national team time trial, which was supposed to be an Olympic selection event.
"We rode and we did the best team time trial I've ever done," says Cottington. "We did a 2-7, which would have been comp record if there had been a comp record for 100K then. So that's another one I missed," he says ruefully.
The team eventually selected for the Munich Olympics had been down to ride but didn't start.
"Phil Edwards, Phil Bayton… but they didn't even turn up. I can understand it though," Cottington continues.
"There was a six-man road squad and they picked four riders out of them to ride the team time trial. We weren't going to win any medals, either team, but it would have been nice just to go on merit. We did the time."
The third of Cottington's greatest misses was the 10-mile competition record: "I think I had the fastest '10' on record with 20.44," he says.
"Then there was a [official] comp record for the first time the next year [1972] and Willi Moore did a 20.36 and got it.
Then there was the vets' '30' record that I didn't get [in 1991]. I did a 1:1.13. I wouldn't have had it long — Eddie Adkins came in and did a '59'. But I thought 'at last, 20 years on I've got a comp record!'
But it was, 'nah, you're not a member of the veterans' whatever'… But if you you're over 40 you're a vet, right? So that's four of them I've missed."
Perhaps the most tantalising and intriguing miss came in 1978, the year that Alf Engers broke 50 minutes for 25 miles — the first time Cottington's 1971 disallowed time of 50.47 had been beaten.
"I did get reasonably good again in '77 and '78, says Cottington. "Up until the championship [National 25] in '78 Ed [Adkins] was beating me and I was getting closer and closer.
"The championship was a bit strange. I thought I'd done a long '54' and I'd been given a long '56'. Ed did a middling '55' and won it.
>>> Beryl Burton: British Legend
"Anyway. I was probably wrong about the time but I don't see how I was doing a '56' because I was timing myself — each five [miles] I was doing 11 minutes or so.
"After the championship I rode against Ed, Alf, Martin Pyne, Roger Queen, all of them, and I didn't get beaten in a '25' the rest of that year. And then Alf did the '49'.
"I had actually entered that event. But I was showing off, feeling really strong. I was working in Anerley and I was coming back, riding with somebody, and I said, 'I could break this sprocket any time I like'.
"So I just went, umph, just like that and I bust it and whacked my ankle on the crank. And…" Cottington speaks slowly and widens his blue eyes as if the reality is only just sinking in, "I couldn't ride that '25' that Engers did a '49' in.
"But I was a bit like, yeah, he rides in the middle of the road. I used to say I was brought up in the gutter and that's where I'll stay."
Private chancer
However, inwardly seething at having DNS'd from the most important time trial of the 1970s while on top form, Cottington decided to do a self-timed '25' the Engers way on the A3, his local dual carriageway:
"I timed myself on a private '25' one evening coming home. There was a Southern RRA 25 course measured out.
"It started up at Robin Hood Gate and went down the A3, I can't remember if it turned at Oxshott or Cobham, and came back. So I thought right, I'll do that and I'm going to ride down Kingston bypass in the middle lane just to see how quick it is.
"And it is bloody quick when you're out there. And I did a long '47'. It was an evening. There was a slight drift, tailwind coming back, but there was loads of traffic going out. My ankle had got better and… yeah, it was scary riding out, but I thought yeah, I'll ride out here. Because I wasn't happy about Alf doing the '49'. I wanted to do it first. 47.56 it was. It was a rolling start but that's only worth a few seconds."
Cottington's name may not appear in time trialling's record books but in its folklore he is a legendary figure who, had Lady Luck dealt him a better hand, may well have broken the '25' record at both ends of the Seventies and become the first man to go sub-50 minutes. 'King Cotters' has a certain ring to it…
Thank you for reading 20 articles this month* Join now for unlimited access
Enjoy your first month for just £1 / $1 / €1
*Read 5 free articles per month without a subscription
Join now for unlimited access
Try first month for just £1 / $1 / €1
Get The Leadout Newsletter
The latest race content, interviews, features, reviews and expert buying guides, direct to your inbox!
Simon Smythe is a hugely experienced cycling tech writer, who has been writing for Cycling Weekly since 2003. Until recently he was our senior tech writer. In his cycling career Simon has mostly focused on time trialling with a national medal, a few open wins and his club's 30-mile record in his palmares. These days he spends most of his time testing road bikes, or on a tandem doing the school run with his younger son.