Russell Hampton to be crowd funded in 2014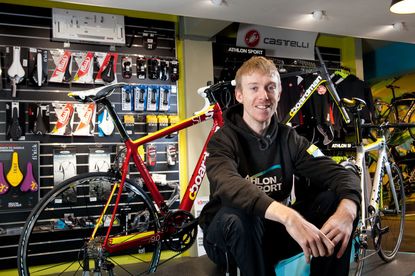 From online to the start line: people power will enable former British Cycling Academy rider Russell Hampton to compete in the domestic calendar's top events this year.
Instead of joining a team for 2014 after his contract with Raleigh ended, Hampton has raised over £16,000 in donations via the Crowdfunder website. Chelmsford-based cycling and triathlon shop Athlon Sport will support the 25-year-old rider by providing equipment, while his backers will receive a range of benefits from signed photographs to having their name printed on Hampton's jersey depending on how much they donate.
Another Essex company, Cloud Nine Telecom, is among those to have pledged support, and will become the co-sponsor of the fan-backed 'team'.
The high-profile closures of the UK Youth and IG-Sigma Sport squads at the end of 2013 has led to plenty of debate about the future of cycling sponsorship in the UK, and Hampton believes this bold venture could be adopted by many others in future.
"It's a good way of getting people involved, be it from big businesses to local cyclists. We'll be giving them something back for their money, too. It isn't just about taking their money," explains Hampton, a podium finisher in the 2012 National Road Race Championships.
"It's an exciting idea. I believed it was the right time to do it, although I was pretty nervous as I didn't want it to flop!
"I want to race my bike, I don't want to deal with the politics that surrounds teams. It's been a humbling experience, and I'm motivated to go out and race again."
Funding alternatives
ITeam Nova, a similar, Australian-based project at the start of the millennium, ran out of money within two years, but their funding model required members to pay a flat-fee of £120 and needed significantly more income to support its ambitious worldwide programme.
Fans can back Hampton from as little as £10, and Athlon Sport's director Steve Collins is hopeful that by offering a number of sponsorship tiers, the project will be able to expand in years to come.
"The more people who put into the 'team', the more they get out of it. For example, £1,000 will enable people to get their logo and name on the jersey," he explains.
"We want to build the team up, and I'd like to think we'd be able to get a team of riders who, although not always favourites, would be a passionate bunch."
Rider profile
Age: 25
Former teams: Raleigh (2012-2013), Sigma Sport-Specialized (2011), Team Sprocket (2010), MagnusMaximusCoffee.com (2009)
- Won the National Junior Road Race Championships in Buckinghamshire in 2006. Current Sky rider Pete Kennaugh finished third.
- Took victory in the scratch race at the 2007 Los Angeles Track World Cup meeting .
- Member of British Cycling Olympic Academy Programme's 2007 intake, along with fellow Essex rider Alex Dowsett. Stayed on it until mid-2009.
- Spent four days as leader of the Tour of Britain King of the Mountains competition in 2011.
- Won the Hillingdon GP in 2012, before finishing third behind Sky duo Ian Stannard and Dowsett at the National Road Race Championships in Yorkshire weeks later.
This article was first published in the January 16 issue of Cycling Weekly. Read Cycling Weekly magazine on the day of release where ever you are in the world International digital edition (opens in new tab), UK digital edition (opens in new tab). And if you like us, rate us!
Thank you for reading 5 articles this month* Join now for unlimited access
Enjoy your first month for just £1 / $1 / €1
*Read 5 free articles per month without a subscription
Join now for unlimited access
Try first month for just £1 / $1 / €1
Nick Bull is an NCTJ qualified journalist who has written for a range of titles, as well as being a freelance writer at Beat Media Group, which provides reports for the PA Media wire which is circulated to the likes of the BBC and Eurosport. His work at Cycling Weekly predominantly dealt with professional cycling, and he now holds a role as PR & Digital Manager at SweetSpot Group, which organises the Tour of Britain.