Scott Davies 'honoured' to wear national champion's jersey
Newly-crowned under-23 time trial British national champion Scott Davies talks to Cycling Weekly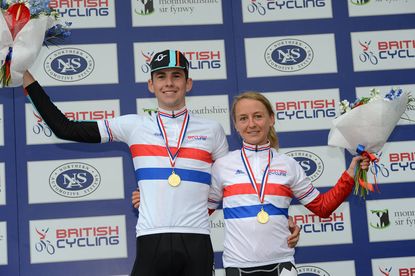 (Image credit: Andy Jones)
After he climbed down from the podium, a smiling Scott Davies had to do the media rounds, but, resplendent in his new British champion's jersey, he didn't seem bothered. "I won the junior time trial championship, so to do the same at under-23 level almost completes the collection. The thing is, it's the national champion's jersey and not many people get the chance to wear it, so it's a real honour."
Although Davies isn't part of the GB track set-up, he was happy to give credit to international team manager Keith Lambert who he has raced under for long periods earlier in the season - at the Sun Tour in Australia and for a five-week stint in Europe.
"Keith [Lambert] has been great this year, I'm not part of the GB Academy programme but I still went with him to ride the Sun Tour in Australia and that was a fantastic experience for a first year rider and I owe a lot to Keith, he's a lovely gent, he's worked us all hard, very hard, but I hope to work more with him in the future."
Still only 19, Davies is taking his first steps among the big league, but the transition doesn't seem to have thrown him. "The step from junior to senior is hard to describe but the Sun Tour, racing with the WorldTour teams like Orica and Cannondale was hard, not in terms of the distances but little things, the way they ride in crosswinds and being able to predict when its all going to kick off are very different. The mistakes you could make at junior level and get away with if you were strong enough, that can't happen anymore, that's just not an option."
Given his build and his strengths (he's no track sprinter!), on paper the Celtic Manor lap would appear to have suited him.
"I think for the type of rider that I am, I don't think I'll get a much nicer course than this, well, not nice, but in terms of my riding style it was good for me. I rode four laps of the course and in the end got a fairly good idea of the lines, got a good mental map. It wasn't a perfect run by any means, in terms of how much effort I put out it was OK, but I got some feedback saying I could have been a bit closer to a few of the hedges! But the feedback is good, I'd rather have it that way than just get pats on the back or whatever."
And the next stop? "Well, the next race is the road race on Sunday, obviously and it'll be a tough race, but I think we (Madison-Genesis) will be looking at the Under-23 jersey, though I don't know yet, to be honest. All I do know is that its really grippy and there are a lot of places to get caught out, so whoever wins will have to be really vigilant."
Tune in on Sunday evening...
Madison-Genesis rider Scott Davies, 19, claims first title of the 2014 British road national championships in Wales
Thank you for reading 20 articles this month* Join now for unlimited access
Enjoy your first month for just £1 / $1 / €1
*Read 5 free articles per month without a subscription
Join now for unlimited access
Try first month for just £1 / $1 / €1