Tejvan Pettinger continues winning streak with Walbury Hill Climb victory
British hill climb round up (Sept 27-28): News and results from around the UK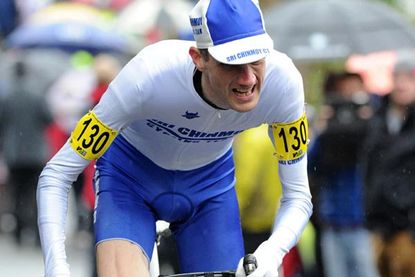 Tejvan Pettinger's superb form continued in the Walbury Hill Climb on Sunday as the Sri Chinmoy CT rider smashed yet another course record at the Newbury Road Club event.
Reigning national champion Pettinger completed the course in 3:55.19 with VC St Raphael's James Wilson second with 4:11.12. Arctic Tacx RT's Danny Axford took third with 4:15.30.
The National Championships will be held on Pea Royd Lane in Stocksbridge near Sheffield this year, and a shorter version of the course was used for an event on Sunday.
It was Joseph Clarke of Derby Mercury RC who won this time around, stopping the clock on 2:28.2. Glyndwr Griffiths of Arctic Tack RT was second in 2:32.8 and holder of the course record, Matt Clinton was third.
Clinton, riding for Mike Vaughan Cycles, clocked a 2:34.5, some way off his winning time of 2:23.9 set five years ago in 2009.
But a record was smashed in the women's event with Lou Collins of Beeston RC clocking 3:26.3 and shaving an impressive 17 seconds off the time.
The woman who set the previous record in 2013, Nicola Soden of GBCycles.co.uk, also broke the record with a time of 2:38.3.
In the veteran category, it was Nick Despres of Guernsey Velo who was fastest with a 3:01.4. It was a good weekend for Despres, he also won the veteran category at the Leigh Premier CC event the day before.
Nick Jones of Derwentside CC who took top spot with a time of 7:33.0. In second was Leigh Premier's own Mark Tickle in 7:50.5 and Tom Hanlon of Harry Middleton Cycles was third in a time of 8:20.2.
There was also further joy for the Despres family with Nick's daughter Heather winning the women's event.
Lancaster CC staged a hill climb over two stages and Tom Bracegirdle took overall victory after finishing first in event one and second in event two.
In the first event held on Conder Bottoms, it was Kuota-Spinergy's Bracegirdle who recorded the quickest time with a 1:55.2. He couldn't bother Jack Pullar's record of 1:39.3 but it was enough to see the 2:02.2 of Lewis Szymanski of ABC Centreville and the 2:0 of Ribble Valley CRC's Lee Carter.
In the Jubilee Tower climb, David Powell of Norwich CC was top with 7:45.2 and Bracebirdle stopped the clock at 8:04.1. Szymanski was third with 8:08.6.
Paul Rymer headed up a Wilsons Wheels RT one-two in the Bridlington CC hill climb. His 3:21.1 was just a fraction quicker than team-mate Miles Slather's 3:21.7. Andrew Pearson of Huddersfield Star Wheelers was third in 3:26.2.
In close proximity and just three hours after the Bridlington event, a number of riders also entered the Scarborough Paragon hill climb.
Organiser David Thompson was quickest in 2:35.1 and junior racer Kieran Savage of Jackpot Racing was second in 2:36.5. Andrew Pearson took his second podium of the day with a 2:38.2.
Michael Openshaw won the Sunderland Clarion hill climb with a time of 7:21 being enough for the Cestria CC man to take victory. Carl Donaldson of GS Metro was second in 7:26 and Adam Wild of Tyneside Vagabonds in third with 7:37.
Iain Payton racked up his latest win in Scotland with the fastest time in the Dochcarty Hill Climb hosted by Ben Wyvis CC.
The Pioneer Scott Synchros rider completed in 6:27, ahead of Kieran Robbins of East Sutherland Wheelers' 7:45. Chris Goddard was third, the veteran Moray Firth CC rider clocking 8:13.
More on hill climbs
British hill climb round-up (Sept 20-21): News and results from around the UK
Thank you for reading 20 articles this month* Join now for unlimited access
Enjoy your first month for just £1 / $1 / €1
*Read 5 free articles per month without a subscription
Join now for unlimited access
Try first month for just £1 / $1 / €1