UK blooms as an international race venue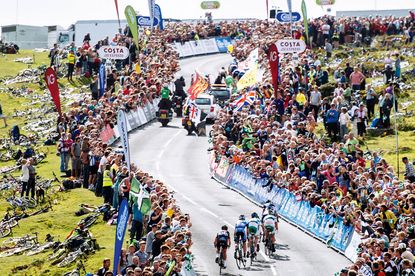 The UK's boom in cycling is paying dividends when it comes to hosting international events. Beginning in May this year, the country can look forward to a host of top-level cycling events in the space of just 12 months.
Sporting success on the international stage and an appetite for cycling has meant organisers of the world's largest cycling events are queuing to bring their races to the UK. Last week it was reported that a multi-day legacy event to follow on from this year's Tour de France Grand Départ looks set to take place in Yorkshire in May 2015.
With the start of the Giro d'Italia taking place in Belfast on May 9, the 2014 summer of cycling will continue with the Women's Tour in May, the Fort William round of the mtb World Cup on June 7 and the Grand Départ of the 2014 Tour de France (opens in new tab) on July 5.
A round of the 2014/5 cyclo-cross World Cup will take place in Milton Keynes next winter (see below) before the Yorkshire legacy event, likely to be run by Tour de France organisers ASO, arrives next May.
These will sit alongside the established events of the Prudential RideLondon, the second edition of which will take place over the weekend of August 9-10 this year, and the 11th edition of the modern Tour of Britain in late September 2014.
It won't be long until the 2016 track World Championships will be held at the London Velodrome.
There was a time when the National Championships were the highlight of the cycling calendar; now it appears the UK's appeal to cycling knows no bounds.
From ASO with love
The idea of an international event to build on the visit of the Tour to Yorkshire isn't something new, however, according to a report in the Guardian last week, a brand-new event will be created to fulfil the ASO's growing love affair with the British Isles.
Cycling Weekly understands that last spring's icy weather put paid to the suggestion of bringing the Critérium International, the two-day, three-stage race which traditionally sits in the last week of March, to the region. However, reports claim the new event could follow a similar format of a long weekend of three/four stages and have the same .HC classification.
Planning discussions are under way between ASO, tourism body Welcome to Yorkshire, local authorities and British Cycling (opens in new tab) regarding the specifics of the new event. A submission to the UCI for inclusion in the 2015 calendar is needed by June 1.
"We don't want this to just be a male elite bike race that comes and goes," explained BC's cycle sport director, Jonny Clay. "We want to see more, but exactly what shape that looks like is part of an ongoing negotiation."
It's likely any new event would sit alongside further commitments to cycling from organisers and local authorities. A mass-participation event and women's race could be part of the schedule; ASO (opens in new tab) already has experience organising both.
"We want to be able to provide opportunities for people to take up cycling and continue cycling," Clay added.
This article was first published in the January 16 issue of Cycling Weekly. Read Cycling Weekly magazine on the day of release where ever you are in the world International digital edition (opens in new tab), UK digital edition (opens in new tab). And if you like us, rate us!
Thank you for reading 5 articles this month* Join now for unlimited access
Enjoy your first month for just £1 / $1 / €1
*Read 5 free articles per month without a subscription
Join now for unlimited access
Try first month for just £1 / $1 / €1
Richard Abraham is an award-winning writer, based in New Zealand. He has reported from major sporting events including the Tour de France and Olympic Games, and is also a part-time travel guide who has delivered luxury cycle tours and events across Europe. In 2019 he was awarded Writer of the Year at the PPA Awards.